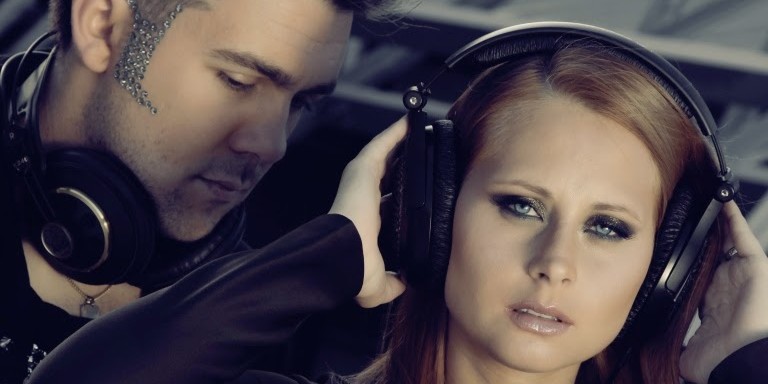 SLOVENIA
Presenting Slovenia: Maraaya - "Here For You"
Maraaya won the Slovenian selection, Evrovizijska Melodija (EMA), and is representing Slovenia with the song "Here For You". Learn about the duo "Maraaya" and the life of Marjetka and Raay
Back in February 2015 Maraaya won the national selection Evrovizijska Melodija (EMA) with the song "Here For You".
Maraaya
Maraaya is a Slovene duo, consisting of 2 members Marjetka Vovk and Aleš "Raay" Vovk. The name Maraaya is combined with their names Marjetka Raay Marjetka. Marjetka is the vocal and Raay is the producer side of the duo. They are happily married and they have got two precious children Vid and Oscar. Last years, Maraaya started and with their first single Lovin' Me they reached the iTunes top charts in Belgium, Germany, Italy and of course Slovenia in 2014 and this year in 2015, the song was put on Polish Bravo Hits Zima 2015. In their performance, Marjetka has got on those big headphones, which have become a big trademark of them, the explanation to that is that Marjetka wanted to keep the same feelings and emotions in the song as she felt recording the song in the studio.
Marjetka has got a degree as a music teacher, in Slovenian music scene, with her amazing voice, she's been already 10 years. Marjetka loves teaching younger singers which is her primary occupation. After her students finish school, she always watches them carefully and helps them find their own unique music style. One of her students Ula Ložar competed in Junior Eurovision Song Contest previous year 2014 and ended up on 12th place.
Raay is one of the most successful Slovenian authors and producers. His musical journey has lasted for 11 years and he's been working with a lot of Slovenian singers and he's been writing songs for them. Raay's songs on different albums have been reached the 1st places in Japanese Top Charts.
Raay and Marjetka are both very funny and humorous and know how to make others laugh, if you wanna learn more about them and read some interesting facts then scroll down and check out their homepage.
When you're down, down low
Sinking in the undertow
When you're down, down low
You know that I am here for you

Complete lyrics for "Here for you"
Follow Maraaya:
Homepage - www.maraaya.com
Facebook - www.facebook.com/maraayamusic
Twitter - @maraayamusic
Instagram - www.instagram.com/maraayamusic
Slovenia had its debut in Eurovision Song Contest 1993, and since then participated 20 times in Eurovision. They have never won the contest, and the best result for Slovenia is two 7th places in 1995 and 2001. Since the introduction og Semi-finals in 2004, Slovenia only managed to qualify for the Grand Final 3 times out of 11.
The best known Slovenian Eurovision song is " Energy" from 2001.