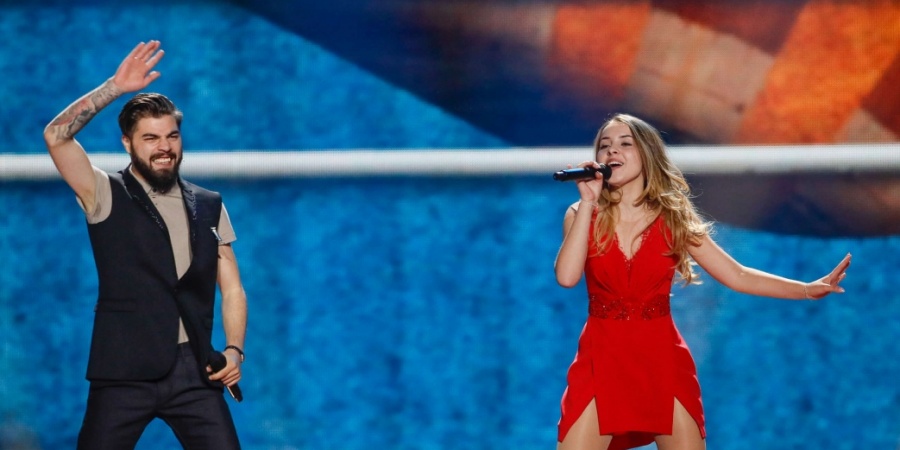 ROMANIA
Romania: Listen to the songs for Selecţia Naţională 2018
The Romanian broadcaster TVR has released the 60 songs for Selecţia Naţională 2018 competing for representing Romania in Eurovision Song Contest 2018 in Lisbon. Listen to the songs here and vote in the poll
UPDATE:
The song "Fix me" performed by Freia, has been replaced with the song "Baby You're The Only One", performed by Tomher Cohen. The song had been released in China prior to the 1 September 2017 cutoff date.
Five shows will take place across Romania in the next couple of months: Selecţia Naţională 2018 will select the Romanian entry at Eurovision Song Contest 2018 in Lisbon. 60 songs have proceeded through to the semi-finals of Selecţia Naţională 2018. The public will decide the winner to represent Romania in Lisbon at Eurovision 2018. The final to be held on 25 February 2018.
Selecţia Naţională – Listen to the songs
Alessandro Dănescu – "Breaking Up"
Alex Florea – "Nobody Told Me It Would Hurt"
Alexandru Ungureanu – "Sail With Me"
Alexia & Matei – "Walking On Water" (Finalist)
Alice Jeckel – "Out Of The Dark"
Aurel Dincă – "Fire In The Sky"
Ayona – "The Story Goes On"
Bernice Chiţiul – "Too Busy For My Heart"
Carolina Gorun – "Reach Out For The Stars"
Claudia Andas – "The One" (Finalist)
CornEl – "Take Me Away"
Cristian Siminonescu – "Nirvana"
Dan Manciulea – "Rază De Soare"
Denisa Trofim – "Tears"
Diana Brătan – "Paint It Rainbow"
Dora Gaitanovici – "Fără Tine" (Finalist)
Echoes – "Mirror" (Finalist)
Eduard Santha – "Mesom Romales"(Finalist)
Elena Hasna – "Revival"
Elena Turcu – "The Perfect Fall"
Eliza Chifu – "So Good Without You"
Endless Feat Maria Grosu – "Thinking About You"
Erminio Sinni & Titziana Camelin – "All The Love Away" (Finalist)
Evermorph – "Live Your Life"
Feli – "Bună De Iubit"(Finalist)
Hellen – "From Underneath"
Iliana – "I Won't Lie"
Ioana Ciornea – "Time After Time"
Jessie Baneş – "Lightning Strikes"
Johnny Bădulescu – "Devoted"
Jukebox Feat Bella Santiago – "Auzi Cum Bate" (Finalist)
Lina – "A Love Worth Falling For"
Lion's Roar – "Rekindle The Flame"
Liviu Anghel – "Rise Up"
Manuel Chivari – "Somebody To Love"
Mareş Pană – "Daydremer"
Maria Suciu – "Sweet Nothing"
Meriem – "End The Battle"
MIHAI – "Heaven" (Finalist)
Miruna Diaconescu – "Run For You"
Nicoleta Ţicală – "Una Oportunidad"
Othello – "Noi Suntem Pădure"
Paula Crişan – "I Am Here"
Pragu De Sus – "Te Voi Chema"
Rafael – "We Are One" (Finalist)
Romeo Zaharia – "Maybe This Time"
Save – "All We Need"
Serena – "Safari"
Sergiu Bolota – "Every Little Thing"
Tavi Clonda – "King"
Teodora Dinu – "Fly" (Finalist)
The Humans – "Goodbye" (Finalist)
Tiri – "Deşert De Sentimente" (Finalist)
Tom Hartis – "Teardrop Rain" (withdrawn)
Tomher Cohen – "Baby You're The Only One"
Vyros – "La La La" (Finalist)
Waleska – "Reborn"
Xandra – "Try" (Finalist)
Zavera – "Come Back To Me"
Zoltan – "Dacă Dragostea E Oarbă"
Selecţia Naţională 2018
Eurovision unește România!

In Selecţia Naţională 2018 there will be five heats and one final. 12 songs will compete in each of the five heats, and 3 songs from each heat will qualify for the final of Selecţia Naţională 2018 on 25 February 2018:
21 January 2018: Heat 1 (Focșani)
28 January 2018: Heat 1 (Timișoara)
4 February 2018: Heat 2 (Craiova)
11 February 2018: Heat 3 (Turda)
18 February 2018: Heat 4 (Sighișoara)
25 February 2018: Final (Bucharest)
Each show will take place in a different city in Romania. In each heat a jury will determine which 3 songs will qualify to the final. In the final the winner will be determined by televoting.

Jury members of Selecţia Naţională 2018:
Marian Ionescu –Founder of the band Directia 5.
Nicu Patoi – Has been part of the Romanian music industry for over 30 years
Liliana Stefan – Composer, Producer and lyricist.
Viorel Gavrila – Member of the Union of Composers and Musicologists of Bucharest
Romania had its debut in 1994, and has been participating 18 times since. They have never won the contest, but came 3rd in 2005 (Luminita Anghel & Sistem - "Let Me Try") and 2010 (Paula Seling & Ovi - "Playing With Fire").
Romania was expelled from Eurovision 2016 due to unpaid dept to EBU, so the winner of Selecţia Naţională 2016, Ovidiu Anton didn't participate in Stockholm.
Since the introductions of semi-finals in 2004, Romania has qualified to the Grand Final 13 out of 13 times.