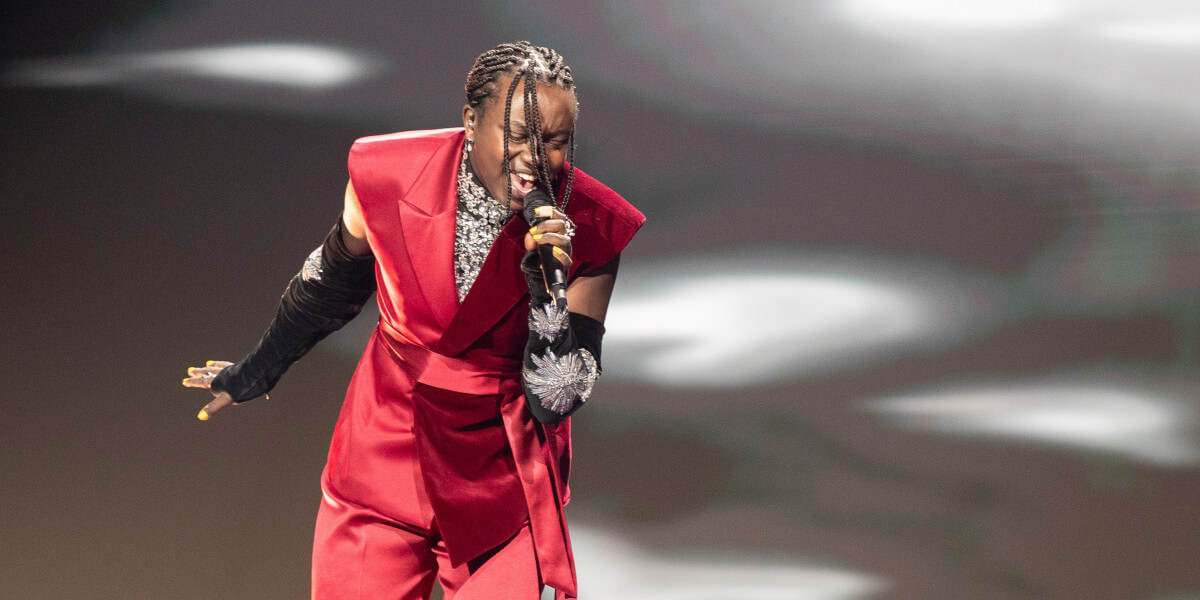 SWEDEN
Tusse from Sweden: "My performance is about liberation"
INTERVIEW The first run of rehearsals for Tusse who's representing Sweden in Eurovision 2021 is a wrap. There's a few more to go but the singer is just impatient about the live shows. We caught up with him to get his first reactions to the stage as well as to discuss his Eurovision mission
I am waiting for Tusse to join our Zoom interview and wondering how to start it but all of that loses sense when he joins the call.
I am already starstruck by his outfit, energy and by the fact his nails are white just to match his top of the same colour... A fashion icon, I say.
– Thank you, thank you. I do my best, he says while laughing.
Tusse was one of the first acts to step on the Rotterdam Ahoy arena stage last Saturday (8 May) for the first run of rehearsals and, to be fair, he is living his own movie:
– Have you seen the Eurovision Movie? You know the part when they get into the arena and they say "Oh my god! This is so far away from Iceland"? That's exactly how I felt: "This is far away from Sweden". It was so fancy, I didn't even know if I could touch it, he jokes.
To be fair, Sweden does hold huge productions as well...
– That's right but this year, Melodifestivalen was held in a small place, not in a big arena so this was huge for me. It's like my first arena kind of show. The entire time I was there, I was taking everything in, I didn't even care about the cameras, I was just so happy!
Adapting the staging to Eurovision
The staging presented by the Swedish delegation is, in fact, very similar to the one presented in the country's national selection. How was the process of adapt to it?
– It was a bit tricky, to be honest. My team has been working so hard in the visuals and choreography but everything has been upgraded, even my outfit.
That's right. Tusse's new outfit features gloves covered in jewels and he is now showing his arms. As for the second rehearsal coming tomorrow, only technical aspects need to be worked on:
– Overall, we just need to adjust a few camera angles and movements.
It represents the journey of lifeTusse
We've seen the staging and many of you have seen a version of it in Melodifestivalen. But what's the story behind it?
– It's about liberation. I come in and I have a long road in front of me to walk. That road represents life... It will be hard, there will be a few obstacles but when I sing "don't let them hold you down" it is as "don't let the road hold you down".
It's a journey, I suggest:
– Exactly! It represents the journey of life.I also have my dancers with me, who are struggling in the beginning of the song but join me in our way into the light.
Tusse is incredibly happy with the performance of "Voices" but admits he's feeling impatient for the live show:
– I can't wait for the live shows. I know it's important to rehearse but there's something unexplainable about doing it live. I am counting down the minutes.
Thank you, Sweden!
You may wonder: But doesn't representing Sweden come along with a lot of pressure?
– Of course there's pressure but it's also awesome. The Melodifestivalen was really tough and there were a lot of great artists, so being here it's an honour. It's my way of saying "thank you" to this country who has taken care of me.
That's correct. If you don't know Tusse is a refugee from Democratic Republic of the Congo who arrived alone in Sweden at the age of 13:
– I am so proud. Proud of everyone who has inspired me and pushed me to be where I am today. I wouldn't be here without the mentors I had along the way. I am glad my colour doesn't stand in the way of me being here.
He points at his hand and says:
– This doesn't make me bad or worse than anyone. People in Sweden voted for me because they didn't care. It was a great song, a great performance and it didn't stand in the way. Being here and being able to set an example for every single black kid out there is... I could start crying right now. Growing up I've never had that sort of representation in Eurovision. It means a lot that I get to be one of the first ones to pave the way.
And that's exactly Tusse's goal with this participation:
– I've thought about my main goal many times and it always comes back to the message. I get one chance to say something to the world and I have a song that represents everything I stand for which is about including everybody and to remind everyone that they deserve to be heart. We have more in common than what separates us.
Tusse will be singing "Voices" in Semi-final 1 on 18 May 2021 whilst his second rehearsal is scheduled for 12 May 2021.