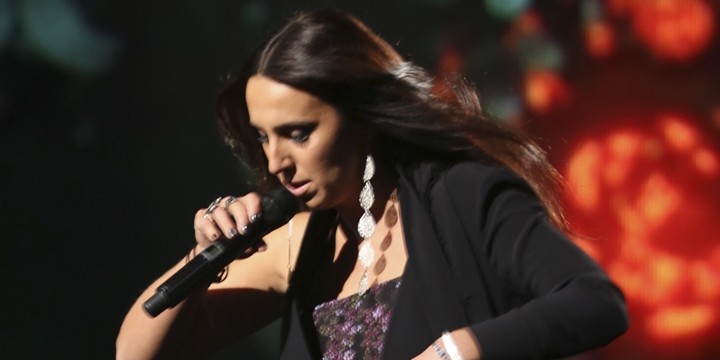 UKRAINE
Ukraine: Jamala to Eurovision
Ukraine is back in Eurovision with the song "1944". Tonight Jamala won the Ukrainian ticket to Eurovision Song Contest 2016 in Stockholm
The Ukrainian public and jury chose to send Jamala (Джамала) to Eurovision Song Contest 2016 in Stockholm with the song "1944". The decision was taken by 50/50 televoting/jury among six songs in tonight's show from Kiev, Ukraine. A show that lasted nearly five hours with more talk than music. Guest performance by Nicky Byrne (Ireland 2016). There were more than 382,000 televoters in tonight's final – a record in Ukraine.
Ukraine 2016 – Result
Jamala – "1944" (11 points)
The Hardkiss – "Helpless" (11 points)
SunSay – "Love Manifest" (8 points)
Pur:Pur – "We Do Change" (5 points)
NeAngely – "Higher" (5 points)
Brunettes Shoot Blondes – "Every Monday" (2 points)
The song "1944" is composed by Jamala herself. The song is in English and Crimean-Tatar (first time a song will be sung in Crimean-Tatar in Eurovision Song Contest), and is about the 1944 deportation of the Crimean Tatars from their homeland by the Russian army.
Her song describes the situation in 1944 and today, and is dedicated to her family who still live in the Russian-occupied peninsula.

See all the lyrics for "1944" here .
Jamala
Susana Jamaladinova (32) is from Ukraine of Crimean Tatar descent, well-known as both a singer and an actress in Ukraine. She started her career back in 2005, but became famous after she participated in the talent-show "The New Wave 2009", where she was awarded with the grand prize.
Jamaal writes her own songs, and she participated in the Ukrainian ESC-selection in 2010 with the song "Smile". In 2014 she was playing the role of Olga in the movie "The Guide" that was selected as the Ukrainian entry for the Best Foreign Language Film at the Oscars.
Ukraine 2016
There were three shows in this year's Ukrainian selection:
6 February: Semi-final 1
13 February: Semi-final 2
21 February: Final
The three shows were aired on the public "First Channel" and on the private channel STB. The winner was selected by a 50/50-mix of televoting and a jury:


The shows were hosted by Dimitri Tankovich and Aleksander Pedan.
After one year's absence from Eurovision, Ukraine is back this year! They have participated 12 times since it's debut in 2003, and with great succes. Best result is when Ruslana won at Ukraine's second Eurovision Song Contest with the song "Wild Dances" in 2004. They finished 2nd two times (2007 and 2008), and 8 of the 12 times they finished in top-10.
Since the introduction of Semi-finals in 2004 Ukraine qualified to all the 11 Grand Finals.