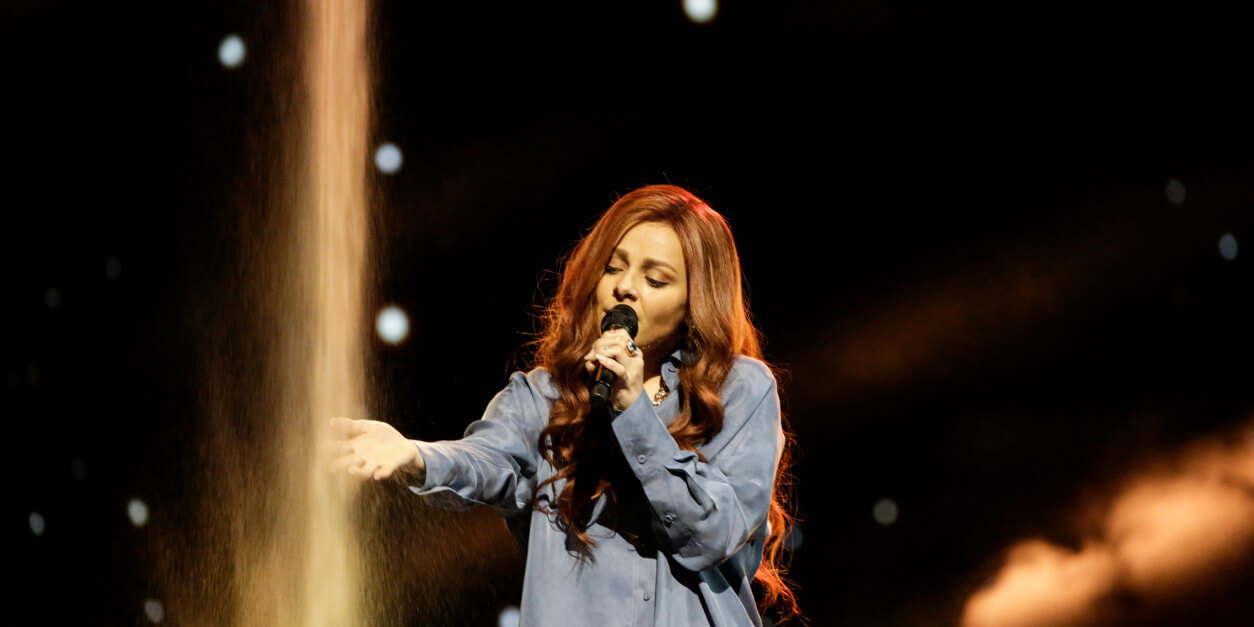 BULGARIA
Victoria from Bulgaria: "A gift for my dad to sit on the stage next to me "
INTERVIEW Victoria is representing Bulgaria in Eurovision 2021 and has sat down with us to discuss her thoughts on the first rehearsals and the emotional rollercoaster of the stage concept
Last year's bookmakers favourite is back to represent Bulgaria at this year's Eurovision Song Contest with the song "Growing Up Is Getting Older". Moments after Victoria's first rehearsal she conveys her emotions and her Rotterdam journey so far.
Before diving into the facts of this year's entry, she shares her current emotions of joy:
– I'm very excited and cannot wait to go back to the stage for the second round of rehearsals.
She continues to tell us how did it feel walking into the arena for the first time and seeing that huge stage:
– To be honest, when I first got into to the arena, because of all this restrictions in place, I wasn't feel that excitement. It was only when I stepped on the stage that I got goosebumps and even little tears in my eyes. It was a really special moment.
This was your dream right?
– Yes, I have been waiting for this moment for almost two years.
It is known that we, in general, can be our own biggest critics. How did Victoria feel the first rehearsal went?
– I think it went well and I feel very good and satisfied with what we did. We have to adjust a few things, but small ones because as I said, I think it went very well.
So there won't be significant changes, right?
– Maybe just small ones in regards to camera work, lightning and stuff like this.
Minutes after Victoria's first rehearsal was streamed to the press, many didn't exactly know what to make of the object onstage. Some said it was an actic, others a boat. I thought it was a rock. Was it?
– Yes, it's a rock.
Another significant prop in Victoria's performance is the picture frame next to her. What does it actual show?
– It is my favourite picture of me and my dad. We're going through a really hard time with my family so I wanted to have it with me because they can't be here.
Victoria's father has recently been diagnosed with ALS (Amyotrophic lateral sclerosis), a rare disease that causes people to lose motor neurons:
– Taking that picture with me is kind of a gift to my dad. It feels like he's right next to me onstage.
Why is it your favourite picture?
– It is pure, innocent and it warms my heart. It brings me memories and emotions.
Breaking down the staging
With such an emotional story, how can Victoria handle her emotions on stage?
– When you are on the stage, you're thinking about the stage, the lights, the song, its lyrics... About the audience and everything else. I haven't cried in rehearsals so far but who knows what will happen when it's live!
The picture and the stars create a whole universe for meVictoria
We've spoken about the picture, the rock but there's sand onstage. Once again, I assume and ask her if it represents time. Victoria confirms and I request that she describes the stage concept:
– The staging shows my inner world and is connected to the music video with the magical feeling of the song. The sand describes the time and how fast its slipping through our hands. Also, the picture of my dad describes a love to our family and to my closest friends. I'm sitting on this big rock where I'm telling the story of the song.
"Growing Up Is Getting Older" was always well received by the public especially after the first rehearsal but how does Victoria handle the pressure?
– Its amazing! I'm glad that people like it. Some people were surprised and didn't expect it, so I'm really happy we made something really beautiful.
What about the Eurovision madness?
– From what I've heard from the previous years, when there was no COVID-19, the craziness was way more but we have been really calm, staying at the hotel, and only leaving to go to the arena for rehearsals. There is some stress but I'm dealing fine with it.
The sand describes the time and how fast its slipping through our hands.Victoria
Music and creativity
When we last spoke with Victoria, a month ago, she told us part of the song choice had also to do with its potential for good staging according with her stage director. But did she have a saying in it?
– It was easy to work with my team, and Marvin Dietmann, because they really listen and take the ideas. For example, when they created this concept with the rock, they also came up with the sand idea and that's when I asked them to include the picture. It was a great team work!
What is the message you want to portray with this entry?
– I would say to be brave and strong. Love your family and friends and... We are worth saving.
Victoria will be representing Bulgaria with the song "Growing Up Is Getting Old" in Semi-Final 2 on 20 May 2021.