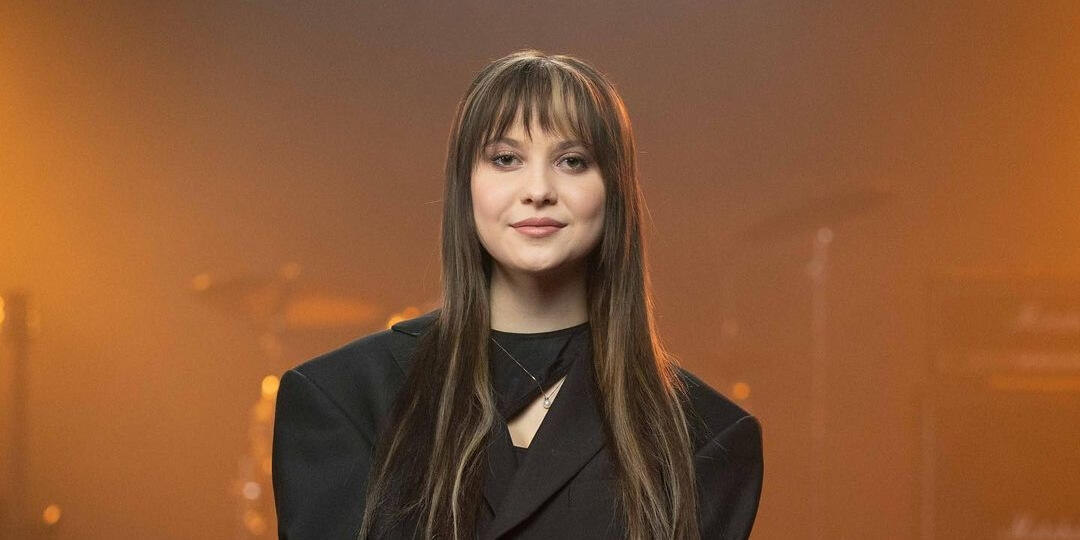 ESTONIA
Alika from Estonia: "I wanted to go with honesty"
INTERVIEW Just a year after winning Estonian Idol, Alika was crowned as the winner of Eesti Laul 2023 and will represent Estonia in Liverpool. She explains how her song for Eurovision 2023 came to life and her plans for her Eurovision performance
Last year, in Turin, it was all about hope for Estonia. Stefan represented the country with his upbeat song "Hope" and managed to spread his positive and unbreakable message through the finals.
This year, the message still stands but in a very different form. Alika won Eesti Laul 2023 with "Bridges," and will be traveling to Liverpool in May hoping to achieve an equal (or better) result than last year's 13th place. Unlike the light and joyful "Hope," Alika's song is piano-driven and slow tempo, and one of the big ballads at Eurovision Song Contest 2023.
The song represents her own honesty, and that's why she believes in its potential:
– The personality of the song and the fact that I was really honest with myself when writing it are two of the main reasons, she explains.
– It's not an easy task writing a very honest story based on your own experience and turning it into a song.
"Bridges" was born in the second session Alika had with Wouter Hardy, the mastermind behind Duncan Laurence's winning song "Arcade" from Eurovision 2019. She goes on to explain how it was created:
– We had two studio sessions, and the first one was all about Eurovision and Eurovision ballads. But the second day I wasn't feeling my best. Maybe I was in a bad mood or maybe just anxious because on the second and final day we hadn't written the song.
I wanted to go with honesty above all.Alika
As things were going nowhere, Alika and Wouter started brainstorming on an alternative that quickly just shifted into a longer than expected lunch break:
– We went to lunch for quite some time, and when we came back I remember I went to wash my hands, and suddendly came into the studio and there's Wouter already playing what would become the intro of "Bridges." It was from that particular moment that we started working on this beautiful song.
– I do admit it took me some time to believe in the song because only a few days after I decided that I wanted to go with honesty above all.
According to Alika there was another potential song. But given how personal and honest "Bridges" is to her, that was always the better choice for her.
I wonder if working with someone who has a Eurovision-winning song in his catalog adds any sort of pressure:
– No, I don't feel pressure on working with Wouter. I'd say excitement instead because it really is a big pleasure working with him and being with him. We clicked with each other, and that's really important when you're writing a song. I am also glad he's coming to Liverpool and will be sitting with me in the green room.
A few weeks ago, the music video for the song was released. And, in case you're wondering, yes, that's Alika dancing in the video:

– It was actually tougher than I expected, not only because of the dancing and falling into the water, but also because of the song itself. It really is a personal song. So, when we hired an agency to help create a concept for the music video, in the first days they had zero ideas because it was too hard for them to get into my line of thoughts, she says.
– Afterwards, they came up with this simple, but very beautiful idea for the music video to represent three different moods: burning the past, starting a new way, and begin again.
Eesti Laul 2023 and early beginnings
As mentioned previously, Alika won Estonia's national selection for Eurovision 2023 and was the favorite to win according to the bookmakers. Did she expect to win?
– This year, Eesti Laul was particularly competitive and there were a lot of great artists with songs I truly enjoyed, so it's hard to say I expected to win. I'd say I just believed in it and I thought that I'd do anything to make it happen, I'd deliver a great show, a great performance, sing well, and see where it would take me. That doesn't depend on me, unfortunately, she says.
What was your motivation for taking on the challenge of competing in Eesti Laul?
– My heart told me. I felt like I needed it, and I just felt like this was the right time for me to go and also go bigger.
Let's talk about the staging:
– It's a really personal and minimalistic staging. I am aware what ballads are, generally, compared to big stagings with fire and all of that stuff, but this song is truly personal for me and it's really close to my heart so I really wanted it to be simple, and I think we got it right in the final. I also invited a cello player for the performance and I think it was a great touch. In my opinion, she says while laughing.
– Of course, on the Eurovision stage there are many more opportunities. It's a bit crazy to even think about it, but we're definitely going bigger in Liverpool, but always sticking to the minimalistic thought.
This means we shouldn't expect many changes for Eurovision?
– I think you shouldn't expect many, many, many changes. There will be adjustments, of course. I can say we will keep this really important touch to the performance on stage: the piano.
What about the cello player?
– I am going to be by myself on stage. It's such a personal song that I really need this to go that way.
It was at the end of 2021 when Alika was crowned as the winner of the latest season of Estonian Idol. A year later, she competed in Eesti Laul and won again.
– I think I have some kind of privilege as Eesti Laul came right after Idol. After I won Estonian Idol, I started preparing for Eesti Laul, so it was kind of a big ball which is currently getting bigger and bigger. It has helped me a lot and it was a great experience, and the fact that it was one after the other makes me feel like it truly is my time and I am at the right place.
If you really wish to work in music, get ready to work really hard because it's not just roses and flowers.Alika
When asked about how Estonian Idol prepared her for Eesti Laul and eventually Eurovision, Alika mentions that she has gotten better at managing stress. She also mentions that her Eesti Laul victory didn't bring many changes to her life besides a busier schedule. Nonetheless, her Estonian Idol victory did:
– It changed my life 100% because it is the biggest competition in Estonia, and this was a competition where you need to test yourself every week. It was from this moment on that I started working on my dream job, because after Idol I started to do a lot of concerts and I now have a cool band of really talented boys. I am at a happy place.
She goes on to share that winning is just a part of the process:
– It depends on what you aim for. If you really wish to work in music, get ready to work really hard because it's not just roses and flowers.
Besides Eesti Laul, Estonian Idol, and in a month, Eurovision, Alika has always been a part of singing competitions:
– I am actually not the biggest competitor of all time, but I think I enjoy to challenge myself. I love this feeling of nerves and stress for some reason. It's like a drug to me.
Since we're going back in time, how did the music dream begin for Alika?
– I think it began on my first day on this particular planet. I was always that type of child that wanted attention. I was always doing some kind of performance for my parents or friends. When I was around four, my grandfather thought that maybe my voice could be interesting for singing so I went to a vocal studio where I started to sing. And I remember very clearly my first ever concert where we were singing this kid's song and I just felt like that was my place and where I belonged.
We can agree that the little kid who was once four has developed into something else. How would Alika describe herself as an artist?
– I would say that I am really confident in myself. I like being in some kind of another character even if that depends on the song, of course, but I love to be an actress at the same time when I am performing. Not in a bad way, I don't fake my emotions.
Have you ever been interested in doing musicals?
– I have only done one musical in my life, actually, and it was very hard. People who are constantly in musicals are strong because you need to not only sing and perform, but also dance and sing at the same time. I haven't, since then, had the opportunity to do it one more time, but I would love to be in a movie or TV show just to really challenge myself.
Alika's favorite entries for Eurovision 2023
The foremost advice we always hear other acts giving to Eurovision newcomers is constant: enjoy your time. Stefan (Estonia 2022) was no exception:
– We are really good friends, says Alika about her friendship with Stefan.
– Estonia is such a tiny country that the music community is all family, we all know each other. So, of course, we did speak. He said it was hard and stressful at times and that I need to enjoy it. He also told me that if I ever feel lost or don't understand what's going around me, I can just write him or call him. It's really good to have someone with Eurovision experience.
How are the preparations going?
– We have a lot to do and a lot to think about. It's surreal for me to look at schemes and pictures of lighting and the stage itself, but it gets more exciting because it's stressful to think about all of those details and this is what I wanted, so it is fun. A stressful type of fun.
Let's talk about the bookmakers. While Alika is predicted to qualify from Semi-final 2, "Bridges" is currently the 22nd song most likely to win Eurovision. Not exactly the best number. How does Alika react to that?
– I saw the odds recently myself and I'd say that, at first, it is really sad and frightening. But then seconds after I realized that I actually don't care so much because it hasn't even happened yet. I am just going to be myself on stage and give all of my energy to people in the arena and at home, that's my biggest purpose. Odds are fun to watch, not saying that they look very amusing to me, she says before laughing.
– But for other people, it's fun to explore how the rankings are changing.
Speaking of rankings. Have you heard all of the songs?
– Yes, I have, and I really enjoyed Finland (Käärijä: "Cha Cha Cha").
She knew I was going to go there after:
– Finland and Estonia are neighbors, so it's really good to see them doing well in the odds. "Cha Cha Cha" has a very great staging. My second one would be Spain (Blanca Paloma: "Eaea"), and that surprises me because it's not a catchy song that just stuck into your mind. It's really brave that they have selected such a special song with such crazy rhythms. Every time I listen to it, I do a crazy face and try to understand its rhythm. It's really mysterious.
What makes you most nervous about this whole experience?
– To get overwhelmed because it's really busy. Not only those two weeks in Liverpool, but before and after. I also don't want to be ill.
To finish, what's your message to everyone who supports you?
– It's really important to not lose yourself and to be yourself. I know this sounds cliché, but it's really the most important thing in our lives. If you're honest with yourself, all will be good. Just be yourself, be loved, and love.
Alika will take the Liverpool Arena stage on 11 May during Eurovision 2023 Semi-final 2.