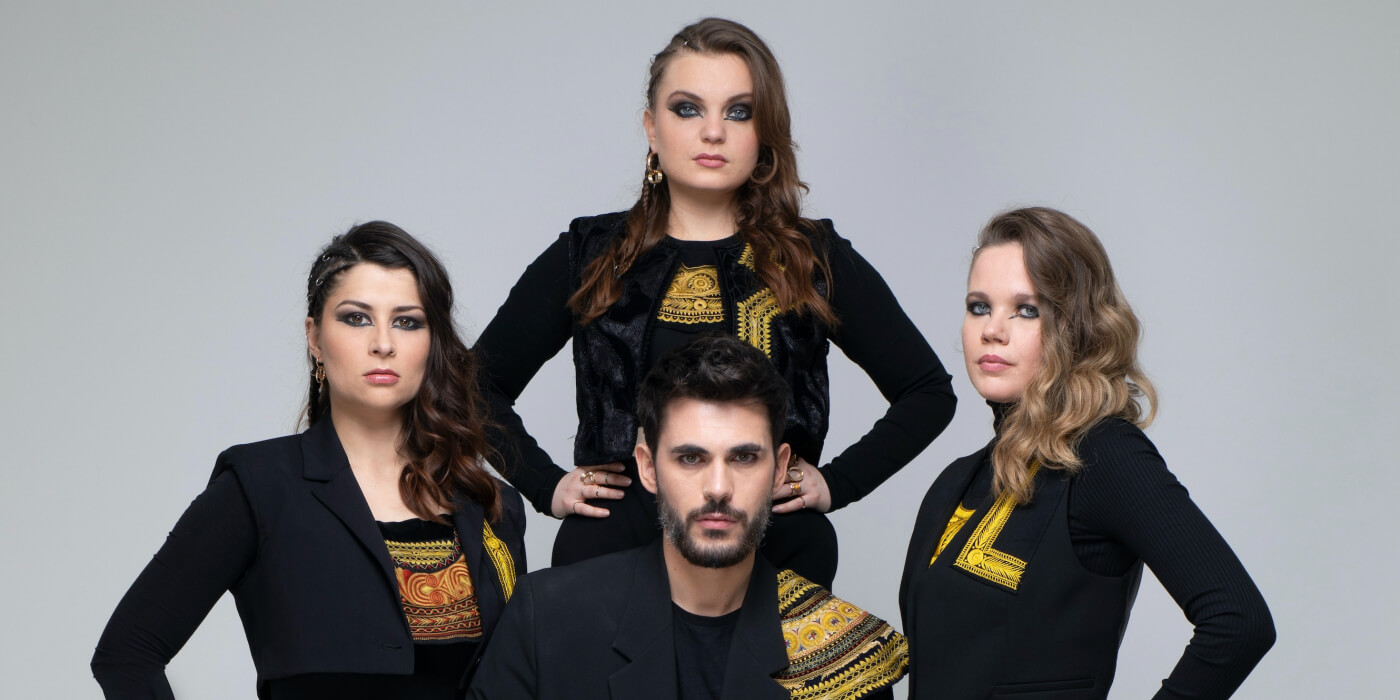 FRANCE
Alvan & Ahez from France: "We want to empower women"
INTERVIEW We met with Alvan & Ahez who will represent France at Eurovision 2022 with their song "Fulenn". The group told us about their upbringings, their Eurovision plans and the honour of coming after Barbara Pravi
It was back in March that Alvan & Ahez were chosen by the French audience and jury to represent the country at Eurovision 2022 with "Fulenn", a song that leaves the traditional Français behind and is performed in Breton, a language spoken in Brittany, a region in the west of France.
This is only the second time that the Breton language will be present at Eurovision. The only reason I am aware of this is thanks to Marine Lavigne, one of the members of Ahez, who told me so during our conversation at the London Eurovision Party:
– It was performed 26 years ago by Dan Ar Braz in 1996. This will be the second time that the Breton language will be at Eurovision, she explains.
And why did they decide to bring it back?
– I wanted mostly to make music with ethnic sounds from home, says Alvan who's also from the region.
– As for us, we are used to sing in Breton... We do speak the language. We're three and we learned it at school, at a young age, besides learning traditional songs, tells Stereen Le Guillou.
– When we met Alvan, we wanted to create something different in Breton because that's a very natural thing for us. We sing and write in Breton.
At their national selection, the group decided to go for a quite symbolistic staging with green lights, a female dancer, instruments and very specific outfits. What was that all about?
– We wanted to reflect the atmosphere of the song. With that being said, the stage featured green lights to evoke a forest and we had a lady dancing around the fire. She's there to free and empower other women, to encourage them to do the same and feel free about their bodies regardless of how they look, explains Marine.
Will we be seeing the same at the Eurovision stage?
– Yes and we'll keep the same choreography but so much better, teases Sterenn Diridollou.
– With a few surprises, adds Le Guillou.
She's there to free and empower other women, to encourage them to do the same and feel free about their bodies.Marine Lavigne on the staging
Despite being a quite different and out of the box song, "Fulenn" has been receiving an amazing response from the fans. How do they react to that?
– It is awesome. Thank you for the supportive comments and even...
Alvan tries to elaborate but gives up:
– He's tired, explains Le Guillou and the whole group starts laughing.
– Thank you for the support... Simple answer, finishes Alvan.
The Eurovision Song Contest can indeed be quite exciting...
– Indeed but it's incredible and we're really happy and proud to be here and bring our song... It's also new to us, adds Diridollou.
Coming after Barbara Pravi
Last year, France finished second place with Barbara Pravi's "Voilà". Does that add pressure?
– It's more of an honour to be able to follow her path, Marine says.
– We really admire her. She's an amazing artist and we're very proud of what she has achieved.
It is hard to find similarities between "Fulenn" and "Voilà". I ask the group about that drastic change of register:
– Something amazing about France is the diversity of our cultures. The difference between Barbara Pravi and us is just a reflection of that culture.
Stereen Le Guillou continues:
– Yes. Our song is a mix that we usually don't hear so maybe that helped us getting selected. We also bring our identity and our culture... Mixed with so many others.
Alvan wraps up:
– And the final recipe... We created this song with heart!
Alvan & Ahez will perform at Eurovision's Grand Final on 14 May.
Alvan & Ahez
Alvan is a 29 year old singer from Rennes and is famous on the Electro scene. Alvan notably performed at the Trans Musicales in Rennes.
The group Ahez is composed of Marine Lavigne, Sterenn Diridollou and Sterenn Le Guillou.The group is known for performing Breton traditional heritage songs. They took part in the Festival Interceltique de Lorient and the Celtic Connections in Glasgow. They write songs in Breton, and mostly about contemporary stories mixed with myths of their region.
France in Eurovision Song Contest
France is a grand old country in Eurovision. They have participated 63 times since the start of Eurovision in 1956.
The best results are five victories in 1977, 1969, 1962, 1960, 1958. The latest victory was in 1977 – 45 years ago! The worst result was in 2014, where France ended last in the Grand Final.
France is a member of "Big 5", so they don't have to go through the semi-final-qualifications, but are automatically qualified for the Grand Finals.