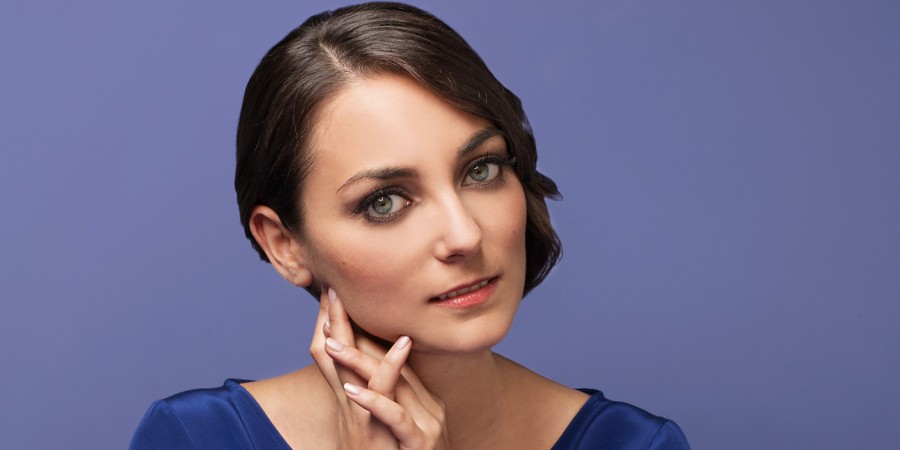 HUNGARY
Boggie, Hungary: "Music can make the world a better place"
INTERVIEW: The power of music is Boggie's main concern representing Hungary in the Eurovision of Austria. Speaking with Eurovisionworld, she imagines a better world through the uniqueness of music
Boggie is a worldwide artist having attracted millions of fans all over the planet. She won the Hungarian Eurovision-selection "A Dal" on 28 February 2015 with the song "Wars for Nothing".
Boggie is also a proficient live performer: She has played at the Jazz Sur Seine festival in Paris and at several shows in New York, Frankfurt, Munich, the Netherlands and extensively toured Hungary with her live band.
Boggie is a Hungarian singer-songwriter. She has studied music since childhood, and have tried herself out in several musical genres: »I formed my band in 2009, since then I continuously give concerts in Hungary and abroad as well.«
Boglárka Csemer is her real name, and Boggie is her stage name. It comes from Boglárka and you cannot find a similar name in any other language.
What inspires you?

»I lived in Paris for 1 year as a babysitter. French music and culture inspired me a lot.«
»My music is a great mixture of everything that I studied: pop, jazz, French chanson, country, folk, classical music... What I do is something that I call high-quality pop.« »I think it's really important to start to compose your songs because it defines your character and it helps you find your own voice. In time you'll see that it was worth it.«
What is the story behind your song?
»Actually my song was written for my second album "All is One is All", which was just released in October 2014, not for the Song Contest. We picked "Wars for Nothing" from among our other songs. I wanted to be represented with an English song and a song with an important message. My song is a hymnic ballad pleading for peace which was created by three composers: Áron Sebestyén, Sára Helene Bori and myself.«
»We have different background stories. I, personally can be easily touched by any human's suffering and nowadays we have more and more of it near and far. Three composers, many inspirations and one goal: raise people's attention to this issue.«
»I truly believe that through music we can make the world a better place.«
Apart from your song, is there any other else that you support?

»I have already listened to others, unfortunately not all of them. I really like the Belgian song. It's really cool.«
Of all time?

»I really like a French singer from the 60s. Her name is France Gall and her song's title is " Poupée De Cire, Poupée De Son" (Luxembourg 1965).«
Of your country?

»I really love " Kinek Mondjam El Vétkeimet" by Friderika from 1994 and "Unsubstantial Blues" by Rúzsa Magdi from 2007. I really like this minimalism in these songs just like in mine.«
Hungary has shown progress in the competition. Will you continue that?

»I believe in the power of my song and I think every country has got the same potential as me to win. The main goal for me is to be honest, professional, and incredible on stage. I want to be satisfied with myself and with my performance.«
What is your opinion about the entrance of Australia?

»I'm so happy of it! Eurovision is the perfect opportunity for different cultures, different nations to meet. We can exchange ideas, musical inspirations and probably we can also get to know each other's cultures better.«
What is your background as an artist?


»I released my first album in 2013. It includes my worldwide hit Parfüm/Nouveau Parfum. This album reached third place at the Billboard.«
»My second album "All Is One Is All" has just come out at the end of October 2014 which includes "Wars for Nothing".«
Have you already predicted the winner?

»Hopefully me just because everyone has the same chance in this competition.«
Follow Boggie

Homepage: www.boggieofficial.com
Facebook: www.facebook.com/BoggieOfficial
Twitter: @boggieofficial
YouTube: www.youtube.com/user/csemerboglarka
Hungary has participated in Eurovision Song Contest 12 times since its debut in 1994. The Best result was in the debuting year 1994 where the song "Kinek Mondjam El Vétkeimet" went 4th. Since the introduction of the Semi-finals in 2004 Hungary has qualified for the Grand Final 6 out of 8 times - The last 4 years Hungary did qualify for the Grand Final. Their worst result was in 2008 where Hungary went last in Semi-final 2.