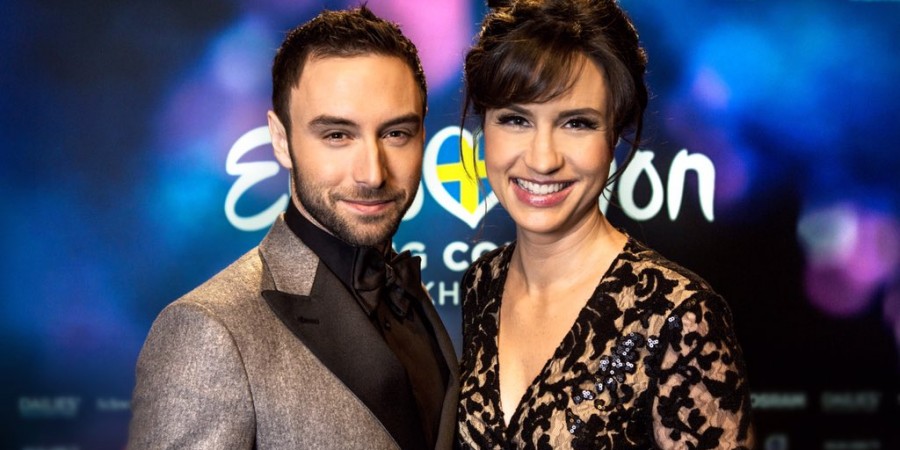 STOCKHOLM 2016
Eurovision 2016 hosts: Måns & Mede
Måns Zelmerlöw and Petra Mede will welcoming whole Europe next May at the 61st Eurovision Song Contest 2016 in Stockholm. The 2015 Swedish Eurovision winner Måns Zelmerlöw will share the stage with the 2013 Eurovision hostess Petra Mede
The Swedish broadcaster and producer of Eurovision Song Contest 2016, SVT, has just revealed the hosts for the three shows in May: Eurovision 2015-winner Måns Zelmerlöw and Eurovision 2013-hostess Petra Mede. This dream team as hosts have been rumored for quite a while.
Måns Zelmerlöw
Måns Petter Albert Sahlén Zelmerlöw (29) was born and raised in Lund, Sweden, and currently lives in Stockholm. His breakthrough came in 2005 (19-years-old) when he finished in fifth place in the Swedish talent-show "Idol". In 2006 he won the Swedish version of "Let's Dance", and later the same year, he starred as Danny Zuko in "Grease" at Nöjesteatern in Malmö. He has also been in the musicals "Footloose" and "Romeo and Juliet".
Måns has participated in Melodifestivalen three times. In 2007 he finished third with the song "Cara Mia", and in 2009 he went fourth with the song "Hope and Glory". And in 2015 he won both Melodifestivalen and Eurovision Song Contest.
He hosted Melodifestivalen in 2010 along with Dolph Lundgren and Christine Meltzer, and wrote the song "Hello, Goodbye" for Melodifestivalen 2013.
Måns has always been a big Eurovision fan: »Because it's the musical equivalent to the Super Bowl«. He loves being on stage. He is an entrepreneur and loves multi-tasking. Perfect skills for a host.
Måns' reaction on his role in Eurovision 2016:

»I'm so incredibly happy to be part of the Eurovison Song Contest once more and to be doing it together with Petra Mede, whom I consider an outstanding host and also one of the most delightful people I know«
Petra Mede
Petra Maria Mede (45) was born in Stockholm and grew up in Gothenburg. She is a comedienne, dancer, actress and television presenter.
Petra Mede hosted Eurovision Song Contest 2013 in Malmö, Sweden, where she did an amazing job. She was the sole host of the show (except from Eric Saade in the Green Room), and had a huge role in the interval act during the Grand Final.
In 2009 she hosted Melodifestivalen, and was voted Sweden's best female comedian the same year.
In 2015 Mede hosted "Eurovision's Greatest Hits" along with Graham Norton. The big show celebrated the 60th anniversary of Eurovision Song Contest, recorded in London and aired later on in 24 countries.
She is also chosen to co-host deltävling 1 of Melodifestivalen 2016 in Gothenburg along with Gina Dirawi.
Petra is very happy to co-host with Måns:

»It's so incredible that I, once again, get the honour to be a part of the Eurovision Song Contest and doing this together with Måns Zelmerlöw, it's a dream come true. He's extremely professional so the one to be worried about is me, and what I'm going to wear. It's like when I once dared to try a rollercoaster for the first time and someone then - when I'm standing there euphoric of happiness - comes and tells me: "You can go one more time, and this time together with a gorgeous guy!"«
Eurovision hosts