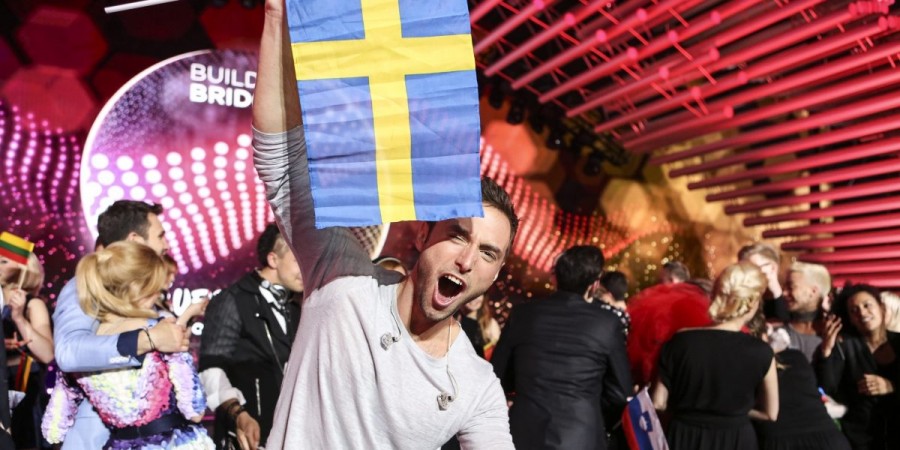 VIENNA 2015
Sweden wins Eurovision Song Contest 2015
Måns Zelmerlöw wins Eurovision Song Contest 2015 with the song "Heroes". It's the sixth time Sweden wins Eurovision
Eurovision Song Contest 2015 has just ended with Sweden as the winner of the 60th Eurovision Song Contest with the song "Heroes" performed by Måns Zelmerlöw. It's the sixth time Sweden wins Eurovision. Sweden also won the competition in 2012, 1999, 1981, 1984 and 1974.
Eurovision 2015 result
The Show
The Grand Final was an amazing show. It started with the Vienna Philharmonic Orchestra from the garden of Schönbrunn Palace, and a look back at Conchita's victory last year. In the arena, a violinist played "Rise Like a Phoenix" together with a symphonic orchestra.
Conchita sang the song "Building Bridges", and was flying (yes, she can fly!) to the stage while she was singing. On stage she was joined by Vienna Boys' Choir, the multinational Suparar Choir and the Austrian rapper Left Boy. And the Eurovision Song Contest 2015 had begun.
After the 27 performances the voting lines opened for 15 minutes, while two recaps were shown. In between the recaps an explosion of music combining percussion, jazz, classical, swing and choral singing, including 40 instrumentalists and the Arnold Schoenberg Choir was entertaining.
The interval act included a sequence where the Green Room is changing color to Rainbow Room. After the voting lines closed, Conchita was on stage singing her song "We Are Unstoppable" followed by her new single "Firestorm".
Voting & Points
Each of the 40 countries participating in Eurovision Song Contest 2015 voted in the Grand Final.
Each country gave 1,2,3,4,5,6,7,8,10 and 12 points.
Detailed voting & points can be seen here.
Eurovision Song Contest 2015
The 60th Eurovision Song Contest took place on 19, 21 and 23 May 2015. The contest was hosted by Vienna, Austria, and produced by the Austrian broadcaster ORF.
Place: Wiener Stadthalle, Vienna, Austria
Participants: 40
Semi-final 1: Took place on 19 May 2015 with 16 participants. The 10 songs with highest points advanced to the Grand Final
Semi-final 2: Took place on 21 May 2015 with 17 participants. The 10 songs with highest points advanced to the Grand Final
Grand Final: Took place on 23 May 2015 with 27 participants; Austria (host), Australia (special guest), Big-5 (Germany, Spain, France, Italy and United Kingdom), 10 best from Semi-Final 1, 10 best from Semi-Final 2
Sweden in Eurovision Song Contest
Since 1958 Sweden has participated 55 times in Eurovision Song Contest with great succes. They have won the contest 6 times:

They came last two times ( 1963 and 1977), and since the introduction of the Semi-finals in 2004 Sweden managed to qualify for the Grand Final 11 out of 12 times! (only skipped the qualification in 2010).