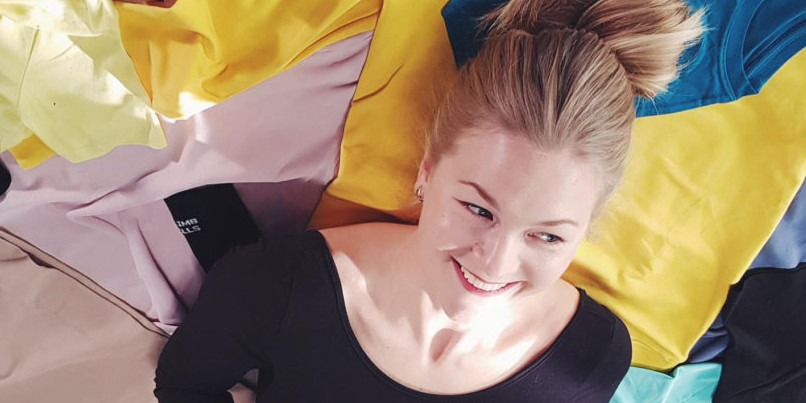 LATVIA
Interview: ANNNA from Latvia sings about T-shirts. Here's why
Interview: While we wait for Latvia's national selection to come on 8 February, Eurovisionworld caught up with finalist ANNNA for a talk about her song "Polyester", the impact of t-shirts in the world and her goal with Eurovision
– My song is very different and people may not even understand what I am singing about so when I was announced as a finalist, I was shocked!
If you're one of the people who has heard ANNNA's Supernova entry "Polyester", you know she has a point. We all asked ourselves: "What? Is she singing about t-shirts?" After repeating the song two or three times... Yes, she is but not in the way you'd expect.
Meet ANNNA (or out of stage, Anna). She is a Latvian singer, living most of her time in the Netherlands whose past few weeks have been non-stop with all this Eurovision attention, a winning contest and the growth of her brand Master Organic.
– It has been a crazy week! We're a few days from the final show and there have been days where I have 5 or 7 interviews and I have to go by car from one place to another, put makeup on... I love it but at the end of the day you're like... Okay!
A rollercoaster indeed. Besides her Supernova participation and preparation, ANNNA has recently won a contest and is currently in Barcelona recording her EP that will drop next May.
Polyester and overconsumption
Since "Polyester" was released, many have compared the Latvian singer to the likes of international superstars Lana Del Rey or even Billie Eilish.

– Whenever I get compared to Lana Del Rey, I feel so honoured because she has always been a reference to me. As for Billie Eilish, who's collecting one Grammy after the other with songs produced in her own bedroom, she is incredible but I can't say she has been an inspiration to me, she says, clarifying that she started singing and writing before Billie's boom of success.
– She has inspired me in terms of what I can do... She has no borders and I feel like that too now!
That's when "Polyester", her Supernova entry, appears:
– The inspiration behind "Polyester" happened a while ago when I saw this Netflix movie titled "The True Cost"... Have you seen it?, she asks me.
When I say I haven't, she adds quickly:
– You should! It's really crazy and it digs into the fashion industry and how it is the second most polluting industry in the world. While we're all so busy taking care of the plastic and putting the paper in the paper trays, sometimes we forget that buying this 2 Euros t-shirt or this pair of H&M jeans for 10 Euros has a way bigger impact in our planet.
ANNNA has indeed been raising awareness about this through her social media:
With her song, the singer has been approached by many and is not concerned by the idea that some people may not understand her potential Eurovision entry's meaning:
– The other day someone told me that they went to a store to get a jumper but instead of a buying a regular jumper, they chose a recycable one and this is why I wrote this song and if this happens once or twice a week, I'll be very happy!
– I started getting more curious about Eurovision when Salvador Sobral won
It is safe to say that ANNNA's music style goes more into the Indie Pop or Alternative Pop kind of ground so how does an artist within this music genre gets interested in Eurovision filled with many Dance Pop and Electronic Pop sounds?
– I totally agree with you because that was my stamp for Eurovision before, she says when I ask her that.
– I have, nonetheless, always been an Eurovision fan. I'd host this Eurovision dinners at my place with my friends and turn it into a drink party, it was so fun! But the moment I started getting more curious about Eurovision was when Salvador Sobral (Portugal 2017) won... I cried so much. He had a beautiful story and brought something different!
That's not all for ANNNA. Just last year's winner and runner-up - Duncan Laurence and Mahmood - convinced the singer that maybe she could try it too:
– Last year was also awesome! Duncan won with such a simple staging and I'm still listening to Mahmood's "Soldi" nonstop!
– I am glad you talk about that... The staging. Your song really gives space to a lot of imagination..., I hint at her.
– Exactly! If only my production team would allow, my imagination would go as far as it can but there's a lot of limits. If I could, I would bring 100 people on stage with t-shirts and executing the moves we do but, right now, for Supernova I will try to have a few t-shirts and play with those. If I get to go to Eurovision, we'll see...
What will we see from ANNNA if she gets to Eurovision?
– The main thing is to have an action plan and continue creating. If I win this Latvian final, we will create this susteinable merchandise line, prepare a hell of a show, a hell of a tour and spread the word to as many people as we can.
We surely will be watching no matter what. Latvia's Supernova Grand Final is happening next week and this year anyone can vote so be aware!