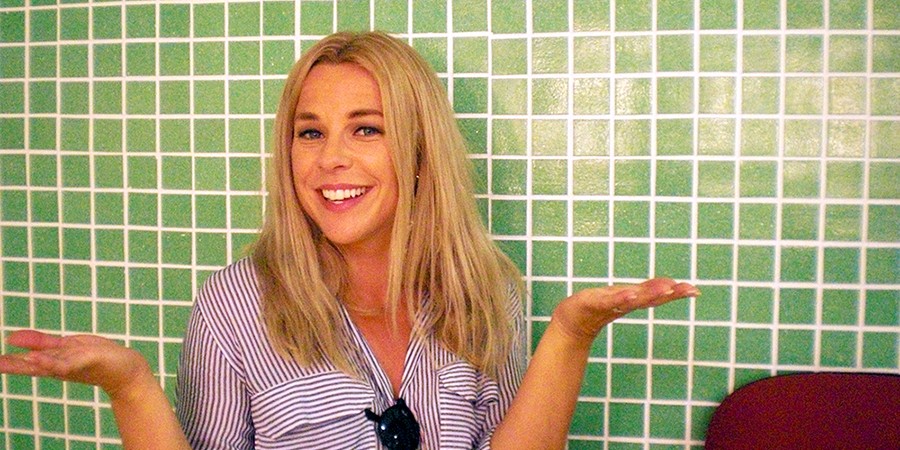 FINLAND
Krista Siegfrids: "I'd love to see Turkey back in Eurovision"
Krista Siegfrids wants Turkey back in Eurovision, although she is one of the apparent reasons why Turkey will not return to the contest. In an exclusive interview with Eurovisionworld, Krista addresses the subject and shows absolutely no regrets on her Eurovision participation
Last Saturday, Krista Sigfrieds (Finland 2013: Marry Me) was one of the invited acts to sing at Portugal's Eurovision Live Concert and, just like Madame Monsieur, Krista took some time off to speak with Eurovisionworld.
Rocking a very summerish look consisting of a shirt, shorts, sunglasses and sandals, Krista arrives on her own to the event's soundcheck and quickly starts giving smiles to everyone around. Despite the production was delayed on getting things started, Krista didn't lose her good mood, unlike others. After giving a run on the three songs she would perform later, she is sitting backstage chewing a gum and ready to speak with us:
– Should I take away my gum?, she asks before we've started.
– So it won't be like 'nhaf nhaf' all the time?
Before I even answer, she is running to the nearest trash bin and back in a flash with a big white smile.
Remembering Eurovision 2013
It isn't a very happy topic to start the interview with but honestly, nothing can take away Krista's smiles and jokes. Not even a 24th place out of 26 at Eurovision 2013 in Malmö:
– That was sad but still... Eurovision was an amazing experience. We had so much fun and now I get to do all these amazing Eurovision concerts, she says well aware that Eurovision fans loves "Marry Me". And she does too:
– I was sad, though, because I thought our show was amazing and I love the song. It is fun and it gives people so much joy.
When Krista performed Marry Me at Eurovision 2013 in Malmö, she kissed a girl in the end of the song, which was an issue for some. She has no negative memories from Malmö though:
– I know, some people were against us and against our message of equality and love for everybody... I mean, some people didn't like the kiss but... We don't care about them! They're party poopers! We just want love and equality for everybody and we tried to spread the message.
– It was a beautiful moment and I don't regret anything.
Turkey, join Eurovision again!
After such a statement, it is inevitable to talk about the reaction of the kiss in Malmö.
Last month, the Turkish Radio and Television Corporation (TRT) announced that Turkey wouldn't return to Eurovision until LGBTQ+ contestants were banned from the contest. To prove his point, the broadcaster's director – Ibrahim Eren – remembered 2013's Finland representative (Krista Siegfrids) and the following year's winner, Conchita Wurst.

Krista is aware of the statement from TRT:
– I did hear about that and it's sad because I really like Turkish music and I've loved their entries before, so I'd love to see them back at Eurovision, she says.
...some people didn't like the kiss but... We don't care about them! They're party poopers!Krista Siegfrieds
– If that is whats holding them back, then I think it's really sad. It's 2018, how can that be a problem? I really don't understand. I just want to say to them to forget about that and join Eurovision again! It's a fun party!
There's simply no doubts, that the Finnish singer does have a lot of respect for the LGBTQ+ community. Besides her iconic kiss and all of the mentioned above, her outfits are many times inspired by the rainbow flag.
We're proud of Saara Aalto
– I loved "Monsters". It is a great song and she did a super good job. We're proud and she made it through to the final, that's good, says Krista about Saara Aalto's score in Lisbon 2018.
Despite its low success (and Finland's overall), Krista is proud of her country and sees it as a very brave country in the contest:
– I feel like Finland has always been very brave. We've been sending monsters... Ding Dong girls... Ballads... Everything! So I don't know, what Finland could do to improve, she says before taking a few seconds to think:
– Hum... Maybe we need stronger songs probably... Or a better staging. We have to work on that.
Will Krista return to Eurovision?
Hell yeah! Even though she doesn't specify, one can witness her love for the contest and all the great memories it has given her:
– Eurovision was my big breakthrough in Finland, before that I was... Nobody, she says before laughing.
– It changed my life. Now I am working as an artist, as a TV host... I have a lot of work and I am so thankful for everything, I love every minute of it.
---
Finland debuted in the Eurovision Song Contest in 1961 and has participated ever since, except for six years, mostly because of last years bad position. The country has won the competition once, in 2006 with the song "Hard Rock Hallelujah", performed by Lordi. Since then Finland's best result is 11th place in 2014.
Since the introductions of semi-finals in 2004, Finland has qualified for the Grand Final 8 out of 15 times.