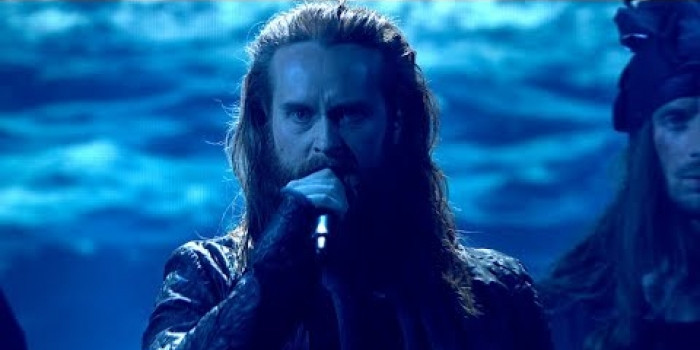 DENMARK
Rasmussen from Denmark: "The juries didn't like the drama of my song"
Interview: Rasmussen represented Denmark at Eurovision Song Contest 2018 in Lisbon and while he impressed the public, he certainly didn't win over the jury. Rasmussen goes back in time, addresses this year's KEiiNO jury result and shares his future plans that may, or may not, include a new Eurovision adventure
Rasmussen caused quite an impact at Eurovision Song Contest 2018 in Lisbon when he stepped on stage to represent Denmark and performed "Higher Ground". The public loved the song and the performance, that was quickly named as a "Game of Thrones" inspired entry, and ranked the Danish viking 5th in the Grand Final, and actually 1st in Semi-final 2.
The jury, on the other hand, didn't seem to appreciate it as much as the public and gave it a total of 38 points in the Grand Final, by other words a 21st out of 26. We couldn't let that detail miss our interview with Rasmussen that happened right after he stepped out of his final rehearsal at this year's Eurovision Live Concert in Portugal:
– I expected that, he says when remembering his Eurovision participation in Lisbon.
– It's a very dramatic song and we went full on with the clothing, the snow on stage... Maybe some jurors found it too theatrical, maybe they didn't like the dramatism of the song or maybe they didn't think I sang it well!
Does this jury-public discrepancy ring a bell? Well, it surely does to so many occasions but just this year the subject was highly discussed after Tom Hugo from KEiiNO - who represented Norway - claimed that "it is strange that a few people should sit and decide half of what a country should give off points" when talking about the jury vote.
I ask Rasmussen if he had seen this year's Eurovision:
– Yes, I did.
When I compare his statement to KEiiNO's situation, he agrees that it is a similar scenario:
– I do think it is similar. Their song, specifically, had the dramatic elements as well. It was also very theatrical with the moves and all.
An Eurovision comeback is a possibility
To whom is familiar Rasmussen must know that he isn't a Pop artist at core. His roots are within rock music but he also confesses Pop music is treating him well:
– It is treating me very well! "Higher Ground" became so popular!
In fact, the singer is currently in the studio recording with the same team behind of his Eurovision hit and has more in the bag:
– I have just released a new single, I am writing and recording with the songwriters of "Higher Ground" and I am also directing a musical this Fall... There's a lot of stuff going on!
This begs the question: Would Rasmussen comeback to Eurovision?
– If we write the right song, then maybe!
When I ask him if he would do it with a Rock song, he hesitates:
– I guess a rock song would be for my own publishing. I don't think rock would do good at Eurovision.
Denmark has been participating in Eurovision Song Contest 48 times. Since its debut in 1957, Denmark has won the contest 3 times:
Worst result was in 2002 (last). Since the introduction of the Semi-finals in Eurovision in 2004, Denmark has qualified for the Grand Final 12 out of 16 times.