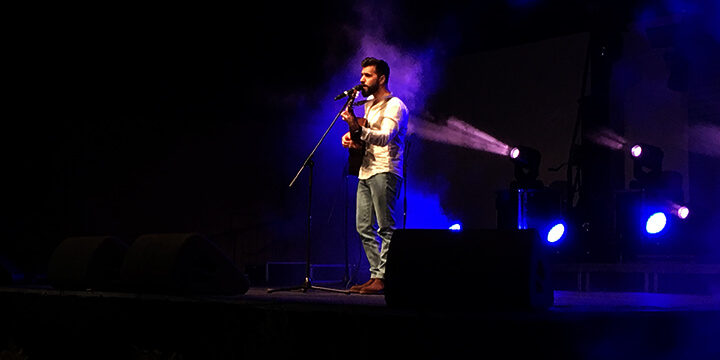 EUROVISION LIVE CONCERT
Eurovision Live Concert: Last goodbye to Eurovision 2019
Several Eurovision Song Contest stars gathered in Setúbal to celebrate the show at the yearly Eurovision Live Concert. Besides paying homage to several winners and Portuguese icons, the event was truly focused in this year's Eurovision in Tel Aviv
Lots of Eurovision stars traveled to Setúbal last night (31 August) to celebrate the competition that once (or twice) paved the way for their careers, the Eurovision Song Contest:
...and more
We're talking about the 11th edition of the Eurovision Live Concert – a yearly festival dedicated to Eurovision, held in the city of Setúbal in Portugal, that gathers participants from different years. The event is generally held by the end of August/beginning of September and could be considered as the last goodbye to that year's Eurovision Song Contest.
While Portugal is known for its hot temperatures, it surely was a cold and windy night in Setúbal which didn't seem to bother the audience that truly adhered to the event. The Auditório José Afonso was packed to welcome the Eurovision stars and say one final goodbye to what Tel Aviv gave to the Eurovision history.
In fact, it was "Arcade" – this year's winning entry – the song chosen to open the festivities. Duncan Laurence's winning song was sung by Portuguese singer Diogo Almeida that would later return to the stage to perform a medley of recent Eurovision winners: "Toy" (2018), "Amar Pelos Dois" (2017), "Rise Like a Phoenix" (2014), "Only Teardrops" (2013) and a song treasured by the Portuguese people, "Desfolhada" (Portugal 1969). Also a lover of dance, Diogo would later perform an entire rendition to this year's Switzerland entry, "She Got Me" that included the performance's original choreography.
Because we were there to celebrate Eurovision focusing on this year's edition, an Israel homage took place and was done by Sérgio Alves and Marta Pinto that together performed "Toy" by Netta and "Golden Boy", Israel's 2015 entry.
The Eurovision stars take the stage
It was time to welcome the Eurovision stars and Alexandros Panayi who is no stranger to Eurovision (nor the Eurovision Live Concert) took the stage and got the very first standing ovation of the night after performing a beautiful rendition of Maria Guinot's "Silêncio e Tanta Gente". The singer also performed his 1995 Eurovision entry, "Sti Fotia".
Rita Laranjeira - who represented Portugal at last year's Junior Eurovision - also paid an homage to "Chamar a Música", the song that represented her country in 1994 and used the festival to debut her new single that will be out soon, "Modern Cinderella". Before a ten-minute break, Carla Ribeiro (Festival da Canção 2014) confessed her love for Aminata's "Love Injected" (Latvia 2015) and performed a cover of the song.
Carlos Costa (Festival da Canção 2012) was back in the event as well and surely made justice to 2019 by performing not one, not two but three Eurovision 2019 songs... That is if we consider Maruv's "Siren Song" (Ukraine 2019) one of them. Tamta's "Replay" (Cyprus 2019) and Kobi Marimi's "Home" (Israel 2019) wrapped his sequence.
A tribute to Dina, Portugal's 1992 representative, who passed away earlier this year was performed and this year's Belgium representative (Eliot) also took the stage to perform his Eurovision song, "Wake Up".
Adelaide Ferreira receives her 1985 trophee and SunStroke Project throw the house down
There were five acts left to perform and one of them was the country's 1985 representative, Adelaide Ferreira. The singer took the stage to perform two songs, receive another standing ovation by the audience and her Festival da Canção's 1985 trophee that apparently RTP hadn't yet given it to her.
Magdalena Tul (Poland 2011) may have ranked last in her Eurovision's semi-final but surely had a few fans on the audience. The popstar took the stage to mostly promote her brand new album but also to throw it back to her Eurovision entry, "Jestem".
Denmark was being represented by Rasmussen who had been to Lisbon last year to compete at the Eurovision Song Contest. "Higher Ground" was one of the songs that had the biggest screams and the singer didn't leave without cheering up the audience that - at times - seemed lifeless... Not for too long though.
SunStroke Project were next. They represented Moldova in 2010 and again in 2017 when they gave the country its best ever Eurovision ranking, the third place. After performing two of their non-Eurovision songs, Sergei Yalovitsky (vocalist) asked the audience to stand up and dance to their last song, "Hey Mamma!" No one was sitting, everyone was dancing and having a great time.
It was finally time to end the show with one of this year's best ranked acts, Chingiz Mustafayev. The singer who represented Azerbaijan at this year's Eurovision performed his song "Truth" twice (an acoustic version and its studio version that wrapped the event), Sting's "Shape of My Heart" (only with his guitar) and asked Alexandros Panayi - his vocal couch - to yet again pay homage to Israel by performing a rendition of "Milim" (Israel 2010).
You can check clips of last night's party in Eurovisionworld's official Instagram account "ELC 2019" highlight.