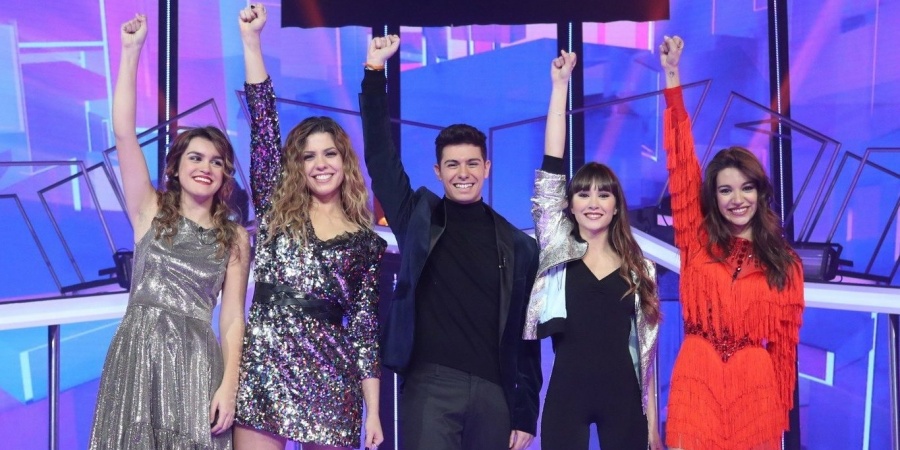 SPAIN
Spain Operación Triunfo 2018: Finalists selected
The five finalists in the Spanish talent show Operación Triunfo have been selected. The five finalists will also fight for the ticket to Eurovision 2018 in a special show, and the sixth place will still have a chance to go to Lisbon
The five finalists for Operación Triunfo in Spain have been selected. The fifth finalist was selected by public televoting which ran the last week.
Operación Triunfo
Top-5 – participates in Eurovision Galla both solo, as part of a duo, and all together:
Aitana
Alfred
Amaia
Ana Guerra
Miriam
Sixth place – participates in Eurovision Galla as part of a duo:
Eurovision Galla
A special show – "Eurovision Galla" – will feature the five finalists of Operación Triunfo performing new songs written by internally selected composers. The Eurovision Galla is scheduled to take place on 29 January 2018, and this evenings winner will be the Spanish representative at Eurovision Song Contest 2018 in Lisbon. The Spanish representative at Eurovision 2018 doesn't have to be the winner of Operación Triunfo who will stand on stage for Spain at Eurovision 2018.
Operación Triunfo has been shown on Spanish TV every Monday evenings since the end of October 2017. Every week a contestant is eliminated from the show. The show is broadcast live from Barcelona and hosted by Roberto Leal.
Eurovision Galla – 2 rounds
9 songs: Each of the top-5 finalists will sing 3 songs: A solo, a duet, and all top-5 together. One of the duets will feature Agoney who finished sixth tonight. The three best entries proceed to the second round – the Super Final.

Solo: Aitana – "Arde"
Solo: Alfred – "Que Nos Sigan Las Luces"
Solo: Amaia – "Al Cantar"
Solo: Ana Guerra – "El Remedio"
Solo: Miriam – "Lejos De Tu Piel"
Duet: Miriam & Agoney – "Magia"
Duet: Aitana & Ana Guerra – "Lo malo"
Duet: Amaia & Alfred – "Tu Canción"
Ensemble: Aitana, Alfred, Amaia, Ana Guerra & Miriam – "Camina"

Super Final: The three best entries from the first round (can be both solos, duets and the ensemble)

Entry 1: TBD
Entry 2: TBD
Entry 3: TBD
After the first round, the three entries with the most votes from the public – via telephone, sms and the official Operación Triunfo 2017 app – will proceed to the Super Final. In the Super Final the winner will be selected by public voting.
The songs will be released on 23 January 2018, but the ensemble's song "Camina" has already been revealed:
Spain has participated in Eurovision Song Contest 57 times since its debut in 1961. They have won twice, in 1968 (La, La, La...) and the folowing year, 1969 (Vivo Cantando).
Spain is a member of "Big-5", and therefore don't have to qualify for the Grand Final. Spain is also a member of the "club zero", because they have managed to get zero points (3 times!). They have ended last 5 times in Eurovision history, latest last year.
Best known song for Spain is probably the song "Eres Tú" from Eurovision 1973 (2nd place, only four points from victory).