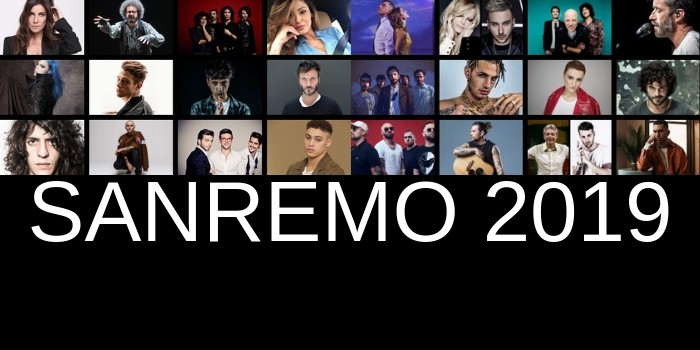 ITALY
Italy: The lineup of Sanremo 2019 is complete
Sanremo Giovani has finished and all 24 artists for Sanremo 2019 are selected after this week in the Casinò of Sanremo
The Italian broadcaster RAI has announced all the 24 contestants for the 69th Sanremo Music Festival in Italy. The contestants will compete for the first price in the "Big Artists" category – and the option to go to Eurovision Song Contest 2019 in Tel Aviv.

Sanremo 2019 – Lineup
Achille Lauro – "Rolls Royce"
Anna Tatangelo – "Le nostre anime di notte"
Arisa – "Mi sento bene"
Boomdabash – "Per un milione"
Daniele Silvestri – "Argento vivo"
Enrico Nigiotti – "Nonno Hollywood"
Ex Otago – "Solo una canzone"
Federica Carta e Shade – "Senza farlo apposta"
Francesco Renga – "Aspetto che torni"
Ghemon – "Rose viola"
Il Volo – "Musica che resta"
Irama – La ragazza con il cuore di latta "
Loredana Bertè – "Cosa ti aspetti da me"
Motta – "Dov'è l'Italia"
Negrita – "I ragazzi stanno bene"
Nek – "Mi farò trovare pronto"
Nino D'Angelo e Livio Cori – "Un'altra luce"
Paola Turci – "L'ultimo ostacolo"
Patty Pravo e Briga – "Un po' come la vita"
Simone Cristicchi – "Abbi cura di me"
The Zen Circus – "L'amore è una dittatura"
Ultimo – "I tuoi particolari"
Einar (qualified from Sanremo Giovani)
Mahmood (qualified from Sanremo Giovani)
Some of the artists are linked to previous Eurovision Song Contests:
Il Volo has represented Italy in Eurovision 2015 (3rd in total: 1st in televoting, 6th in juries).
Nek won the OGAE Second Chance Contest in 2015.
Arisa has expressed her will to go to Eurovision many times.
Sanremo and Sanremo Giovani
This year Sanremo and Sanremo Giovani are two different categories. Sanremo Giovani ("New Artists") has been held from 17 to 21 December 2018. Two of the "New Artists" were selected at the Giovani who will join the 22 "Big Artists" for Sanremo in February 2019.
This week, from 17 to 21 December, Sanremo Giovani took place in the Casinò of Sanremo.
During these five evenings, the 24 artists of Sanremo Giovani presented their songs and the two winners were selected by televoting and an expert jury containing Luca Barbarossa (Eurovision 1988 Italy: Ti Scrivo), Fiorella Mannoia, runner-up in Sanremo 2017, Luca Bizzarri, Paolo Kessisoglu and Annalisa, last winner of OGAE second chance contest and third place in Sanremo 2018.
During the first night of Sanremo Giovani, Einar with ''Centomila volte'' was the first winner of Sanremo Giovani, while the superfavourite Federica Abbate got the second place and the Critic Prize. Third place for Deschema.
During night 2, Mahmood with ''Gioventù Bruciata'' was the winner and also got the Critic Prize. Second place for band La Rua and third place for Nyvinne.
Einar and Mahmood will sing a different song during Sanremo 2019.
Italy has been in Eurovision for 44 contests. They have won twice, in 1964 with the song "Non Ho L'étà" and in 1990 with "Insieme: 1992". Worst result was in 1966 where they finished last.
The most known song is "Nel Blu Dipinto Di Blu" or better known as "Volare" from 1958. It is also the most covered Eurovision Song Contest song. The song has been covered by famous stars such as Dean Martin, Cliff Richard, David Bowie and many more.
Italy had a long pause from Eurovision Song Contest from 1998 to 2010. Since then Italy has been a"Big-5"-country, automatically qualifying for every year's Grand Final.