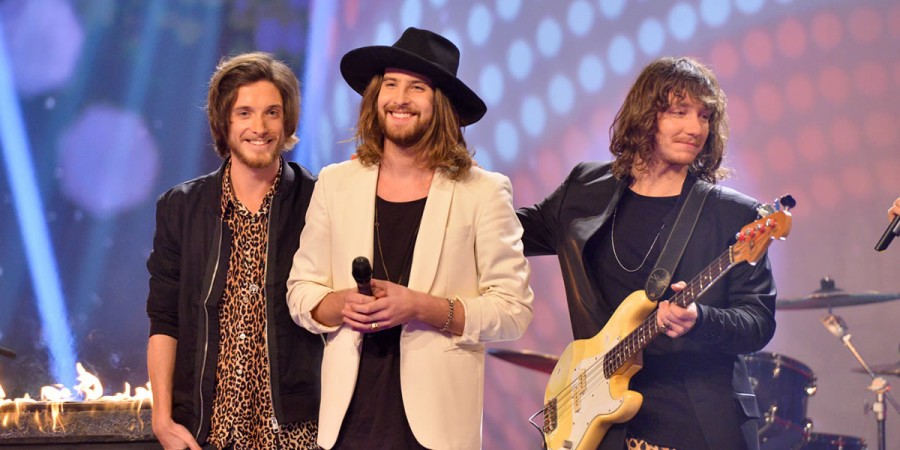 AUSTRIA
The Makemakes, Austria: "We want to touch Eurovision"
INTERVIEW: "We want to make Eurovision fans flood of emotions". That is the goal of the hosts in this year's Eurovision. Makemakes spoke with Eurovisionworld and talked about the competition welcoming all the other contestants in Vienna, Austria
After Conchita, who won last year, Austrians have high hopes for this year's entry too with a rock music band.
Its members are Dodo (Dominic) Muhrer (vocals), Max (Markus) Christ (bass) and Flo (Florian) X. Meindl (drums).
The group became known in 2013 through its appearance as opening band for Bon Jovi in Vienna Krieau.
What do you aim to show with your song?

»"I'm yours" is all about friendship. Sometimes you don't realize how much you like someone, how important your friends really are. From time to time we should let the people we love know that we do. We hope that our music can touch the people, can transfer the lyrics on an emotional level.«
You are the hosts. Will you have a special welcome to other countries?

»We've listened to the others songs and we already met some of the other bands/singers. We had a lot of fun visiting them in their home countries. Each of the other songs has its own characteristics, we can't tell, which we like best.«
Who is your favorite artist that has performed on the Eurovision stage?

»There are a lot of good songs. We liked Udo Jürgens'. He was a good singer, a good entertainer and he also set statements with his songs.«
What is your goal as far as the position is concerned?

»Top ten would make us happy, top five even more.«
Do you think of the possible success you might have?

»No. We are really looking forward to our performance, to the audience and we aim to give our best to present "I'm yours" as good as possible.«
How would you welcome Australia?

»Australia opens new ways, makes the ESC even more international. Welcome Australia!«
What we don't know about Makemakes?

»We have been musicians since we were children. Music has always been the most important thing in the lives of us three boys and still is. What we do, we do it for the love for the music. The Makemakes have also always been friends. That's the other very important aspect of the band.«
Follow The Makemakes
Facebook: www.facebook.com/themakemakes
Twitter: @TheMakemakes
Austria has been participating in Eurovision Song Contest 47 times since it's debut in 1957. They won the competion twice: in 1966 (Udo Jürgens - Merci Chérie) and in 2014 (Conchita Wurst - Rise Like a Phoenix). They came last in the competition eight times (Zero points in 1962, 1988 and 1991). Since the introduction of Semi-finals in 2004, Austria only qualified for the Grand Final 3 out of 7 times. In 2015 Austria will host Eurovision Song Contest and is automatically qualified for the Grand Final. They will vote in Semi-final 1.