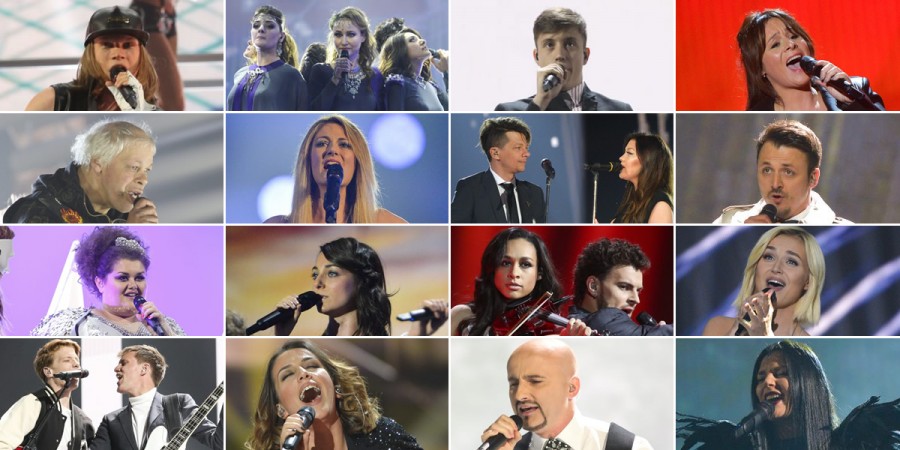 VIENNA 2015
Tonight: ESC 2015 Semi-final 1
Tonight the first 16 songs will compete in this year's Eurovision, and 10 will qualify for Saturday's Grand Final. See all the details, songs and what to expect from tonight's Semi-final 1. Let the Eurovision Song Contest 2015 Begin!
The 60th edition of Eurovision Song Contest begins tonight!
16 songs will compete but only 10 will qualify for Saturday's Grand Final. The show starts at 21:00 CET, live from Wiener Stadthalle in Vienna, Austria. Hosts are Alice Tumler, Mirjam Weichelbraun and Arabella Kiesbauer, Green Room by Conchita Wurst. The running order is decided by the producer (Austrian broadcaster ORF) based on an allocation draw.
On Thursday Semi-final 2 will find the last 10 qualifiers out of 17 songs.
Lineup Semi-final 1
Opening
Eurovision Song Contest 2015 will start with a look back at Conchita's victory last year, and a big eye is in the centre of the stage. The eye opens up, showing a live orchestra playing Rise Like a Phoenix, with – of course – Conchita singing it. The green room is placed in the back of the Arena, with an isle though the audience up to the stage. Each of the contestants in Semi-final 1 are introduced by Conchita, and they walk from the green room up to the stage. After the introduction of the participants at the first Semi-final, Conchita introduces the three hostesses of the shows: Alice Tumler, Mirjam Weichelbraun and Arabella Kiesbauer. They speak about the voting process. »Let the Eurovision Song Contest begin«.
Interval
After the 16 songs have been performed, the voting lines are open. After the first recap of the songs, Conchita chats with some of the artists in the green room.
We then see a video about Vienna (what a cool place) seen from animal's point of view: The three hostesses takes us around in Vienna with their pets - a horse, a dog and a cat, ending outside Wiener Stadthalle. Another recap is shown, and the voting ends.
We are back with another video: "Daughters and sons connections". The video is about Austrian personalities and their bridges to Eurovision Song Contest: Bertha von Suttner, Gregor Mendel, Niki Lauda and some more.
We see a short preview of the videos from each of the pre-qualified countries: Austria, United Kingdom, Spain, Italy, Germany, France, and Australia.
And now: The results!!
»Good morning Australia and good night Europe!«
Voting
The 10 songs with most points will qualify to the Grand Final
Each of the 16 countries participating in Semi-final 1 will vote
The pre-qualified countries Australia, Austria, France and Spain will broadcast and vote in Semi-final 1
Each country gives 1,2,3,4,5,6,7,8,10 and 12 points
The voting will not be revealed before the Grand Final has finished on Saturday
Only the 10 qualified songs will be revealed in random order
Televoters and national juries have 50/50 weight in the voting
The national juries voted yesterday evening (Monday, 18 May) based on the second dress-rehearsal