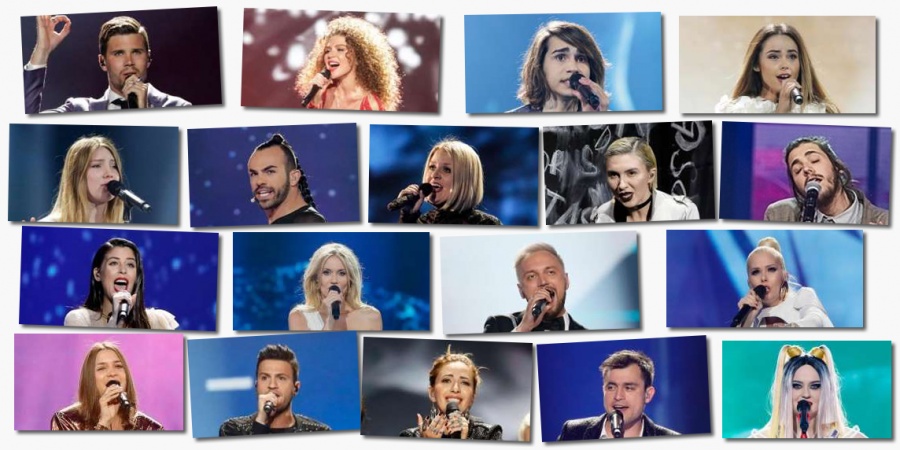 SEMI-FINAL 1
Tonight: Eurovision 2017 Semi-final 1
Tonight the first 18 songs will compete in this year's Eurovision, and 10 will qualify for Saturday's Grand Final. See all the details, songs and what to expect from tonight's Semi-final 1. Let the Eurovision Song Contest 2017 Begin!
The 62nd edition of Eurovision Song Contest begins tonight!
18 songs will compete but only 10 will qualify for Saturday's Grand Final. The show starts at 21:00 CEST, live from Kyiv International Exhibition Centre in Kyiv, Ukraine. Hosts are Oleksandr Skichko, Volodymyr Ostapchuk and Timur Miroshnychenko. The running order is decided by the producer (Ukrainian broadcaster UA:PBC) based on an allocation draw.
On Thursday Semi-final 2 will find the last 10 qualifiers out of 18 songs.
Lineup Semi-final 1
After the 18 songs from the first Semi-final, a 1-minute preview of three of the six pre-qualified countries will be shown: Spain, Italy and United Kingdom. These previews have been recorded yesterday at the Jury rehearsals.
Opening
It all starts with a video showing some Ukrainian women in traditional costume, enhancing this year's slogan "Celebrate Diversity". Then, what followed was something completely different from the previous years. Normally, the last winner of Eurovision opens the first semifinal, singing the song which conquered Europe the year before, but this time Jamala won't open the show. The opening act is not an Eurovision artist, it's Monatik, a famous local Ukrainian singer, songwriter and dancer, singing a song called "Spinning". Dressed in a long blue and white traditional coat, with a dark blue beeny, he is joined by seven dancers during the performing.
Known for having been coach in the past three seasons of The Voice Kids Ukraine, he really is going to please ukrainian people.
"Let the Eurovision Song Contest 2017 begin"!

Interval Acts
After all the 18 songs have been performed, one of the main moments of the evening takes place: Jamala's performance. In the beginning, many of the fans won't realize what song is being played, but then there's no way you can't get it... It's of course " 1944", the song that gave Jamala the ESC trophy. In a stunning performance, she still transmits all the emotions like she did last year on stage, but in a revamp version of the song, created especially for the show. Then, some minutes later, after some talking from the hosts, she returns to the stage to sing her song "Lured", with another great performance.
"Europe. Stop voting now"!
Voting
The voting procedure will be the same as last year. Each country will have two sets of 1,2,3,4,5,6,7,8,10 and 12 points to give. One set for each country's jury, and one set for each country's televoting.
The 10 songs with most points will qualify to the Grand Final
Each of the 18 countries participating in Semi-final 1 will vote
The pre-qualified countries Spain, Italy and United Kingdom will broadcast and vote in Semi-final 1
Each country has a national jury who gives one set of 1,2,3,4,5,6,7,8,10 and 12 points
Each country will have televoting which also results in a set of 1,2,3,4,5,6,7,8,10 and 12 points
The voting will not be revealed before the Grand Final has finished on Saturday
Only the 10 qualified songs will be revealed in random order
Televoters and national juries have equal weight in the voting
The national juries voted yesterday evening (Monday, 8 May) based on the second dress-rehearsal