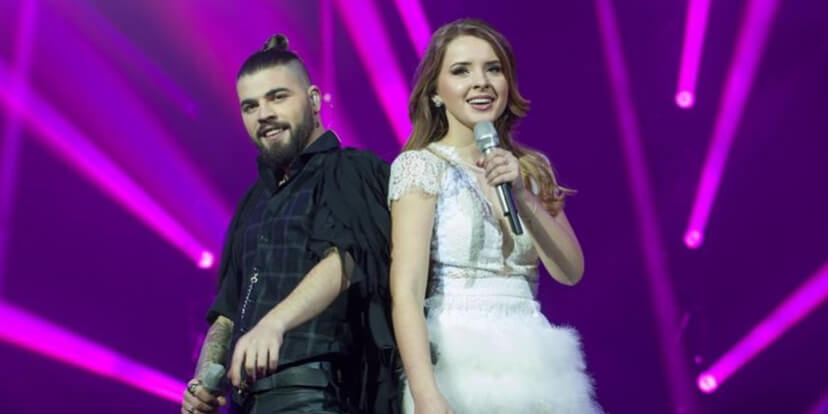 ROMANIA
Yodel it Romania! Ilinca & Alex win Selecţia Naţională 2017
Yodeling is back in Eurovision! Tonight Romania decided for Eurovision Song Contest 2017 in the show Selecţia Naţională: Ilinca & Alex Florea won with the song "Yodel It!"
Romania is back! After last year's absence from Eurovision Romania is ready for a revenge in 2017. Tonight the Romanian broadcaster TVR held the final of Selecţia Naţională 2017 live from Bucharest. 10 songs competed for the ticket to Eurovision Song Contest 2017, and the public televoters had no doubt: Ilinca & Alex Florea won with the song "Yodel It!". Along with the ticket to Kyiv, Ilinca and Alex also won 5,000 Euros for their victory.
The song "Yodel It" is written by Mihai Alexandru (music) and Alexandra Niculae (lyrics). Tonight's show had several guest stars: Timebelle (Switzerland 2017), Manuel Navarro (Spain 2017) and Sunstroke Project (Moldova 2017).

Selecţia Naţională 2017 – Results
Ilinca feat. Alex Florea – "Yodel It!" (10377 votes)
MIHAI – "I Won't Surrender" (5201 votes)
Instinct – "Petale" (3763 votes)
Maxim feat. Nicolae Voiculeț – "Adu-ți aminte" (2800 votes)
Xandra – "Walk On By" (2556 votes)
Cristina Vasiu – "Set the Skies on Fire" (2222 votes)
Ramona Nerra – "Save Me" (2102 votes)
Eduard Santha – "Wild Child" (1331 votes)
Tavi Colen & Emma – "We Own the Night" (1128 votes)
Ana-Maria Mirică – "Spune-mi tu" (913 votes)
Ilinca & Alex
Ilinca Băcilă (18) has been singing her whole life, and music has always been an important part of her life. It is not the first time she has competed in a TV show. In 2014 she stunned the jurors at The Voice of Romania when she started yodeling. She reached the semi-finals.
Alex Florea (26) is a singer and actor at Constanta and has demonstrated versatility by participating in X Factor in 2014 and in The Voice of Romania in 2015.
Selecția Națională 2017
Selecția Națională 2017 had three rounds:
27 - 29 January 2017: Auditions – 15 qualifies to the Semi-final
26 February 2017: Semi-final – 10 qualifies to the Final
5 March 2017: Final
From the audition round 15 songs qualified to the semi-final. In the semi-final, a jury selected which 10 songs to qualify to the Final. In the final, the winner was determined solely by televoting.
The Final of Selecţia Naţională 2017 was held in Studioul Pangratti, Bucharest, and was hosted by Iuliana Tudor and Dan Helciug. Greenroom was hosted by Ioana Voicu.
The jury for the auditions and the semi-final included: Luminiţa Anghel, Ovi Jacobsen, Adrian Romcescu, Paula Seling and Andrei Tudor.
Romania had its debut in 1994, and has been participating 17 times since. They have never won the contest, but came 3rd in 2005 (Luminita Anghel & Sistem - "Let Me Try") and 2010 (Paula Seling & Ovi - "Playing With Fire").
Romania was expelled from Eurovision 2016 due to unpaid dept to EBU, so the winner of Selecţia Naţională 2016, Ovidiu Anton didn't participate in Stockholm.
Since the introductions of semi-finals in 2004, Romania has qualified to the Grand Final 12 out of 12 times!