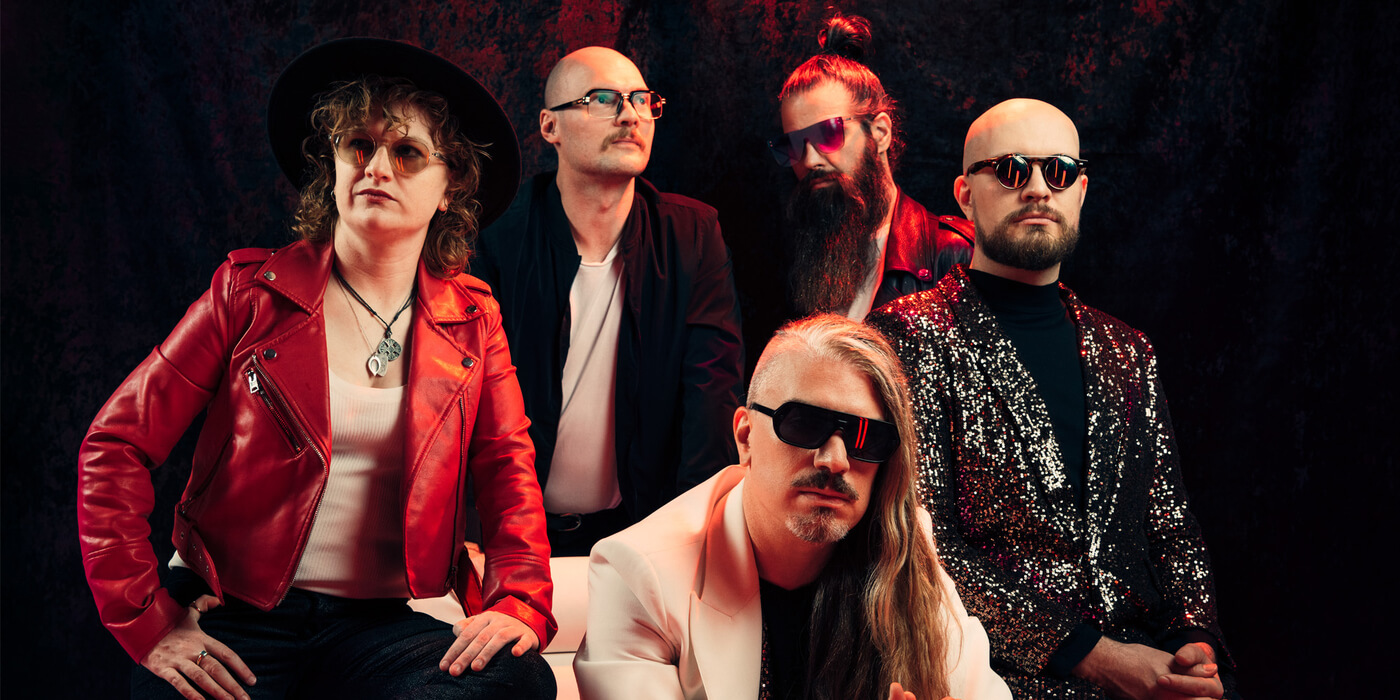 AUSTRALIA
Australia's Voyager: "It's Eurovision. You've got to have some drama, some danger"
INTERVIEW Ever since Australia joined the Eurovision Song Contest fans have been requesting Voyager to participate. Eight years and three tries later, their time has come. We met with part of the band for a talk about the band, their song "Promise," and expectations for Liverpool
The band Voyager was internally selected to represent Australia at the Eurovision Song Contest 2023 in Liverpool. The band was formed as a progressive metal band back in 1999, and their constant evolution has contributed to numerous changes in the band and its musical direction. The band has released seven studio albums, the most recent of them being 2019's "Colours in the Sun."
As of now, Voyager consists of five experienced and professional musicians:
Daniel (Danny) Estrin (vocals and keyboard)
Simone Dow (guitar)
Scott Kay (guitar)
Alex Canion (bass)
Ashley (Ash) Doodkorte (drums)
We met with two of band members, Scott and Ash, in London where Voyager has been staying for the past weeks.

#VoyagerForEurovision
Voyager's Eurovision story began many years ago. Ash admits that he's a big Eurovision fan and has been getting up in the middle of the night for the past 25 years to watch the Grand Final.

– Before 2015 I was saying that I'd like to do it, but then I remembered that I played in a metal band and I lived in Perth. I thought it would never happen for me, but it was a nice dream. Then 2015 came along and I was like, "This is going to happen for me. I'm going to make this happen." So, it's been a mission for a while now, Ash shares.
We couldn't be happier. We're ready to rock, we've been ready to rock for years.Voyager
– We've had a hashtag "#VoyagerForEurovision," which started as a fan-based thing. We heard this hashtag so many times over the years, people were saying, "Oh, Voyager would be so good for Eurovision." So, this thing gained momentum over the years until eventually we decided to properly submit something and it kind of grew from there, Scott reminisces about the previous experience.

Voyager participated in Australia's national selection Australia Decides 2022 with the song "Dreamer," where they won the public vote and finished second, just three points behind Sheldon Riley.
– Everyone was behind us in a way that I'd never really experienced before, and that was really cool. And we felt like if we had the right song it would be really cool to go through that process again. We had a really fun time performing and meeting all the other artists, Ash says and continues:

– As 2022 went on, we started working on what was eventually going to become "Promise." And we were just like, "Oh, hang on a minute. This is a pretty cool track!" So, we kept working on it, finished it off. We sent it through to SBS and started pushing them to accept it. We were calling them often and reminding them of our application. And eventually they thought it was time to give Voyager a go.
– We couldn't be happier. We're ready to rock, we've been ready to rock for years, Ash concludes.

Scott also reveals that there were no other potential songs for this year's submission besides "Promise." The band likes to focus on one song and make it truly perfect, so they spend months just rewriting it and massaging it into the song.
Have you ever done anything like this before?
As the band had been working on the song for several months, the lyrics have also been tailored to the smallest detail to reflect the band's authenticity and showcase the meaning of the song. However, Scott shares that the concept of the song actually started with the distinctive first line "Have you ever done anything like this before?":
– The song started off with that opening, and I like to call it the catalyst of the song. And then Danny begins with the question, "Have you ever done anything like this before?" to which we can confidently say, "No, we haven't played Eurovision before," he laughs.
Sometimes you can feel lost, hopeless, frustrated.Voyager
– The song is about trying to deal with the chaos of the world. Sometimes you can feel lost, hopeless, frustrated. But you just need to have that person or family or bandmate or whoever is there with you to tell you that things are going to be okay, Scott explains and elaborates:
– It's a song about being lost at one point, and then finding yourself or finding that encouragement from the people around you. Initially the character feels lost, and then by the end of it the world crushes them and they realize there is a lot of beauty out there that can be found in friends and family. So, I think it's about connectedness more than anything.
"Promise" is accompanied by a lively and expressive music video which was filmed in Western Australia. It took the band six hours to drive to the filming location, Pink Lake. The band was under a lot of time pressure since filming took place during sunrise, and the sun doesn't wait for you to get your scenes finished:
– I've never had the experience of setting up my drumset across pink salt in the middle of such a big open field with reflecting clouds. It was really magical and such an awesome moment. Then, we got up at 4:00 a.m. to hike to the top of a mountain to film the video. I mean, it doesn't really get much better than that, Ash shares.
Fireworks in Liverpool?
Their participation in Australia Decides over the past years has helped the band prepare for performing in front of the cameras, which is incredibly important for Eurovision. Scott explains:
– The fact that it's televised completely changes our approach to performance on a very fundamental level. We're very used to being able to be wherever we like on the stage. But when you've got a camera trying to follow you around, it's not exactly helpful. So, a lot of it is about trying to generate as much energy and intensity in the performance whilst maintaining a fair amount of stillness at the same time. It's more about the gesturing rather than the physical moving on the stage.
It's going to be like a Voyager show, but multiplied by 200.Voyager
– When performing on a stage for TV you have two audiences. You have the audience in the arena, and then you have the audience at home. So, you've got to perform to all the people and make sure everyone's having a good time, Scott says.
– You have to enjoy the dance party in the arena. But then you've got to stare down that camera and make sure you're playing to that person on the couch, Ash adds.
Voyager's stage director for Eurovision 2023 is the acclaimed Marvin Dietmann. So, we can surely expect a fantastic show:
– It's going to be like a Voyager show, but multiplied by 200. It's something we've always dreamed of doing. You wouldn't have seen anything like this before, Ash laughs, quoting their Eurovision song.
– We are toying and flirting with the idea of fireworks. Still working that out, Scott says.
– I'm pretty sure that at least one part of my drum kit should explode at some point. It's Eurovision. You've got to have some drama, some danger, Ash concludes and laughs.

Expectations
The band has been in touch with Australia's previous representative, Sheldon Riley (Australia 2022), and Brooke Scullion (Ireland 2022) to discuss tips and tricks for the big stage and the whole Eurovision experience. Voyager reveals that the previous contestants' experience is very useful since other people cannot truly understand the experience and chaos that is Eurovision.
The pre-parties have also been a great experience for the band since, as they state, it's like a mini-Eurovision.
– We're all here for the same reasons. We all love music. We're all united by music. So, it's nice to meet the personalities behind the other songs. What I've enjoyed the most is just seeing everyone bonding, Scott shares.
Dami Im from 2016 is one of the Australian representatives that Voyager is really looking up to. She obtained the best result for Australia so far. Can Voyager win Eurovision?
– We feel that we'll do well if we just get the best result Australia has ever had. So, all we have to do is just beat Dami Im and she only came second, right? So, no problem, they both laugh.
I'm going to glue the sticks to my hands so there's going to be no chance of any mistakes of throwing the sticks away.Ash, the drummer of Voyager
The bookmakers currently predict that Voyager is a safe qualifier from Semi-final 2. The guys don't take the odds that much into account and plan to do their best regardless of what bookmakers say, as they are strong believers that feeling confident provides a greater chance of success.
Moreover, the guitarist Scott and the dummer Ash reveal they aren't nervous about the big performance:
– I have to admit I do freak out sometimes about tripping over. That runs through my head a lot. But, then you just need to turn it into a part of the performance anyway. You just take a bow and continue on! So, I'm not really feeling particularly nervous about it, says Scott.
– This is why I have the easiest job because I get to sit down. I'm going to glue the sticks to my hands so there's going to be no chance of any mistakes of throwing the sticks away. I don't know if anyone's really all that nervous. I think we're more excited. It's a matter of not getting overexcited. Like jumping off the stage into the crowd, Ash adds.
When asked about their favorite songs in this year's edition of Eurovision, Scott and Ash praise the overall quality of the songs and list numerous favorites:
– It has to be Austria. I love Teya & Salena's tune, I think it's really clever, really witty. And the more I listen to "My Sister's Crown" by Vesna (Czechia), the more I love it. Watching them perform it live actually gives me chills, and they're amazing people. One I hadn't really listened to much until I saw it performed was Diljá, the Icelandic power. The way that she performs is so infectious. I think the live performance is better than the recorded version because of her personality and her clear excitement and graciousness for being there.
The voyage from 1999 to 2023
Even though only the vocalist has been present throughout the whole evolution of the band, Scott and Ash state the sound of Voyager has remained relatively the same for the past years:
– Danny has been collecting members like trinkets and slowly molding the sound of the band over the last two decades into completely different creatures. And I feel it's been pretty stable for the last 12 years, so maybe we've reached our ultimate form, Ash says while laughing.
Scott agrees, and adds that the band is completely different today than back in 1999 when the band was formed:
– It started off as more like a progressive power metal band and we have slowly become a bit more pop-oriented. But really, every member joining has really shaped the band creatively, in one way or another, into the thing that we now have today.
Voyager is probably the only Eurovision 2023 participant who has decided to leave their home country for almost two months in order to prepare and participate at Eurovision. Since Voyager left for the first pre-parties in Europe, they've been staying in London and will go back to Australia only after Eurovision.
– There's no point in going home, it's a 21-hour flight one way so it's crazy. So, it made sense for us to set up a home base here.
– We've come to Europe quite a bit for tours and things in the past, and we usually do it pretty rough. Usually we do the long flight and have a show the next day, and then play a show every day for the next 20 days, sleeping in a bus.
But Voyager is not too sad about having to stay in Europe for so long. As soon as they received the ticket to represent Australia they knew that they'd be leaving Australia for a long adventure together with their best friends. Luckily enough, the stay in Europe has not only helped the band adjust more easily to the time difference, but also take the whole Eurovision experience to another level.
– We've been carting around a lot of extra gear while we're here, basically carrying our whole bedrooms with us. But it's a good experience. We've had a few of the other contestants say to us, "Oh, you have so much stuff!" And I say, "Yeah, we've been living here for six weeks now. We have to carry our whole wardrobe with us!" the guys laugh.
Voyager will perform in Semi-final 2 on 11 May 2023