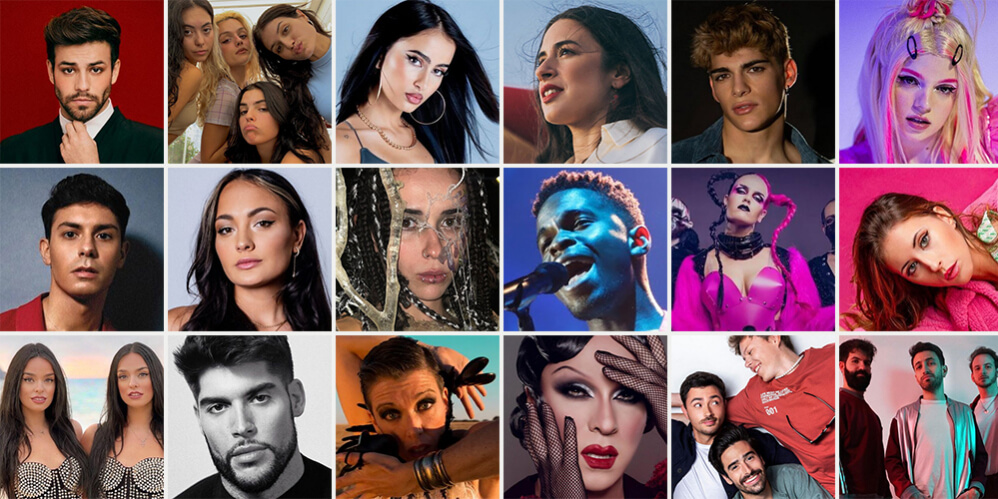 SPAIN
Spain: Here are the 18 contestants for Benidorm Fest 2023
The 18 talents hoping to get the opportunity to represent Spain at Eurovision 2023 have been announced. Their songs will be released at a later date
Let's go!
Spain is officially ready for Eurovision 2023, and joined by 18 artists (up from 16 initially), all hoping to get that plane ticket to Liverpool.
The stakes are higher than ever for Spain after Chanel (Spain 2022) managed to deliver the country its best score since 1995 when Anabel Conde came in second. Further evidence of this is the amount of entries received: 876 songs. Out of those, 394 were sent in by record labels, which represents a huge increase from last year.
The announcement of the competing artists was supposed to happen in two days time, but RTVE decided to move it forward and spoil the fans with the major news:
Some of the 18 participants in Benidorm Fest 2023 have competed in the past:
Benidorm Fest 2023
Benidorm Fest 2023 will be Spain's national selection for the Eurovision Song Contest 2023, which will be held in Liverpool in May. The event will be divided into three live shows:
Semi-Final 1: 31 January 2023
Semi-Final 2: 2 February 2023
Final: 4 February 2023
Spain in the Eurovision Song Contest
Spain has participated in the Eurovision Song Contest 61 times since their debut in 1961. They have won twice: in 1968 (La, La, La...) and the folowing year, 1969 (Vivo Cantando).
Spain is a member of the "Big-5," which means they don't have to go through the Semi-final round and are automatically qualified for the Grand Final. Spain is also a member of "club zero" because they have managed to get zero points 3 times. They have finished in last place 5 times in Eurovision history, the latest coming in 2017.
Spain's best-known song is probably "Eres Tú" from Eurovision 1973 (2nd place, only four points away from victory).