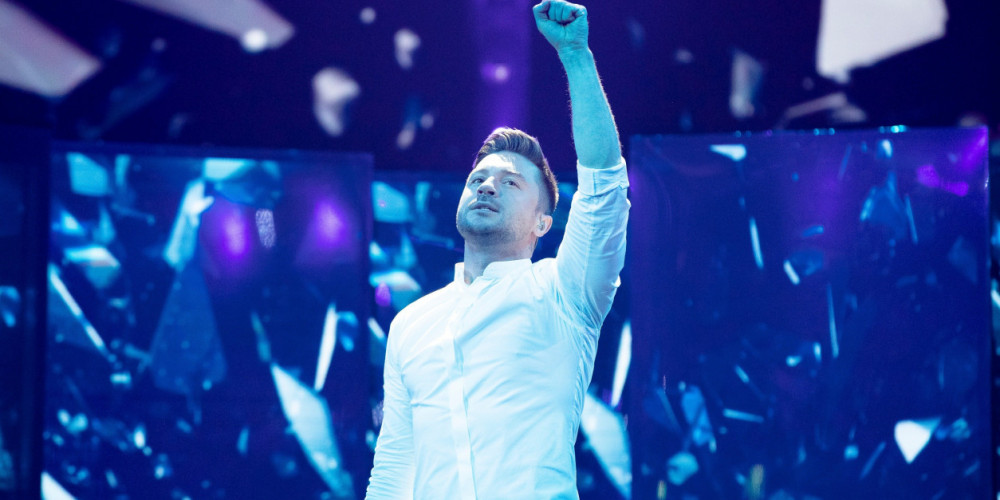 RUSSIA
Sergey Lazarev: "I feel more pressure this time"
We met with Russia's Sergey Lazarev, to talk about performance, nervousness, 2016, and why he feels more pressure on his second participation in Eurovision

Sergey Lazarev is one of the most prominent Russian figures in the world and a certified Eurovision legend. He made his debut three years ago in Stockholm where – surprisingly – he finished third despite the odds predicting him as the winner of Eurovision Song Contest 2016. That episode makes him try to distance himself from the bookmakers predictions:
– I remember I was number one in 2016. Even on the day of the Grand Final we were number one and I ended up finishing third.
– Odds can be wrong and I don't want to pay too much attention to them. I don't want to be too sad nor too satisfied. People put money on us, and maybe they're scared of what happened back in 2016, says Lazarev.
When I remind him that he won the televote with You Are the Only One, he explains:
– Yes, they weren't exactly wrong and I know I am top 3 this year, which is great. I am enjoying this moment and everything that is happening right now.
First rehearsal went better than the second
This year, Sergey Lazarev is again representing Russia at Eurovision Song Contest. His song "Scream" has already received lots of attention, both because of the unique staging, but especially because of Sergey's talent.
Sergey had his first rehearsal on the Eurovision stage on Tuesday, and again today.The second rehearsals are generally better than the first as things have been discussed and improved, but not for Sergey:
– In general, the second rehearsal was fine. Everything was good except for one thing: We have a water panel on stage but there wasn't water in it, so that's a little thing to be fixed. In fact, during the first rehearsal everything was fine but now they have things to fix.
Sergey isn't the only one with production issues. Portugal, Malta and Cyprus are on the same path. Despite this, Sergey is really looking forward to the live shows:
– In general, lights are better. We asked them to fix a few things and they did a great job. I am almost happy. I will be happy when everything comes to an end during the semi-final and I am hoping to go to the final.
If the bookmakers and our semi-final predictions are correct, it is very likely that we will see Scream in the Grand Final, next Saturday.
Higher pressure this year
Just because Sergey Lazarev is a huge star, it doesn't mean he won't be nervous. During the interview, the Russian singer confess that this second participation comes with higher pressure on himself:
– I feel a bit more pressure now because a lot of people know me and expect a lot from me. I was third in 2016, but on the other side, I have a lot of support from the Eurovision fans but it's normal to be nervous.
I feel a bit more pressure now because a lot of people know me and expect a lot from meSergey Lazarev
As for nervousness on stage, that has happened today for the first time:

– Sometimes I am more relaxed. During the first rehearsal I wasn't nervous at all, but today, I felt something happening inside of me. I was a bit nervous. I believe it's because we've been here for a week and we've only rehearsed so far. I want to feel the audience and I want them to see us.
Focus on a vocal performance
Back in 2016, Sergey admits that many people thought the performance was "too complicated, less vocal and more focused on the staging". With that being said, he admits that "Scream" is meant to focus more on Sergey, the vocalist:
– It's a different song but this year we moved the focus onto vocals. To be honest, it's a very hard song to sing. There's a lot of high and low notes, he says not diminishing the importance of the staging:
– We still made, in my opinion, an interesting performance and I can say that it has more meaning than the previous one. It's more emotional and more unique.
I ask if his graduation in theatre helps. He replies immediately:
– Yes, of course! It's very dramatic and there's a lot of acting during my performance.
Understanding the performance
In "Scream", Sergey tells a story that can be perceived differently from everyone. He explains his and the stage director's view on it:
– It's about life. We all have hard times and sometimes we have to take big decisions. In the beginning I am faced with only one solution to go through this obstacle but as the performance goes by, I find more and more options.
As the show goes on, the story develops into a glorious one:

– We have to fight with our fears and regrets. We have to leave everything behind to make the step forward and that's why, in the end, I break all the mirrors, he continues adding that the mirrors are his reflection and his emotions.
But what could possibly such a successful man fear?
– I have a lot of struggles. I am a normal, ordinary person. I am human being, so I also have problems. I have bad moods and I have ups and downs in my private life.
He concludes:
– The story can touch every heart, everyone has been in my position and have had things they regret.
Sergey Lazarev is set to take the stage for semi-final 2 on 16 May.
Since 1994 Russia has participated 21 times in Eurovision Song Contest. They won the contest in 2008 with the song "Believe" performed by Dima Bilan.
In 2017 the Russian singer Yulia Samoylova was denied entry to Ukraine, and therefore Russia decided to boycot Eurovision 2017. She returned for the 2018 contest in Lisbon, but for the first time, Russia didn't qualify for the Grand Final.