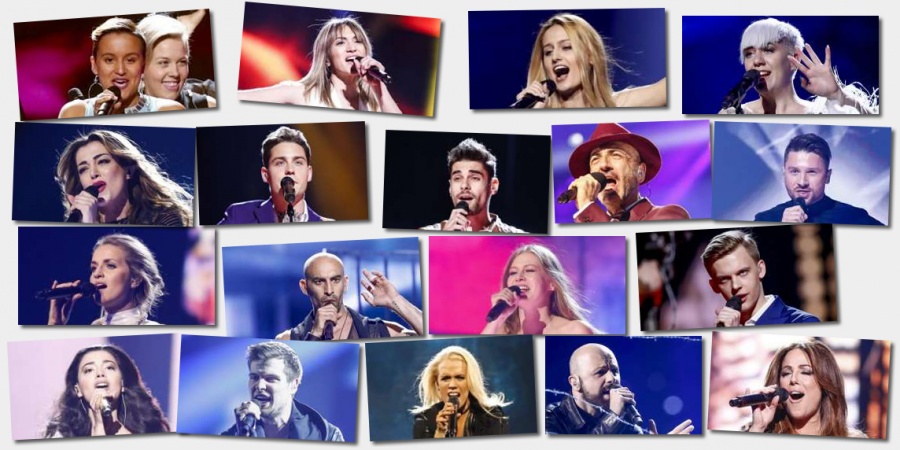 STOCKHOLM 2016
Tonight: Eurovision 2016 Semi-final 1
Tonight the first 18 songs will compete in this year's Eurovision, and 10 will qualify for Saturday's Grand Final. See all the details, songs and what to expect from tonight's Semi-final 1. Let the Eurovision Song Contest 2016 Begin!
The 61st edition of Eurovision Song Contest begins tonight!
18 songs will compete but only 10 will qualify for Saturday's Grand Final. The show starts at 21:00 CEST, live from Globen Arena in Stockholm, Sweden. Hosts are Måns Zelmerlöw and Petra Mede. The running order is decided by the producer (Swedish broadcaster SVT) based on an allocation draw.
On Thursday Semi-final 2 will find the last 10 qualifiers out of 18 songs.
Lineup Semi-final 1
After the 18 songs from the first Semi-final, a 1-minute preview of three of the six pre-qualified countries will be shown: France, Spain and Sweden. These previews have been recorded yesterday at the Jury rehearsals.
Opening
Eurovision Song Contest 2016 starts with a flyover to the arena Globen in Stockholm, with the classic clips from Måns' victory last year in Vienna.
We're inside the arena, where Måns is on stage, singing his winning song from last year "Heroes". His computer animated friend comes to life as a real boy, flying away lifted by a balloon. A choir of 44 children fills the stage. A very cool version of "Heroes".
A dandelion is being blown and the small seeds fly all over the Eurovision world - and universe, to end up in Stockholm. Here all the seeds come together where Globen arena is placed, in a giant dandelion, this year's Eurovision logo. Beautiful animation.
We're back inside the arena, where the other host of tonight, Petra Mede, is presented.
"Welcome to the Eurovision Song Contest 2016!"
Måns: What have you been doing these past three years?
Petra: Absolutely nothing. I've been sitting in my sofa all the time waiting for Sweden to win Eurovision again.
Finally we can say: "Welcome Europe!", and then the band "Europe" starts playing "Final Countdown" - no no no!
"Grab your towels. It's time to Come Together. Let the Eurovision Song Contest begin!"


Interval act
After all the 18 songs have been performed, Petra says that it's time for the Final Countdown, and we see the band "Europe" again, playing "The Final Countdown".
The interval act will bring focus on the refugee crisis in Europe, Petra states that Europe is facing one of the biggest crisis, because of refugees fleeing.
The interval act starts with showing a family of three in grey, surrounded by dancers. The family attempt to swim to safety, but one doesn't make it.
Voting
The voting has changed a bit this year. Each country will now have two sets of 1,2,3,4,5,6,7,8,10 and 12 points to give. One set for each country's jury, and one set for each country's televoting.
The 10 songs with most points will qualify to the Grand Final
Each of the 18 countries participating in Semi-final 1 will vote
Each country has a national jury who gives one set of 1,2,3,4,5,6,7,8,10 and 12 points
Each country will have televoting which also results in a set of 1,2,3,4,5,6,7,8,10 and 12 points
The voting will not be revealed before the Grand Final has finished on Saturday
Only the 10 qualified songs will be revealed in random order
Televoters and national juries have equal weight in the voting
The national juries voted yesterday evening (Monday, 9 May) based on the second dress-rehearsal