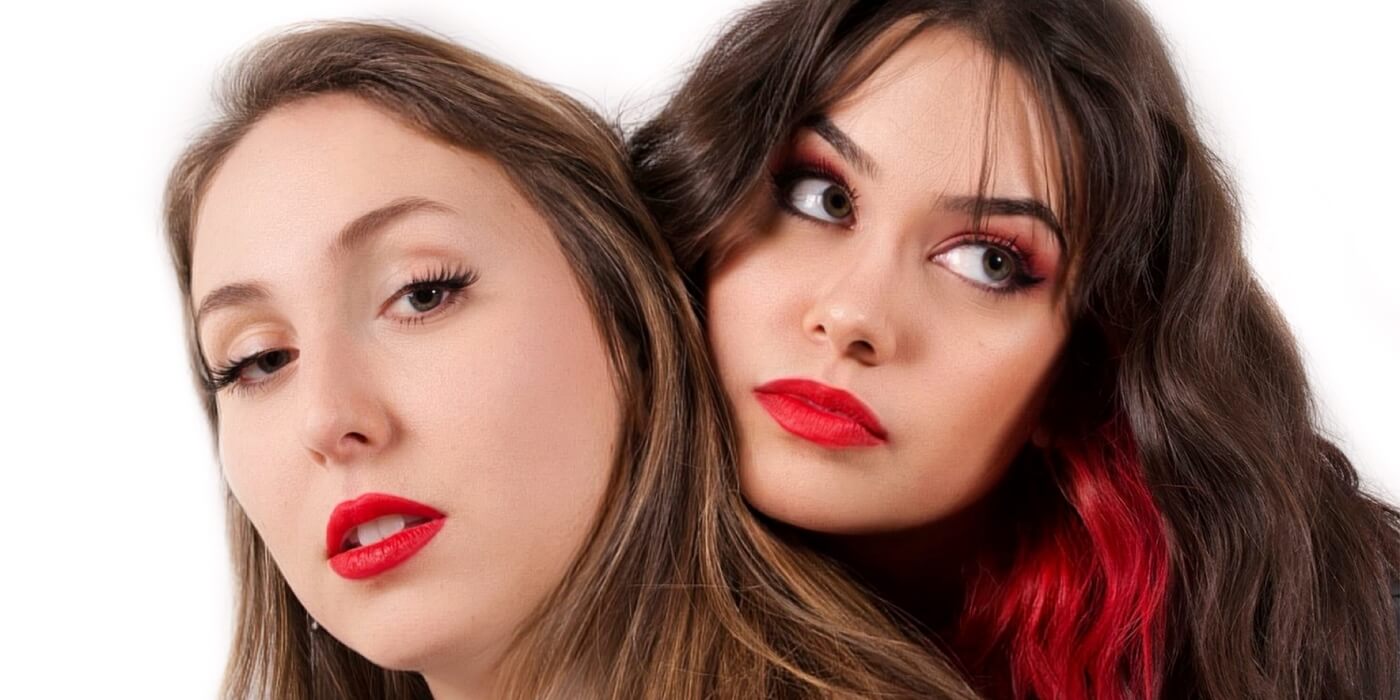 AUSTRIA
Austria's Teya & Salena: The story behind Edgar
INTERVIEW We met with the dynamic duo Teya & Salena from Austria. During this fun conversation, the girls proved their chemistry as a duo while explaining everything about ORF's selection process, as well as considering for the first time the possible religious connection of their entry "Who The Hell is Edgar?"
It's a Friday evening and the "Who The Hell Is Edgar?" singers, Teya and Salena, meet with Eurovisionworld for a long and fun conversation. It feels like a meetup with old friends you haven't seen for a while. It's obvious that the girls are a great team as they complete each other's sentences and laugh when they say the same thing simultaneously.
Their friendship started much earlier than their Eurovision 2023 journey: Teya and Salena have known each other ever since they met on Austrian talent show Starmania 21 two years ago, but it was Eurovision that became their linking factor.
– We both tried to go to Eurovision before, and that was always the biggest thing that connected us. That is part of our story even though we didn't know each other back then, says Teya.
– Since then, we have started watching the contest together, and we've just been the biggest fangirls of the competition. To now actually sit here and do this together is just so nice and crazy.
Music has always been a big part of both girls' lives. Salena (Selina-Maria Edbauer) is 25-years-old, and started singing when she was only six. She realized that she wanted to make a living from being a singer and artist after her father told her she had a nice voice and that she should work on it.
Teya (Teodora Špirić) is 22-years-old, and her musical journey was full of contrasts and hobby changes since she initially wanted to become a tennis player. In the end, she moved to Berlin and played the saxophone in a jazz orchestra. Once, while she was cleaning her saxophone, Teya was singing a bit for herself and her professor heard her:

– He was like, "Oh, you have to sing at the school summer party," and that was the first time I performed in front of people, she reveals.
Who The Hell Is Edgar?
– Edgar is Edgar Allan Poe. He's our ghost writer as we like to call him, and he is very special to us, apparently, because we made a whole song about him, Teya laughs.
– It's not just about Edgar. Edgar just wrote the song for us, Salena adds.
The concept of the song and the viral question of "Who The Hell Is Edgar?" actually comes from a real-life experience. As Teya and Salena were writing songs in a Eurovision songwriting camp, a random rhyming of Edgar Allan Poe's name made the session's producer ask the key question for the first time:
– We had actually written a different song for Eurovision on that specific day, Teya starts.
– We had like one hour left to do one more, and during that hour Teya started to improvise lines and then she just popped out Edgar Allan Poe. It was like, "There's a ghost in my body and he's a lyricist." And then she was like, "It is Edgar Allan Poe." We don't know why or how she did it, but it just happened, Salena continues.
It's a critique of the music business and how songwriters are treated, especially female songwriters.Teya
– And then in that moment, the producer from the session turned around and said, "Who the f*ck is Edgar?" because he genuinely didn't know," Teya concludes, also confirming that the f-word was changed in order to meet Eurovision's eligibility.
For some reason, they put it into the song and later figured out that Edgar Allan Poe was the first writer to ever live off of writing alone, which resulted in a financially difficult life. That's how they decided to write the song's bridge.
– That's also how we try to make satire out of the song: It's a critique of the music business and how songwriters are treated, especially female songwriters, so we put a lot of our own personal experiences into the song.
– We said to each other, "Oh my God! Edgar is the one who's writing it for us because he's a man. We, as female songwriters, can't make it without a man doing it for us." That was the main topic for us, Salena adds.
The lyrics of the song "Who The Hell Is Edgar?" contain the text "zero dot zero zero three." This is how much Spotify pays an artist each time a song is streamed.
– We didn't think people would understand it because it is a bit too niche and people wouldn't really care, but it's been amazing to see them actually understanding what we wanted to say and the message we wanted to portray. We're just super grateful that it turned out the way it did, even though it wasn't intentional with Edgar Allan Poe in the beginning.
"Pope, Pope, Pope"
The lyrics feature a reference to "being possessed by a ghost," which can easily be related to religious topics and might raise an eyebrow or two from the religious viewers. Teya & Salena had never thought of such a connection, and reveal they haven't yet heard any complaints of that nature:
– We didn't think about it in a religious way at all, and haven't gotten any comments on it so far. It's more like being possessed by a ghost. Well okay, when you think about it, it definitely has that touch, Salena admits and laughs.
The Pope's just gonna call us up and be like, "Why didn't you say Pope? Pope, Pope, Pope, Pope, Pope."Teya
– The ghost is referenced in a way of giving energy to your body. In this case, to you writing a song and feeling like you didn't. I think "possessed" is like a good word to use in that case.

– We didn't mean to make it religious or anything, but anyway, even with the church choir we just wanted to have that element because of the sound, and not really connect it with church or anything. We were just throwing everything into the song that we thought was needed, and whatever came to our minds. We didn't mean to make any religious commentary, Teya explains.
They stay silent for a moment and Salena laughs out:
– Maybe after this article is released, the Pope's just gonna call us up and be like, "Why didn't you say Pope? Pope, Pope, Pope, Pope, Pope," she laughs.
Internal selection
Teya & Salena (and Edgar!) were internally selected by the Austrian broadcaster, ORF. For the past few years, the broadcaster has been choosing new and yet-to-be-discovered artists, and this is the first year that the submitted song must undergo an evaluation from national and international juries, as well as Eurovision fan clubs:
– After the Eurovision camp we applied with the song, and the live performance was also sent into the whole selection process. The jury and audience voted, and in the end they seemed to like our song the best even though we were very aware that it was just the biggest risk to go with it because it can go either way, Teya reveals.
– People could either love or hate it, and we could have gone the safe route and just taken a song that we knew wouldn't be as controversial, but we're just very grateful to ORF that they took the risk and they believed in us. It is definitely a good choice of a selection system.

We were very aware that it was just the biggest risk to go with it because it can go either way.Teya
Both singers agree that it was a good decision to change the Austrian selection system and invite people that love Eurovision 100% into the panel. In the end, the top three was actually between Teya & Salena, they reveal:
– We had our song together, then Salena's solo song and my solo song, and we wanted our song together to be chosen. We wanted to win because we thought that it had the biggest potential, and apparently all of those people that voted thought the same thing, so it wouldn't have made sense to go with another song, Teya concludes.
Music video on the Eurovision stage?
The internal selection of the girls to represent Austria at Eurovision has made the girls well-known. Especially in their home country of Austria. Neither Teya or Salena feel so recognized yet because, as they laugh, they are simply not going outside too much: studio, interviews, and bed are the only routes for them at the moment. However, the first time they were recognized they were tired and exhausted after a long bus ride:
– Oh my God! You know, we first got recognized on our way to Prague with Flixbus to film the music video. Like, the cheapest transportation possible, and then we went outside to get our bags, looking very tired with no make up, hair looking a mess, and then someone was like, "Aren't you the ones representing Austria at Eurovision?" And we're like, "Yes, yes!" Teya laughs.
– They were like, "Where's the private jet? Why are you on a Flixbus?" Teya shares and starts laughing again.
The music video filming was also a memorable experience for them. As they state, it was the funniest experience ever:
– We were shooting for 24 hours straight with short breaks in between that didn't feel like breaks. We went to the location at 6:00 a.m. and left at 5:00 a.m. the next day, Salena says.
As the music video features a dance routine, let's find out if that's going to be present on the Liverpool stage as well. The duo can't share much, and says that the Marvin Dietmann designed stage performance is going to be much more fun if we as the audience are surprised, but signals that the dance routine might be important:
– You're definitely not going to be wrong if you try to learn how to do the dance!
– We also asked Edgar Allan Poe to come to Liverpool, but he couldn't make it. He said he was busy sleeping, they both laugh.
Preparations and expectations for Eurovision
Even though the big Eurovision participation is still to come, the girls feel like their lives have already been changed, and their biggest childhood dream has come true, says Teya:
– What has probably changed the most is that we've never been more authentic than we are now. We've never felt more accepted for who we actually are. So, it's just been an incredible experience of all the insecurities that we have to just not matter that much because the biggest thing for the community is diversity and acceptance and love. There's absolutely no hate. Who you are or how you dress or what you look like doesn't matter, there's just love and I feel so comfortable with that, she concludes.
– They just keep on saying, "Be yourselves!" That's the best thing that you can ever hear. We don't have to change anything, Salena continues by sharing the main advice the Austrian delegation is providing them.
Both girls have also been in touch with the previous Austrian representatives, including the last winner for Austria, Conchita Wurst (Austria 2014), who advised them to have fun and just enjoy the experience, as it's going to be the best experience of their lives.
The duo is currently a definite qualifier from the Semi-final 2 according to the bookmakers, and they still can't believe it:
– We never thought we were going to be so much at the top [of the odds], that people would love it that much, Salena is overwhelmed by the positive feedback.
– But we are trying not to pressure ourselves for any specific result. We just want to do our best, and at the end of the day just to be happy with what we deliver. If that gets us to the Final, amazing. If not, that's also totally okay. We already feel like winners just by being here. We're delivering something that we're very proud of and what we believe in at 100%, Teya shares.
During our conversation, Teya & Salena also shared their favorite songs from this year's edition: They both love "Tattoo," as they consider themselves Loreen's fangirls, but they also like Finland, Norway, Czechia, Israel, Armenia, Slovenia, France and the Netherlands.
However, as they are both long-term Eurovision fans, they have an answer ready for my final question: Which is their favorite Eurovision song ever? Without hesitating, the girls simultaneously say it's "Molitva." That's their earliest memory of watching Eurovision, and Teya has also been teaching Salena how to sing it in Serbian.
Teya & Salena will take the Liverpool stage during the second Semi-final on 11 May.