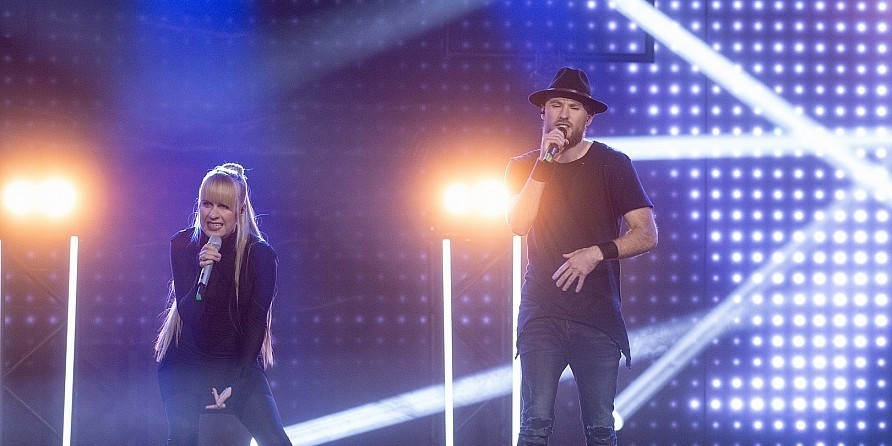 LITHUANIA
Lithuania: Eurovizijos Atranka 2019 began tonight to find the Lithuanian entry for Eurovision 2019
LRT broadcast Heat One of Eurovizijos Atranka 2019 tonight to find the successor to Ieva Zasimauskaite, as Lithuania's Eurovision entry this year in Tel Aviv. Hosts Gabrielė Martirosianaitė and Giedrius Masalskis introduced twelve acts but who qualified to the next round?
On 20 December 2018, twelve acts performed their songs in front of the Lithuanian judges. Tonight the public were given their first chance to hear the songs and help send six acts to the next round.
The first week heat of Lithuania's Eurovision search threw up the usual mix of weird and eccentric entries. The judges were hardy annual Ramūnas Zilnys, along with Vytautas Bikus, the composer of When We're Old, and radio presenter Jonas Nainys.
Eurovizija 2019: Heat 1 results
MaNNazz – "Blind Bird" (20 points)
Migloko – "Rožės" (19 points)
Aldegunda – "I want your love" (15 points)
Twosome – "1000" (13 points)
Glossarium – "Anyone" (11 points)
Šarūnas Mačiulis – "Traukinys" (11 points)
Matas Ligeika – "You came here to fly" (9 points)
Gebrasy – "Acceptance" (9 points)
Filtered tools – "Survival" (6 points)
Rūta Statkevičiūtė – "Paradox" (3 points)
Gabriela Ždanovičiūtė – "Home is in your heart" (1 point)
Simona Klušienė – "This day begin with love" (0 points)
The judges preferred the off-beat sound of Migloko and the song Rožės, while the public went with Aldegunda with I Want Your Love. The six acts through to the next round are MaNNazz, Migloko, Aldegunda, Twosome, Šarūnas Mačiulis and Glossarium.

Eurovizijos dainų konkurso nacionalinė atranka 2019
A marathon of shows will be held from 5 January to 23 February 2019 where the final of Eurovizijos Atranka 2019 will determine the Lithuanian representative at Eurovision Song Contest 2019 in Tel Aviv, Israel.
The first four shows will be elimination heats where half the acts will be eliminated each week. The rest will proceed to the second round.
Lithuania has been taking part of Eurovision Song Contest 19 times since its debut in 1994.
The debuting year 1994 Lithuania ended last, and the best result is from 2006 where LT United performed the iconic song "We Are The Winners (of Eurovision)". It didn't win though, but went 6th. Since the introduction of the Semi-finals in 2004, Lithuania has been in Eurovision every year and qualified for the Grand Final 9 out of 15 times.
With both Estonias victory in 2001 ("Everybody") and Latvias victory in 2002 ("I Wanna"), Lithuania is the only Baltic country that haven't won Eurovision Song Contest.