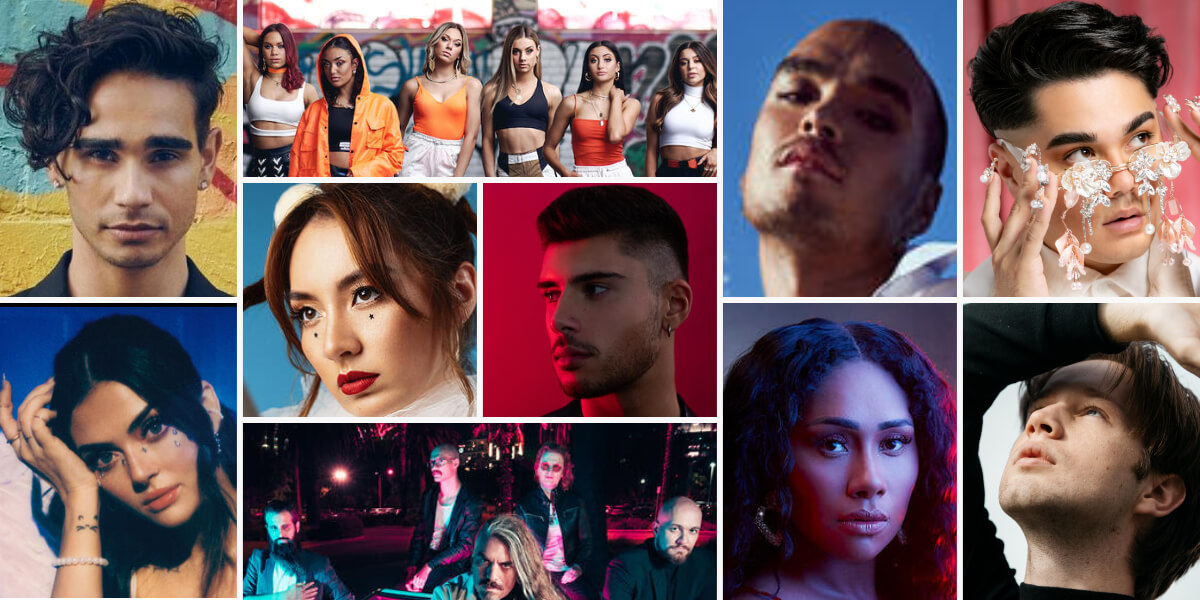 AUSTRALIA
Here are the artists for Australia Decides 2022
All ten artists that will compete at next year's "Australia Decides" for a chance to represent Australia at Eurovision Song Contest 2022 have been announced
Who will follow Guy Sebastian, Dami Im, Isaiah, Mauboy, Miller-Heidke and Montaigne?
Australia's Eurovision history is quite short, as they have only competed six times since debuting at Eurovision in 2015 – and reached top-10 in four of the six contests.
After one year of absence due to Montaigne's internal selection for Eurovision 2021, and their first ever non-qualification, SBS will host the event again from the Gold Coast Convention and Exhibition Centre on 26 February.
The broadcaster has revealed all ten artists fighting for the ticket to Turin, Italy in May next year:
Andrew Lambrou
Andrew is somewhat of a YouTube star as he first got some attention due to his covers. The singer went on to participate in The X Factor Australia 2015 where he made the top 20.
To him, sing in Eurovision would be a dream come true:
– I'm so thrilled to be a part of Eurovision – Australia Decides 2022! I've grown up watching Eurovision with my family, admiring all that goes into it and seeing artists show their craft to the world, and to be a part of this show is like a dream come true.
---
Charley
Music has always been a source of empowerment for Charley. Growing up in a family full of musicians, she naturally gravitated towards performing and songwriting as a source of self-expression.
Charley says:
– Eurovision has always seemed so out of reach, but now I feel one step closer in performing at Eurovision Australia Decides on the Gold Coast. I'm so excited as my family and I are huge fans and I can't wait to do them proud. I wrote my song 2.5 years ago about my biggest heartbreak, so being able to turn something so dark into something beautiful is a really special moment for me.
---
G-Nat!on
G-Nat!on are a six-piece girlgroup that sings mostly R&B and Pop music and surely can put on a show. The group made it to the grand final of The Voice Australia earlier this year.
G-Nat!on are the first girlgroup to perform at the Australian national selection and it will be memorable:
– Full of strong harmonies and edgy choreography, our song is a dance-pop explosion set to provide the ultimate live show experience. We hope our performance inspires other young people to be strong, powerful, and confident in themselves – see you on the Gold Coast.
---
Isaiah Firebrace
Isaiah Firebrace won the Australian X Factor in 2016 and represented Australia at Eurovision 2017 in Kyiv with the song Don't Come Easy (finished 9th):
At Australia Decides 2022 Isaiah will be duetting with an as yet unnamed partner:
– When I first represented Australia at Eurovision in 2017, I was 17, it was my first time in Europe and I feel like everything was a blurry dream that went by so quickly – I've grown so much as a singer, a performer and as a person since then and I've definitely got unfinished business! I can't tell you anything more except that I'm singing a duet with someone incredible and that we co-wrote the song.
---
Jaguar Jonze
The talented Triple J artist, Deena Lynch, also known as Jaguar Jonze returns to the national selection, after previously participating in Australia Decides 2020 with the song Rabbit Hole (finished 6th):
Jaguar Jonze reveals a bit of her song:
– My song is going to be a moment that celebrates our resilience and the little steps that lead to big change, as well as push my creative boundaries to another level. So much has happened since we were all together, and being back with the added strength of my Eurovision family and fanbase will make it a show worth waiting for. I can't wait to see you on the Gold Coast!
---
Jude York
Jude York's music can be described as a warm hug, a confidence boost and a shoulder to cry on all in one package. Following in the footsteps of Robyn and Lorde, Jude's flare for emotional storytelling is at the heart of his artistry, striking a cathartic blend of sorrow and joy.
Jude York says:
– When I found out that my song was selected from the portal, I was already incredibly honoured and excited. Now to know that I'm also performing it live on one of Australia's biggest platforms is more than I could have possibly asked for! The song is all about believing that dreams do come true, and I feel like mine really are right now!
---
Paulini
Pauline Curuenavuli, or just Paulini, rose to fame when she competed in the first edition of Australian Idol in 2003.
Paulini says:
– Eurovision to me is like the Olympics for singers! It brings together so many countries and cultures. And while it's a competition I see it as uniting much of the world through music.
---
Seann Miley Moore
Seann Miley Moore hit the London scene with a bang appearing as a finalist on the UK's X Factor 2015. Seann also appeared across the UK Gay Pride circuit headlining major cities including London Pride and was nominated for the 'Rising Star' award at the yearly British LGBT Awards in 2015.
Seann Miley Moore says:
– I don't stand here like 'I want to be different', 'I want to be unique', or 'I want to wear all this to be seen and heard.' I stand here as a proud queer man, a proud brown man and most importantly, a proud Australian - it comes down to authenticity and happiness. Doing all these things make me happy. They make me feel alive. That's what matters. Eurovision is about celebrating your pride and I'm ready to give you all the fabulous joy baby! EveryBODY is welcome in Seann Miley Moore's world - so Australia, pack your bags, we're going to the Gold Coast! xoxo SMM.
---
Sheldon Riley
Sheldon finished third on The Voice Australia back in 2018 and had his US debut when he participated on the 15th season of America's Got Talent.
Despite being different, Sheldon knows he has found a place because he dared to dream:
– I am different but I have found my place on mainstream television where I never fit the mould, on radio that has never played music like mine, festivals you'd never think I'd fit the bill for because I always dare to dream… In my fashion and my music always bringing that little bit of Eurovision magic with me every time.
---
Voyager
Voyager explode onto the worldwide stage with their album Colours In the Sun. The Australians radiate an ultra-modern and prismatic hard rock that delivers on their promise of "epic electro progressive power pop metal."
Voyager's Danny Estrin (Vocals and Keytar) says:
– Eurovision is the greatest show on earth, so getting a chance to represent Western Australia and to showcase our keytar driven brand of heavy music is one of the most exciting and surreal opportunities to ever come our way!! So thank you Australia for giving us the opportunity to take you on a Voyage with us in what has been a lifelong dream.
Australia Decides will take place on 26 February 2022 live from Gold Coast hosted by Comedian Joel Creasey and music buff Myf Warhurst.
Australia has participated in Eurovision Song Contest 6 times.
At Eurovision 2015 Australia was represented by Guy Sebastian and finished 5th in the Grand Final with the song Tonight Again. Australia was granted a wildcard, with the right to vote in both semi-finals, and with a secured place in the Grand Final.
The country has used the format Australia Decides in 2019 and 2020 to select artist and song for Eurovision.
At Eurovision Song Contest 2016 Dami Im represented Australia and finished 2nd with the song "Sound of Silence". Best result so far.
Australia qualified for the Grand Final 4 out of 5 times.