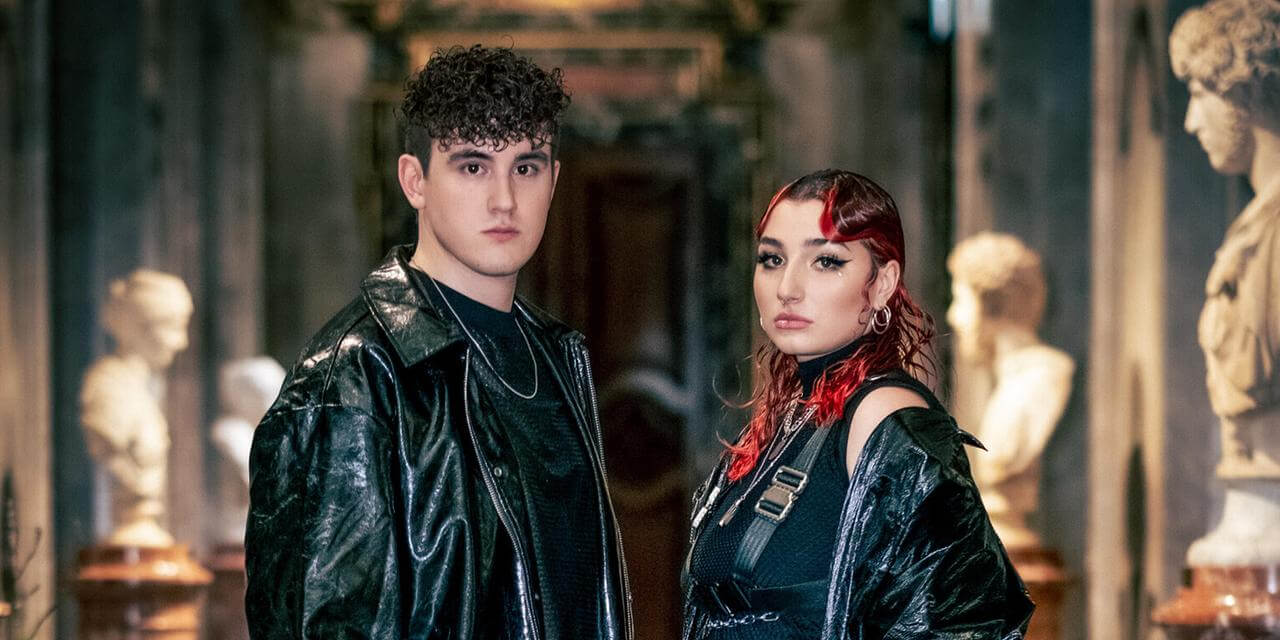 AUSTRIA
Austria's LUM!X and Pia Maria: "We will throw a huge party on the Eurovision stage"
INTERVIEW LUM!X will be joined by Pia Maria at Eurovision 2022 to sing "Halo". The duo sat down with Eurovisionworld for a conversation about the selection process, getting to know Pia Maria and the possible risk of doing Eurovision
Austria is not playing around this year and hoping to get a good score at this year's Eurovision, its broadcaster (ORF) invited the globally acclaimed DJ LUM!X for the contest who will be joined by newcomer, Pia Maria.
When the duo was announced as Austria's representatives, both agreed that being young comes with fewer pressure at Eurovision. Why?
– If you're a 40-year-old established artist or someone who was before established and tries to relaunch their career with Eurovision and fails miserably, that can be pretty bad. In our case, we're not even 20... So even if we blow up the stage, we will still fine, explains LUM!X.
– I simply don't think too much about it, adds Pia Maria.
But given LUM!X's current status as a DJ... Could this participation be a risk?
– I don't see it as a risk. I do like Eurovision and it's an opportunity. It's the biggest stage. I am an artist and I am still looking for challenges. I always try to do something new, something big and this is one of the biggest things you can do.
Let's talk about the Eurovision choices... "Halo" and Pia Maria.
This is the song that we need right nowLUM!X about "Halo"
"Halo" is a Pop Dance song that could be compared, and LUM!X agrees, to the likes of Ava Max. Why this song?
– We wanted to do something different, something that not every country tries to do. Something, now yes, maybe risky but I think this is the song that we need right now especially with all the drama that is going on around the world, he explains.
– It's like when you're breaking up and listening to sad music... That won't make the situation better. Just have fun and enjoy life!
And why Pia Maria?
– I mean... Have you heard the song?
We clearly have.
Who is Pia Maria?
Unlike LUM!X, Pia Maria is a newcomer and is making her world debut at Eurovision. Who is she?
– I am a crazy person. I don't like normality. I love not being judged about what I do and I love people who do what they want to do and are just themselves. I want to be myself and say true to who I am.
I interrupt and quote their song: You want to be like the CEO?
– You already know, continues LUM!X while Pia laughs and concludes:
– Yes! Even though other people may say you're crazy or that's bad... I don't care because it's who I am!
Preach, Pia Maria... And how do you feel about all this Eurovision experience?
– I feel amazing. I never thought that something like this would happen to me.
During our conversation, the DJ confirmed that management was involved in the selection process of the singer but as soon as he heard Pia Maria's take he simply said "that's it!"
The Eurovision preparations
What about the upcoming performance of "Halo"? Are we having someone choreography like the music video for the song suggests?
– We are not allowed to say anything but we're preparing a lot and we're looking forward. We will be in Turin two weeks before for rehearsals and I can tell you we're throwing a huge party on stage... A big show!
Back when we met, at the London Eurovision Party, the duo was just amongst the bookmakers' top-10 qualifiers from Semi-final 1.
– It does add a bit of pressure, admits Pia Maria.
– I have to be honest, says LUM!X.
– I don't look too much into that. It affects you. I am used to not looking into likes or thumbs up or thumbs down. It does not help. You'll think too much about it. If people like your stuff, you'll notice. If they don't, do not think about it. Music is for everyone and I like some stuff that maybe Pia Maria does not and the other way around. I don't put too much pressure on me and I think she does not either.
LUM!X and Pia Maria will perform their song "Halo" during the first semi-final of Eurovision 2022 in Turin.
LUM!X & Pia Maria
Luca Michlmayr, known as DJ Lum!x is currently one of Austria's most successful artists. He started producing music on his own at the age of 11. His debut single "Underground" was released in 2018 and since then he rose to fame. Earlier this year, Warner Music Austria presented LUM!X with a double platinum award for his hit singles Monster, a platinum award for The Passenger, and a gold award for the track Thunder.
Pia Maria is a 18-years-old Austrian singer who is just starting her music career. She's a trained makeup artist and began writing songs at the age of 15. Eurovision represents her first big project.
Austria in Eurovision Song Contest
Austria has been participating in Eurovision Song Contest 53 times since its debut in 1957. They won the competion twice: in 1966 (Udo Jürgens - Merci Chérie) and in 2014 (Conchita Wurst - Rise Like a Phoenix). They came last in the competition eight times (Zero points in 1962, 1988, 1991 and 2015).
Since the introduction of Semi-finals in 2004, Austria only qualified for the Grand Final 7 out of 13 times.