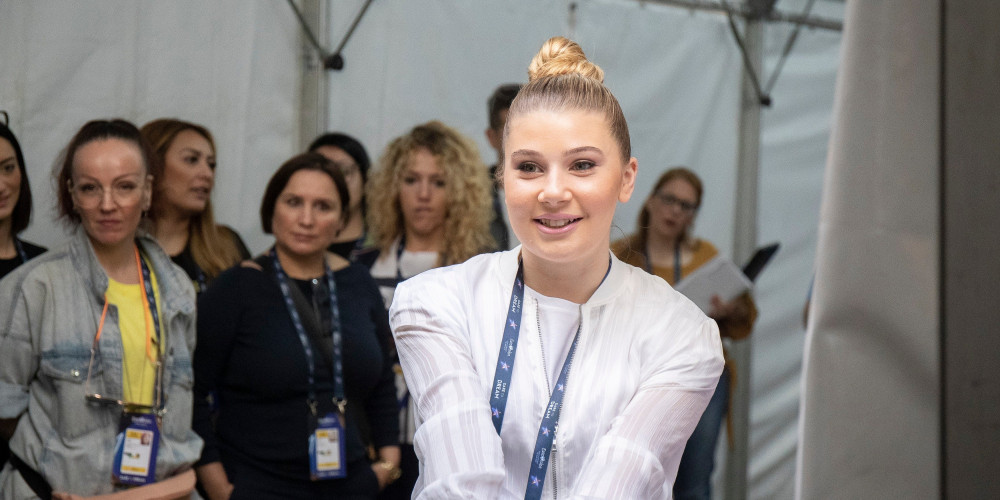 MALTA
Malta's Michela is ready for the semi: "We have a Plan B"
Michela Pace representing Malta at Eurovision Song Contest 2019 is confident. Confident in her song, in the staging, and feels ready to perform in front of 200 million TV viewers next week
We met with the young Maltese representive, Michela Pace, right after her second rehearsal on the Eurovision stage in Expo Tel Aviv:
– I'm extremely happy, are Michela's first words after a successful rehearsal.
It is not the first time she has been on stage in a big TV show. This winter, the then 17-year-old Michela beat out all the other contestants in the first edition of X Factor Malta, and won a trip to Tel Aviv as the Maltese representative at Eurovision Song Contest 2019.
When competing in X Factor Malta, she was working on the TV set together with Ira Losco, although she was not her mentor in the show:
– Ira Losco gave me lots of advices. She represented Malta twice. The first time she was the same age as I am now, so I think she was the best person to tell me what to do, and tell me how to feel, and tell me how to... You know… Get ready, and adapt to everything that comes, Michela says.
The Semi-final is just around the corner, but that doesn't mean that Michela feels any pressure, or worries that anything goes wrong:
– I am not afraid or nervous. We had a lot of people watching X Factor, of course not 200 million people, but if it's 10 people I sing to, or if it's millions, I always try to do my best.
And being on stage is something that Michela really loves. As long as she has her team behind her, she feels very well, as she says.
Plan A and B
There were some differences between Malta's two rehearsals. In the second rehearsal the Maltese delegation chose to skip the LED walls. Why?
– You know, from the beginning, we had a plan A and a plan B. We tried plan A at the first rehearsal, and we had some technical difficulties, so we immediately shifted to plan B. We still had some technical difficulties today, but, you know… that is what rehearsals are for, we have to fix things, so hopefully by the next rehearsal everything will be smooth.
But it doesn't affect Michela which of the two setups the Maltese delegation will choose for the Semi-final on Tuesday:
– I think both of them, it really doesn't affect me when I'm singing, because it all happens behind me.

The stage director for Malta this year is Ambra Succi, who also staged Loreen's winning song Euphoria in 2012. But how does it feel to be instructed by such a successful choreographer?
– When they told me, that Ambra would be on our team, I was like starstruck. But now I am really proud to have been working with one of the best people who does her job so good.

When they told me, that Ambra would be on our team, I was like starstruck. But now I am really proud to have been working with one of the best people who does her job so goodMichela Pace about stage director Ambra Succi
Was it easy to get along with her?
– Yes, because I think one of the best things about Ambra, is that she gets to know the artist first, before she plans anything. So it was easy for me.
– I am here to give a good performance, and a good performance requires good choreography as well.

Being a Chameleon
Michela's song Chameleon is a huge pop song, and great production and lyrics. Catchy and colourful – just like a Chameleon. It is written by a team of hit composers, who also penned the song for Azerbaijan this year (Truth), Austria 2018 (Nobody But You), and Bulgaria 2016 (If Love Was a Crime), just to name a few.
What does Michela feels when she sings the song?
– When i sing it, i am thinking of the people that try to tell you: "You're not good enough", these are the people, that make you want to be a Chameleon, they want you to adapt to their saying. But you just need to keep moving on and just ignore them.
Even though Michela is among the favorites this year, it doesn't affect her:
– Actually, I was ignoring what the betting odds say, cause it all depends on what happens on the night, I am going to do my best, and my team is going to do the best, so we just want to give a good performance, and then we'll see what happens from there.

Malta debuted in Eurovision back in 1971 and has been in the contest 31 times since - without a victory. Best result is two runner-up's in 2002 (Ira Losco - "7th Wonder") and 2005 (Chiara - "Angel"). The worst results are the first two years, 1971 and 1972, where they finished last.
Since the introduction of Semi-finals in 2004 Malta qualified for the Grand Final 8 out of 15 times.