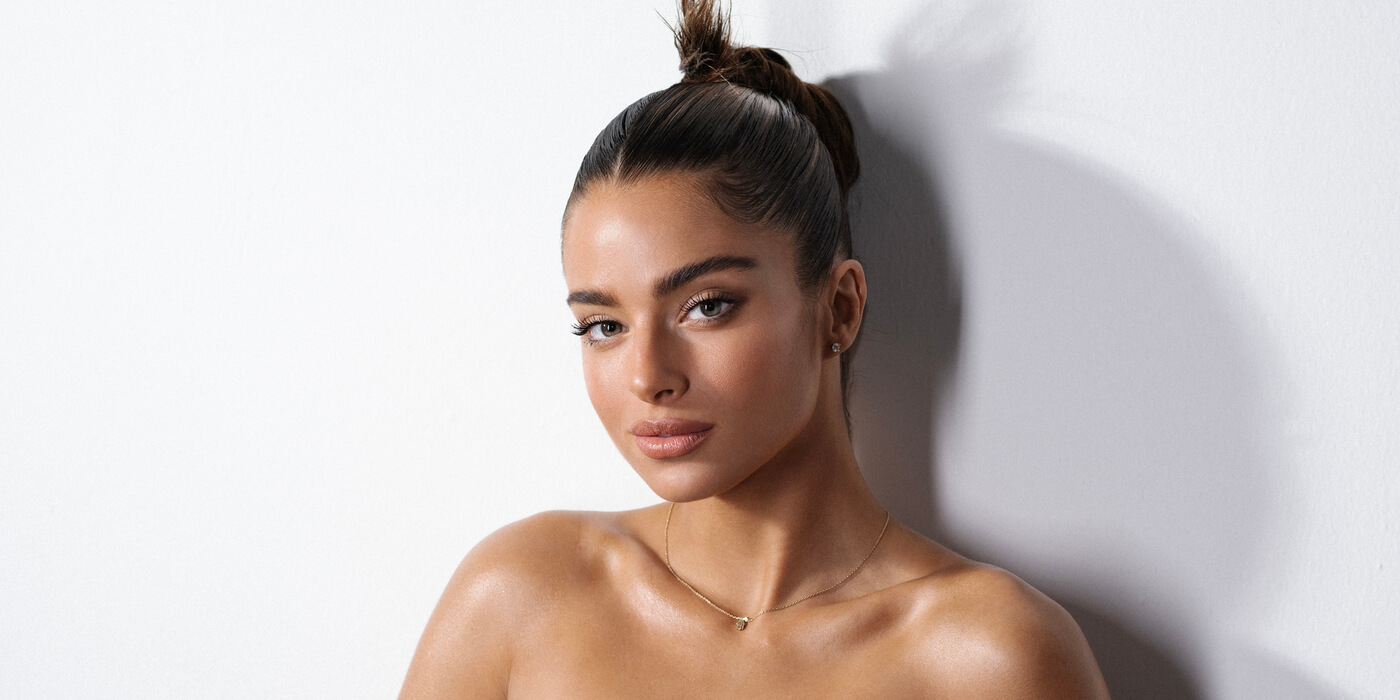 ISRAEL
Noa Kirel from Israel: "I was a bit afraid of Eurovision"
INTERVIEW For the first time in many years, the Israeli broadcaster opted for an internal selection and went straight to one of the country's biggest stars, an offer that made Noa Kirel hesitate at first. She clearly wants to make her country proud and fulfill all expectations. This was just one of the many topics we discussed with the Israeli singer in an interview
After not qualifying for the Eurovision final for the first time in six years with Michael Ben David's "I.M.," KAN (Israel's public broadcaster) decided to reconsider their approach to Eurovision. Instead of hosting a talent show in order to determine their Eurovision 2023 representative, they went internally and big.
Noa Kirel was the chosen one. The Israeli singer, actress, dancer and TV personality is one of the country's biggest stars, and has won the award for Best Israeli act at the MTV Europe Music Awards for the past seven years, her whole career basically. Now, she's ready to give Eurovision a chance, though it wasn't an easy call:
– I started crying when they asked me to do it. It's very exciting, of course, but very stressful at the same time. I remember thinking, "I've been watching this contest ever since I was a little girl and now they want me to do it? They want me to represent my country?" she recalls.

Curiously enough, KAN announced Noa Kirel as the country's representative before she made a decision. The fact that she's such a huge star in the country did add extra consideration to her decision:
– Being known does add extra pressure because people do have expectations. That can be good because it means they trust you know you will do your best. But it's also stressful because you have to fill in those expectations.
– I am not going to lie...I was a bit afraid of accepting it because it's such a big event, she says.
In the end, she decided to take what she calls "the risk":
– I had to push the stress aside and focus on the fact that Eurovision is one of the biggest stages in the world and it's always been a big dream of mine to perform for the entire world. So, I am really happy I accepted it and that I am representing my country. I just need to work hard and focus on the positive things.
I was a bit afraid of accepting it because it's such a big event.Noa Kirel
Noa is a huge star. Did KAN ever approach her before?
– I believe the main reason they didn't is because every year they host this talent show for singers, and whoever wins goes straight into Eurovision, she stops for a second.
– It's like the first thing they do in their career. That's so crazy! But anyway, this year they knew what they wanted and they chose and believed in me which is a big honor.
From Israel to the whole world
At this point, she has done it all: From singing to acting to being a judge on TV shows. Her agenda is extremely busy, but you can tell she loves what she's doing:
– I really don't know how I manage all of this together. I think I really love what I do, I am very passionated about it. I get to perform, to sing, to create, to write, to make people happy. That's the most embracing and incredible feeling ever, she says.
– It's very hard and intense work, but obviously music is my number one thing for me. I also love to act and dance and I do believe all of this comes together. I believe that if you love something, you should go for it and enjoy the ride. Yes, it's a big ride but it's so worthy. When you achieve your goals, that's the most amazing feeling ever.
Noa started her career when she was only 13. That was when she recorded her first song and rose to fame. That's also when she realized that music was her destiny and future:
– I felt like that was my moment and also my destiny to reach out to people, to deliver my message. When I released my first song, the response and reaction made me feel so powerful. Even today, when I am on stage, I feel so powerful!
Since that moment she has continued to grow to the big star she is today. But how can she keep it up? How does she avoid getting stressed, and what does she do to keep her mind healthy?
– It can be mentally challenging, especially because I started doing this at such a young age, but I've always had my family by my side. They've been with me since day one, they've been always supportive of me, they're my back, my power...my everything. That kept me grounded.
The power of a unicorn
"Unicorn" is the song Noa Kirel will sing in Liverpool and in it she sings "I got the power of a unicorn..."
What's the power of a unicorn?
– It is the power of saying what you want, to dance how you want, to sing the way you want. Nowadays, with social media, everyone has something to say about you. It can be good, it can be bad, and this represents the power of believing in yoursef, she explains.
– Just like you mentioned before, I started at a very young age. And while it turned out great, I faced a lot of criticism especially because I was young and a woman. Many tried to tear me down, and at the age of 13 I felt left out. But that was also the moment I discovered my own horn and realized I needed to embrace it and use it because that was what made me special and unique. That's the message of my song: We all have our own horn and we need to use it, to embrace it, to hug it. That's what makes all of us unicorns.
"Unicorn" is a complex song that goes from an agressive beginning to an anthemic chorus, to a queer-oriented "phenomenal," to middle eastern sounds, and peaks sonically at the end with a bold and agressive chant "u-ni-corn"! Are those the different faces of Noa Kirel?
– For sure! When we started working on this song, I said, "All right, I only have three minutes to bring myself to the world and present who Noa is," which is a challenge. But I love challenges, so I did want to bring my character alive in those three minutes. That I can be more gentle, that I can be more rough, that I can be more middle eastern because Israel is always a big mix. I am, for example, half Moroccan, half Austrian! It's a crazy mix, and I needed to bring that into the song, she says.
– That's what I love about "Unicorn," it's never boring.
We all have our own horn and we need to use it, to embrace it, to hug it, that's what makes all of us unicorns.Noa Kirel
The song was produced by Doron Medalie, who wrote Israel's last winning song, "Toy" by Netta. When Noa was announced as Israel's Eurovision artist, she immediately called Doron Medalie:
– I begged him to be in the song and said: "I am not doing this without you. You're the master of Eurovision, you've won it!" And he said something like, "I thought I was over it because I've already won, but if you're doing it I want to be part of it," and that made me feel so special, she recalls.
– He taught me so much about the song, the staging, the lights, all those little things I didn't know because Eurovision is a bubble and you need to understand how it works. It is relaxing to have someone like him with you.
Did you consider other songs than "Unicorn"?
– There was another song and an idea for a song, but I really felt like "Unicorn" was my song, I felt it in my head and up until today I get the chills when I hear the chorus. When you know, you know, and when you feel it, you feel it. I knew this was the right choice.
Noa's Super Bowl
Let's talk about what's to come: Eurovision 2023. Even though the conversation with Noa went through a lot of different subjects, she did let us know right from the beginning she was submersed in rehearsals:
– It's so fun even if intense. I need to dance and sing a lot, but I love it because it's what I am passionate about and I can't wait to go on stage and rehearse. I am so excited, I can't believe it's happening so soon.
She goes on to say how the whole team is like a huge family to her and how happy she is to represent Israel.
As of now, we've seen teasers of what the performance will be. And when she said she'd dance a lot, she wasn't lying even though she couldn't spoil much:
– I don't know what I can and can't tell you. I'd love to share everything but I really think that the only thing I can say is that I will dance a lot. And that the beginning is going to be a surprise. We will build the entire performance until the very end.
She also confirms she'll be joined by five dancers, even if she wishes she could have 100. Like a Super Bowl performance!
– That's exactly how I look at Eurovision...Like the Super Bowl!
"Unicorn" is currently the bookmakers' 7th bet to win Eurovision. How does she see her winning chances?
– I've been using Eleni Foureira's example for myself, how she was so low within the odds, and after the rehearsals she was at the top. So, you can never know. I try not to think too much about it because I like to focus on things I can actually control.
That was some of the main advice Netta, who will also be in Liverpool as an interval act, shared with Noa:
– We're very good friends, I love her and she's so talented. I called her 10 months ago when they initially chose me to ask for her opinion and she said, "Of course, you have to do it!" She knows what she's saying so I did listen to her. We also had like a meeting to speak about what I should do for the contest and she said, "Just bring yourself to the stage and think about our culture." She also said I shouldn't think too much about the expectations, press and so on.
I like to focus on things I can actually controlNoa Kirel
As we conclude our conversation, I ask Noa what are her biggest goals and fears with this participation:
– Let's start with the positive things: My goals! My main one is to expose myself to a lot of people, represent my country proudly, to hopefully get to perform all over the world after Eurovision, and of course, to empower people with the message of my song. As for my main fear, it's simply the stress of winning. Everybody wants to win.
For the curious ones, Noa also shared that Sweden, Norway, the UK and Finland are her main favorites of this year's edition and concluded:
– I have to say that this year is all about women empowering, and I love that!
Noa Kirel will perform her song "Unicorn" in Eurovision 2023 Semi-final 1.