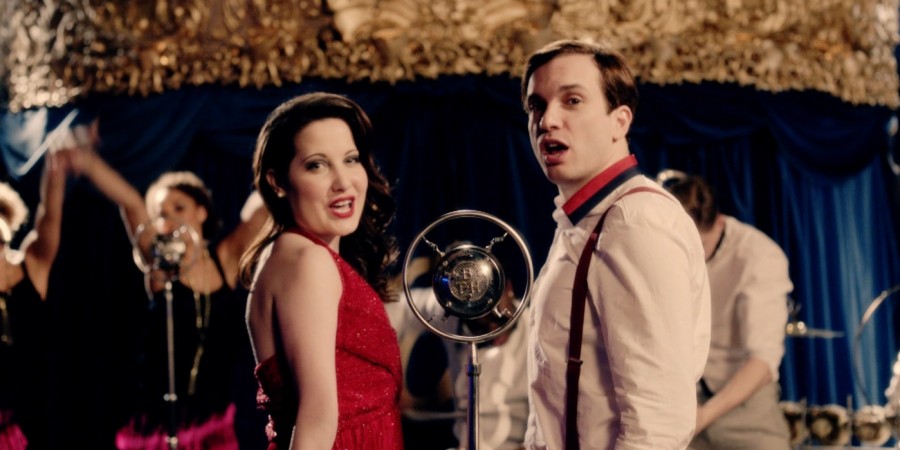 UNITED KINGDOM
Presenting UK: Electro Velvet - "Still in Love"
Learn more about Bianca Nicholas and Alex Larke and their journeys to music.
Bianca and Alex
Bianca Nicholas and Alex Larke are both members of the duo Electro Velvet. They will be representing United Kingdom in Eurovision Song Contest 2015.
Bianca (26) - When Bianca was 5, she had a leading roll in the award-winning Cannes Film Festival's short film Is It The Design On The Wrapper . In her early teens she appeared on Hollywood Blockbusters, Sleeping Hollow with Johnny Depp. When Bianca hit the age 15, she decided to follow her passion - music. She's been singing in different charity events and she's even sang to prince Harry and prince William. In 2011 she released her debut single Hold On To Your Dreams, it was a huge achievement to her as an unsigned artist. In 2014, she appeared in The Voice UK and after that she has been very busy with gigs and live session radio performances.
Alex (35) - At the age of 15, Alex got interested in hip-hop, through his older friends from school and that was the beginning of his music journey. He then learned all the lyrics of the rap songs and started rapping the by himself and he even began rapping himself with his friends. In 1995, Alex bought a copy of an album What's the story (Morning glory)? by Oasis. He was transfixed, when he inserted the CD into the CD-player, that moment he realized that all he wanted to do, was to learn to play the guitar, write songs and sing...
He couldn't sing, so he knew there was only one way he could teach himself. He played the Oasis album for the next three months over and over again next to the speaker, until he could hear that he is in tune. Then he started to learn to play the guitar. His first guitar was bought to him by his father when he was 17. Another three months spent in his bedroom, learning a guitar with the full Beatles Complete song book he also wrote his first song. In 1998 he played in a band with his friend called X. They rehearsed and wrote the lyrics throughout the 1999 and in January 2000 they debuted with their performance in Camden. The band split in 2002 after an ill-fated trip to Ibiza, to run their own club night, to increase their exposure, went horribly wrong. Years after that, everything seemed to be better, he collaborated with lots of other singers on his albums. Right now, he works part-time in a primary school, imparting all the tips and tricks he's learned from writing, singing and performing. Last year, he was privileged to work in a special needs school with children and young adults with profound to severe learning difficulties. He said it was one of the best opportunities in his life and he loved it!
Alex and Bianca suit well together to perform the song, and of course they are very thankful and grateful to represent United Kingdom in Eurovision Song Contest 2015.


Try to keep warm, dear
In case there's a storm, dear
Take good care when I'm not there
I'm still in love with you
Some younger guys with roving eyes
May tantalise you with their lies
You must be wise and realise
Leave well alone till you get home, dear
Follow Alex and Bianca:
Follow Alex:
Facebook - www.facebook.com/thelarke
Twitter - @AlexLarke
Youtube - www.youtube.com/user/larkemusic


Follow Bianca:
Facebook - www.facebook.com/BiancaSongs
Twitter- @biancanicholas
Youtube - www.youtube.com/user/BiancaNicholas
United Kingdom has participated in Eurovision Song Contest 57 times since 1957. United Kingdom only skipped the contest two times: 1956 and 1958. They have won Eurovision five times:

...and finished in 2nd place 15 times! They only came last one time (2003), where they also entered the Club Zero.
United Kingdom is a member of "Big 5", so they don't have to go through the Semi-final qualifications, but are automatically qualified for the Grand Finals.