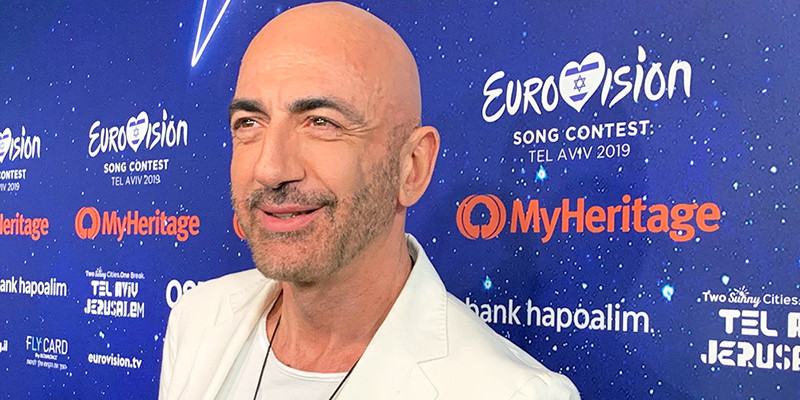 SAN MARINO
Serhat: "This is my last Eurovision"
Turkish singer Serhat represents San Marino this year. We met with him and talked about Say Na Na Na, what he learned from Eurovision 2016 and why this will be his last attempt in the contest
Right after his first rehearsal and press conference, Serhat from San Marino sat down with Eurovisionworld to talk about a little bit of everything but ended up admitting that this will be his last attempt in the contest.
He is no stranger to Eurovision. Back in 2016, Serhat was announced as San Marino's representative and almost qualified with his entry "I Didn't Know". He may have not won but enchanted so many fans all around the world that – up until today – he is one of the most beloved Eurovision artists.
Say Na Na Na
Sunday, Serhat was one of the acts to rehearse on the Eurovision stage for the first time and he surely created buzz around the press center and on social media. Joined by two male dancers holding each a megaphone and three female back-vocalists, all wearing white. Serhat is in the center of the stage wearing a full white suit. The two elements – the megaphone and the color – are related to the message of the song, he admits:
– I wanted to have a clean stage that could give the feeling of freedom, of self-confidence, and of happiness, he starts saying, keeping in mind that Say Na Na Na is a song about leaving your problems behind and enjoy life.
– We are underlying that everything is pure. In fact, the human being is a pure creation. Everything we did on stage was on purpose. It is reflecting all I want to say with the song.
As mentioned earlier, this marks Serhat's second participation in the Eurovision Song Contest. Despite being "only" a three year break, it is not the same Serhat we saw and heard in 2016:
– We are always developing. I change everyday and, I hope that, in a good way because we are always trying to find the right way for our future. This is not the same Serhat, he has developed more experience and I am happy for that. I love being mature and experienced.
Learned a lot from Eurovision 2016
Serhat may have started his career back in 1997 but more than 20 years later, he still has a lot to learn and the Turkish singer admits that Eurovision 2016 made him learn a lot and get ready for this year's contest:
– In 2016, I did know Eurovision but I didn't know how the system worked. I learned a lot that year and, because of that, I feel more comfortable. The expectations are different, it's not all about the final result, he adds.
– Eurovision is something I really love, I am one of you in a way. Back then, I couldn't do all I wanted to do.
As an obvious believer in Zodiac, Serhat continued:
– I am a Scorpio and a hard worker, that's why when they asked me to come again, I did it for myself and even for my Eurovision fans, a big family. I can do more and show more of my work.
Last Eurovision for Serhat
And if you're a true Serhat fan and supporter, you may want to enjoy all he has to offer this year because he claims he is not coming back:
– I am not returning to Eurovision, it's enough. Maybe as a composer or producer but I won't be singing again.
I am not returning to Eurovision, it's enough. Maybe as a composer or producer but I won't be singing againSerhat
Thus far, Serhat is not within the bookmarkers ten qualifiers for semi-final 1. Nonetheless, he feels confident and believes in the song, that he also composed:
– Say Na Na Na deserves to be in the final, he says admitting that it is, nonetheless, a delicate question:
– I don't think any country came here to win... It is a competition! I do believe we're all winners at this point because we are the best in our countries. I am very confident with everything I am doing here and that's more than enough.
Serhat is set to close the first semi-final by being the last one performing. He claims he feels honoured to be the one doing so and, whether it is his last time in an Eurovision stage or not, he has a good advise for all the young performers:
– In the beginning of our careers, we always try to be someone else. It happened to be but I didn't fall into the trap. I did learn this lesson I can give to all young performers: Be yourself. If you're yourself, people will love it because people love real.
Be yourself. If you're yourself, people will love it because people love realSerhat
San Marino is one of the newest – and smallest Eurovision countries.
They have been participating nine times since their first Eurovision Song Contest in 2008. But not with great succes. In eight out of nine participations they didn't manage to qualify for the Grand Final. San Marino qualified for the Grand Final for the first – and only – time in 2014. The worst results were in 2017 and 2008, where they came last in their Semi-final.