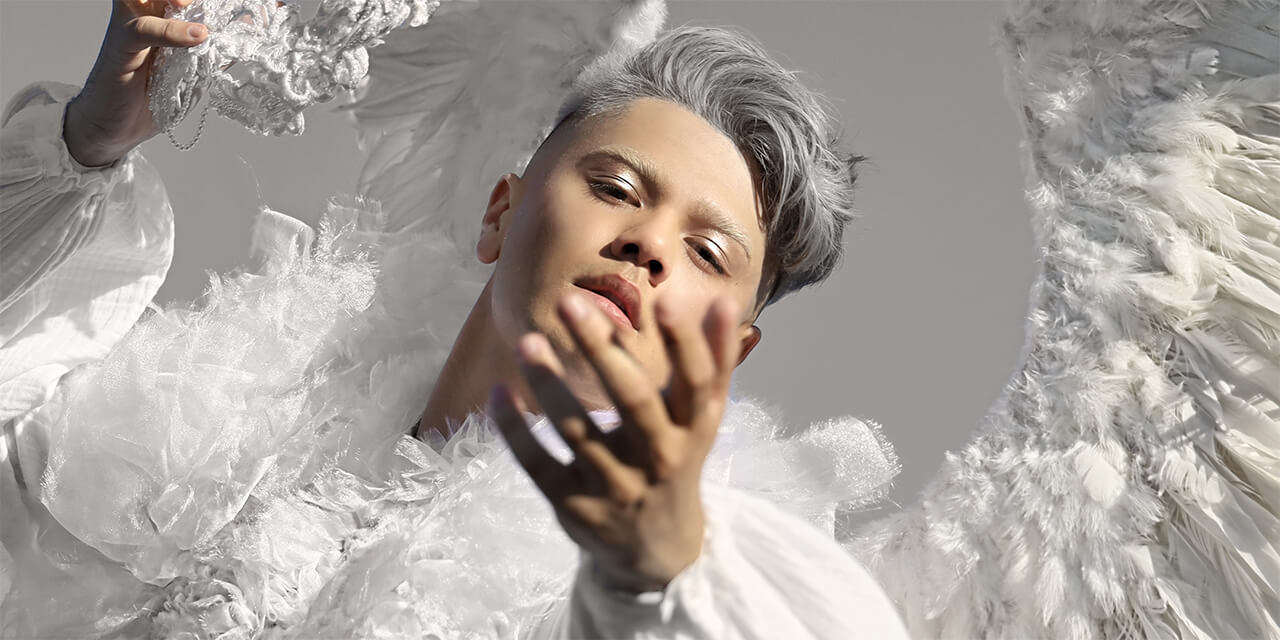 AUSTRALIA
Sheldon Riley from Australia: Massive changes for Eurovision 2022
INTERVIEW Sheldon Riley will represent Australia at Eurovision 2022. He couldn't miss the London Eurovision Party and we couldn't miss him so we spoke shortly about his Eurovision plans
Australia will be officially back to Eurovision after one year of absence… At least physically as Montaigne (Australia 2021) was not allowed to travel to Rotterdam last year.
This year's Sheldon Riley will not only be in Turin but also had the opportunity of traveling to London and Tel Aviv for the Eurovision pre-parties.
– I had to come, Sheldon tells us at the beggining of our interview in London.
– With the COVID situation, I was told very strongly I wouldn't be coming because there's too much at risk and to plan but I needed to. I have watched these Eurovision parties for years and years and I needed to be a part of it. I couldn't represent Australia and not do them!
Rightfully so! Sheldon will be singing "Not The Same" at Eurovision after winning Australia Decides 2022, a very big ballad that he wrote at the age of only 15:
– Without getting too deep or emotional, I come from a very religious and reserved family. I was also diagnosed with Asperger's and was told I wasn't going to speak, socialize, get a real job or even function as a "normal human being", he explains.
– That was when I decided, I was completely perfect the way I am, when I realized it was fine. I became a social butterfly and everything went good and great.
Sheldon wrote "Not The Same" for himself on a Facebook account he'd regain access to four years later:
– When I found my old Facebook account and saw it, I had to turn it into a song.
It is no longer emotional from a sad place. It is emotional from a happy place.Sheldon Riley about "Not The Same"
According to Sheldon, the song was never intended for Australia Decides 2022:
– Now it's the song representing Australia, he says happily.
Despite featuring strong and not so happy lyrics, Sheldon still manages to control his emotions like a pro but there's a good explanation for all that:
– I mean… There's a few performances out there where I hardly get through it but "Not The Same" is no longer emotional from a sad place. It is emotional from a happy place.
After all, he's doing everything he was told he wouldn't. On top of that, he explains:
– I am also quite emotional just for the fact I am getting to do this. I am an independent artist. I don't have a label and that's quite big. It is a big deal for an Australian artist to do Eurovision.
Massive changes for Eurovision 2022
Sheldon's performance at Australia's national selection was big, dark and emotional. Will there be changes?
– Massive! Massive changes, he shouts.
– It will be completely different and 100 times bigger than what it was.
I try to scoope some details: Will you be joined on stage?
– No. Alone on stage, just me. It will tell the story of the song more.
Excluding last year, Australia has always qualified for the Eurovision Grand Final. Does that put some pressure on Sheldon's shoulders?
– I have always been someone who just competed with myself and that's enough for me. We put a lot of effort into Eurovision because we love it but I don't feel that sort of pressure.
– I am just going to try to get through the song. I am really proud of what I do because I can't do much else very well.
Sheldon Riley is set to perform at the second semi-final of Eurovision 2022 on 12 May.
Sheldon Riley
Melbourne-based singer-songwriter Sheldon Riley grew up in the Gold Coast and has always been a huge Eurovision fan.
Back in 2016 Sheldon took part in the eighth season of X Factor Australia, but was initially eliminated during the bootcamp of the show. He has later given a second chance, when one of the other coaches formed a group "Time & Place", and invited Sheldon to be part of the boy band together with three other eliminated contestants. The band was voted out in ninth place at the live shows.
Sheldon gave The Voice Australia a shot in 2018, where all four judges turned during his first audition and decided to join Boy George's team. During his The Voice Australia adventure, he performed songs like "Diamonds" (Rihanna), "Creep" (Radiohead), "Born this Way" (Lady Gaga) and "Young and Beautiful" (Lana Del Rey), and went all the way to the final, finishing on 3rd place.
Australia in Eurovision Song Contest
Australia has participated in Eurovision Song Contest 6 times.
At Eurovision 2015 Australia was represented by Guy Sebastian and finished 5th in the Grand Final with the song Tonight Again. Australia was granted a wildcard, with the right to vote in both semi-finals, and with a secured place in the Grand Final.
At Eurovision Song Contest 2016 Dami Im represented Australia and finished 2nd with the song "Sound of Silence". Best result so far.
Australia qualified for the Grand Final 4 out of 5 times.