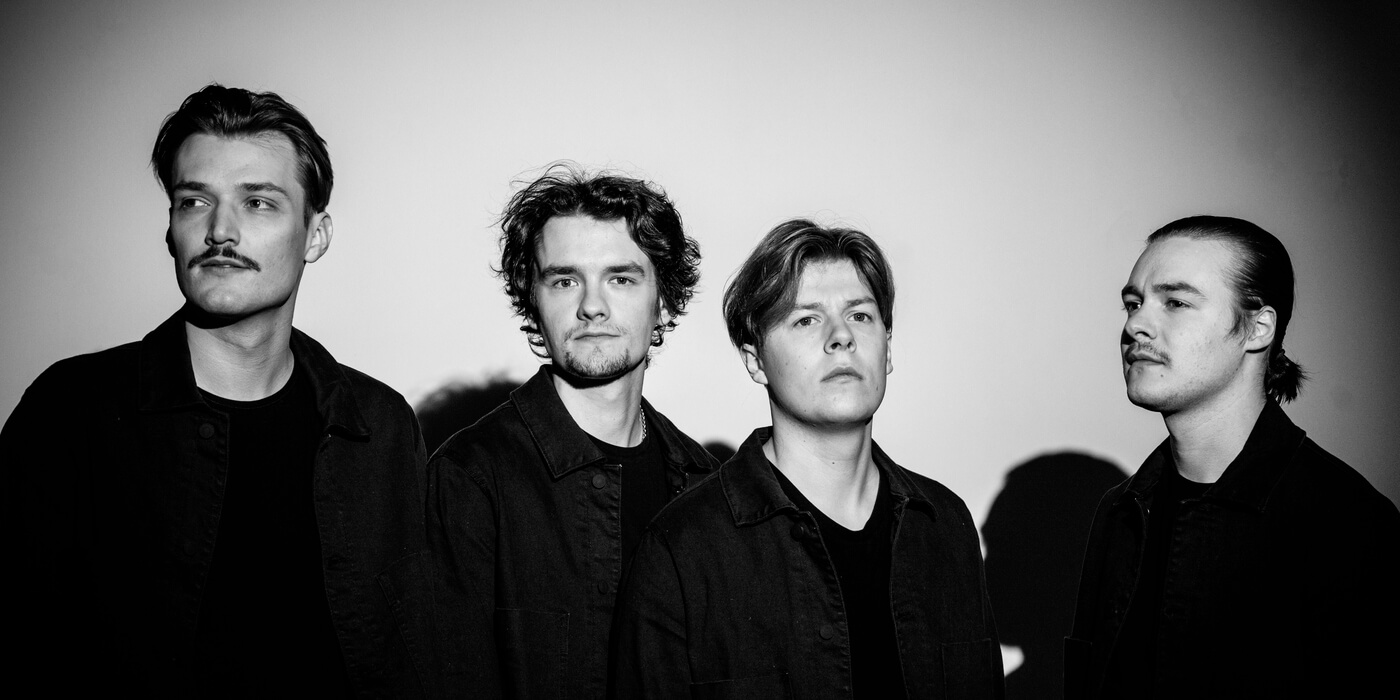 LATVIA
Sudden Lights from Latvia: "We will try not to get lost on the Eurovision stage"
INTERVIEW We met with Sudden Lights in Riga to talk about their road to Supernova after a 5-year break, the hidden meaning behind the stage lighting, and how that will be exported to Eurovision 2023
Another year, another fun and quirky band from Latvia!
While last year's Citi Zēni ("Eat Your Salad") were eager to encourage everyone to eat more vegetables, Sudden Lights are trying to bring more light into the world. The band consists of the lead singer Andrejs, guitarist Kārlis, bassist Kārlis, and drummer Mārtiņš.
Right from the beginning of our interview, it can be seen that Andrejs is not only the lead singer, but also the lead speaker, while his younger brother, guitarist Kārlis, feels at ease when making jokes. Their childhood friends, Kārlis (the bassist) and Mārtiņš, don't speak as much but comfortably add their own unique points of view when they have something to add.
For those who don't know, 2023 was their second attempt at Supernova after coming in second place in Supernova 2018 with "Just Fine."
Since then, Sudden Lights has become a well-known name in the Latvian music industry, having released numerous albums and played various gigs around Latvia. As the band has already proven themselves in Latvia, it raises the question: Why participate at Supernova and Eurovision now?
– There was this tendency that more well-known groups started appearing at Eurovision. Måneskin's victory (Italy 2021: "Zitti e buoni") definitely inspired a lot of bands. And Supernova, in the last few years, has become a more prestigious place to show up. Last year there were a lot of strong entries, this year, of course, as well, the guitarist reveals.
– I also think that the ambitions were always larger for us. We understand we come from a small country and that we, coming from the Latvian music industry, are with swimming floats in the large pool, therefore, we have always had the large ambitions ever since the foundation of the band. That's probably the reason why we are all still together because we have the dream for the larger things that we might achieve later on, Andrejs adds.
Our song this year was not created for Eurovision per seAndrejs from Sudden Lights
After their participation in Supernova 2018, the band sort of dismissed going back:
– Ever since 2018, somebody would ask us if we were going to participate again and we were like no, that's already a done deal. But our feelings have changed. Our song this year was not created for Eurovision per se, it was created when we were working on new material and we had talked about the possibility of participating at Supernova. One day, it all just came together nicely. It was a very nice coincidence or circumstance that we had the song because it was also very important for us that the song has a strong message, he concludes.
Aijā
Sudden Lights' discography mostly features songs in Latvian. Therefore, it was a surprise for most people that the song doesn't feature more Latvian lyrics, besides the title and the last line. Andrejs explains that the song is in English to ensure that all of the viewers understand them. However, the Latvian lyrics contain the essence of the Latvian folk music, which allows the guys to showcase their national identity as well.
"Aijā" in Latvian means "to lull." It's a calming lullaby which is perfectly suitable for the stressful times the world is currently experiencing. The purpose of the song is to bring light into the world with the help of music, and the band has also tried to achieve that with their performance. When asked about the meaning behind the national final performance, Andrejs's face lights up:
– It's the first time anyone has asked us about the meaning behind the performance! Yes, there is one, he says.
– Our song carries a strong message of light; thus, we wanted to add the light to the stage as well. Our stage director, Roberts Rubīns, who is a mastermind, came up with a great idea that we could sort of light up the lighting equipment with our instruments. At the same time, the vintage-style lighting, our outfits and our guitars somehow symbolize the music we were raised from as a band. We also have rock music in our roots, and it also has its appearance in the performance.
This creates the idea that our sound and the instruments are creating the light and carrying it out into the world. I believe you can also see and feel that in our performance.Andrejs from Sudden Lights
The performance also helped the band achieve its success and win Supernova 2023 with a united support from both the jury and the viewers. The band received the maximum 24 points.
Did you expect to win Supernova?
– Completely and absolutely yes, Kārlis (the guitarist) laughs, afterwards adding that the other candidates were also very strong.
– Of course, we were confident in our strengths, we'd be lying if we said that we didn't have the slightest idea of achieving it, Andrejs comments in a more serious manner.
– I think the nerves were tickled until the very last minute. I mean, we couldn't promise anyone that we would be the ones going to Liverpool, but at the end we had a large support. Thanks a lot to all of our supporters and voters for that, we have truly felt a lot of love from people in Latvia.
Plans for Liverpool
The band also reveals that they are planning to keep the same performance for the big Eurovision stage, adding that the only changes for Liverpool will be the larger stage, the live audience, and themselves being a few months older.
However, will the band be able to receive such a positive result in Liverpool? Currently, the odds do not have Sudden Lights as one of the 10 participants who will qualify for the Grand Final from Semi-final 1. Here's a question where all four members have something to say:
– We very much enjoy being the underdogs, Mārtiņš starts.
– In some ways, it gives us additional motivation. On the other hand, we cannot perform any worse than everyone expects, but I don't think about the bookmakers' odds a lot. I believe the song must connect with people on that particular night and, in my opinion, no mathematics can calculate it earlier than that. We have seen so many surprises in the previous Eurovision editions; thus we focus on what we can impact, about our performance, and how to sing better, Andrejs comments.
– We will do our job, the bookmakers can do theirs (laughs). Let them calculate, do the Excel sheets, Kārlis jokes once more.
– Even if they predicted us in the final, our job would not change, we will still do as much as possible, Kārlis, the bassist, concludes.
Regardless of the bookmakers' predictions, Sudden Lights have their own goals and aim for the big stage – they do not want to talk about any specific placements:
– I believe that if you are participating in a contest, you must aim for the best. Otherwise, there's no point in participating, Andrejs says.
– I don't want to predict any particular places or make internal bets. We need to focus on ourselves, on what we can do. I'd say what we want to reach is as many listeners who understand and feel our message as possible. People have written to us saying that the song has changed their lives, and that is the most beautiful thing a musician can receive, he concludes.
Kārlis (guitarist) adds:

– Hopefully, the song has changed people's lives for the best.

What makes you the most nervous about the stage and the performance?
– There are millions of things to worry about, but we have stuff to do at all times. Therefore, there is no time to get stressed, Andrejs reveals.
– We will try not to get lost on that big stage! We might have problems with that, Kārlis, the guitarist, mentions an inside joke, as some of the guys start to laugh.
We are very happy to meet the whole community, which is so friendly, we feel very welcomed anywhere we go. It's a great pleasure that people can also be so cool!Andrejs from Sudden Lights
– Or taking the guitars the other way around, Kārlis, the bassist, adds.
– I think once in Liverpool and there are only a few days left, the stress will kick in and then it's going to be fun, Mārtiņš states.
The pre-party experience
Before Liverpool the band will participate in numerous Eurovision pre-parties. At the time of the interview, Sudden Lights had just returned from the pre-party in Barcelona where they met colleagues for the first time and heard the songs live. How was their pre-party experience?
– We are very happy to meet the whole community, which is so friendly, we feel very welcomed anywhere we go. It's a great pleasure that people can also be so cool, says Andrejs.
Which songs are your favorites?

– There are many songs and we are slowly getting acquainted with them. By listening to them once, you cannot fully grasp them. We often see only the negative things in life, but these past days in Barcelona have shown us that you can be in a non-stop euphoric state, something's happening all the time! People are coming over, they can talk to us, we can share our feelings as well, and that's very cool, Andrejs is excited about the experience.
– The musicians are very welcoming as well. Right after finishing our performance, Piqued Jacks from San Marino came up to us, saying that they really liked it, that was very lovely. At the end of the day, it's a celebration of music, Kārlis, the bassist, reveals.
– Actually, we really liked their song as well! Today the song is stuck in my mind all the time. But there are also numerous other favorites, for example, Iceland's Diljá. Very beautiful song and a very beautiful girl, Kārlis, the guitarist, adds with a smile.
– Czechia is one of mine and Mārtiņš's favorites, and I think we will hear these songs again and again in these pre-parties, so the favorites will change, Andrejs concludes.
While the band reveals that numerous bands have impacted their musical journey, including Arctic Monkeys, Coldplay, Muse, and Brainstorm, each member also has his own fond memories of earlier Eurovision songs and artists. Thus, the question of their favorite Eurovision performances was a must:
– ABBA, Mārtiņš says without hesitation.
– Brainstorm also had a very touching performance because they're ours and their performance was very beautiful in their minimalism. I don't remember the performance live, since I was still very young, but I have watched it several times later in life, so it's a very meaningful performance for me, Andrejs reminisces.
– Of the Latvian performances, I also very vividly remember "Dziesma par laimi" in 2004. I remember, me and Andrejs were very little, we were jumping up and down on a couch and thinking that it's so crazy that there was a song in Latvian on the big Eurovision stage! Maybe that is also why we have a little bit of Latvian added to our song, Kārlis, the guitarist, comments.
– Walter and Kazha were also amazing! In fact, Kazha's grandmother lives in the same building where we are now, Kārlis, the bassist, shares a fun fact that his bandmates were not aware of.
– Not from Latvia, but my favorite performance was the Netherlands, the Common Linnets with "Calm After The Storm." The performance was so simple, in its essence, there was nothing, but the guy and the girl were singing a duet and it was enough to get second place, Mārtiņš adds.
– Yes, these moments are what we love the most about Eurovision. How different the performances can be, Andrejs concludes.
Sudden Lights will take the Liverpool Arena stage on the 9th of May during the first Semi-final of Eurovision 2023.