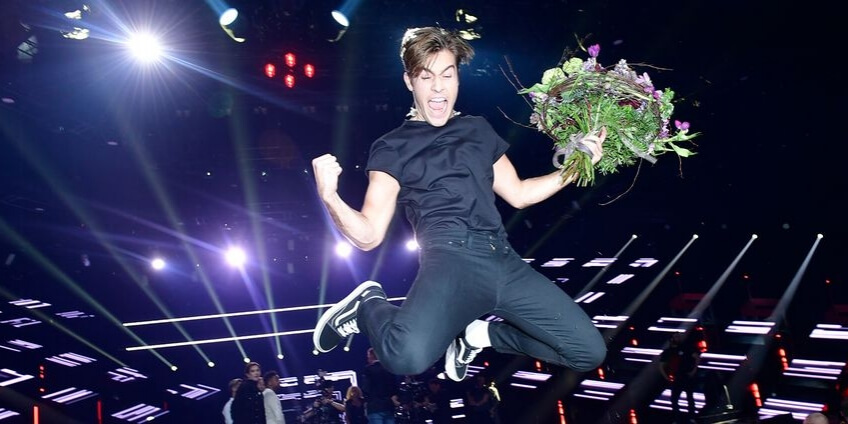 SWEDEN
Sweden: Benjamin Ingrosso wins Melodifestivalen 2018
Vi har ett resultat! Benjamin Ingrosso will represent Sweden at Eurovision Song Contest 2018 with the song "Dance You Off" after winning Melodifestivalen tonight
Nu kör vi! The Final of Melodifestivalen 2018 was held tonight in Friends Arena in Stockholm. After six amazing shows all over Sweden with 28 contestants, the Swedish public and an international jury both preferred Benjamin Ingrosso. He will represent Sweden with the song Dance You Off. After four Semi-finals and a Second Chance-show 12 songs were selected to compete in the Final of Melodifestivalen, the biggest television show in Sweden.
Dance You Off is written by Benjamin Ingrosso, MAG, Louis Schoorl, K Nita.
The show was broadcast live from Friends Arena in Stockholm and hosted by David Lindgren.
Melodifestivalen 2018 – Result
Vi har ett resultat!
Benjamin Ingrosso – "Dance You Off" (181 points)
Felix Sandman – "Every Single Day" (158 points)
John Lundvik – "My Turn" (128 points)
Mariette – "For You" (113 points)
LIAMOO – "Last Breath" (105 points)
Samir & Viktor – "Shuffla" (104 points)
Margaret – "In My Cabana" (103 points)
Martin Almgren – "A Bitter Lullaby" (84 points)
Renaida – "All the Feels" (81 points)
Rolandz – "Fuldans" (75 points)
Jessica Andersson – "Party Voice" (70 points)
Méndez – "Everyday" (64 points)
Benjamin Ingrosso
Benjamin Daniele Wahlgren Ingrosso, 20, is a Swedish singer. In 2006 he won the Lille Melodifestivalen (Melodifestivalen Junior), with the song "Hej Sofia" and represent Sweden in MGP Nordic 2006 in Stockholm (placed 4th), and in 2004 he won the TV show "Let's Dance".
He competed in Melodifestivalen 2017 and 2018.
Melodifestivalen 2018
3 February: Deltävling 1 (Karlstad)
10 February: Deltävling 2 (Gothenburg)
17 February: Deltävling 3 (Malmö)
24 February: Deltävling 4 (Örnsköldsvik)
3 March: Second Chance (Kristianstad)
10 March: Final (Stockholm)
The format for Melodifestivalen 2018 was the same as last year: Each of the 4 heats qualified 2 songs directly to the final. Each of the 4 heats qualified 2 songs to the "second chance"-show. In the "second chance" 4 songs were selected for the final.
Host of all six shows were David Lindgren.
Since 1958 Sweden has participated 57 times in Eurovision Song Contest with great succes. They have won the contest 6 times:
They came last two times (1963 and 1977), and since the introduction of the Semi-finals in 2004 Sweden managed to qualify for the Grand Final 13 out of 14 times! (only skipped the qualification in 2010).