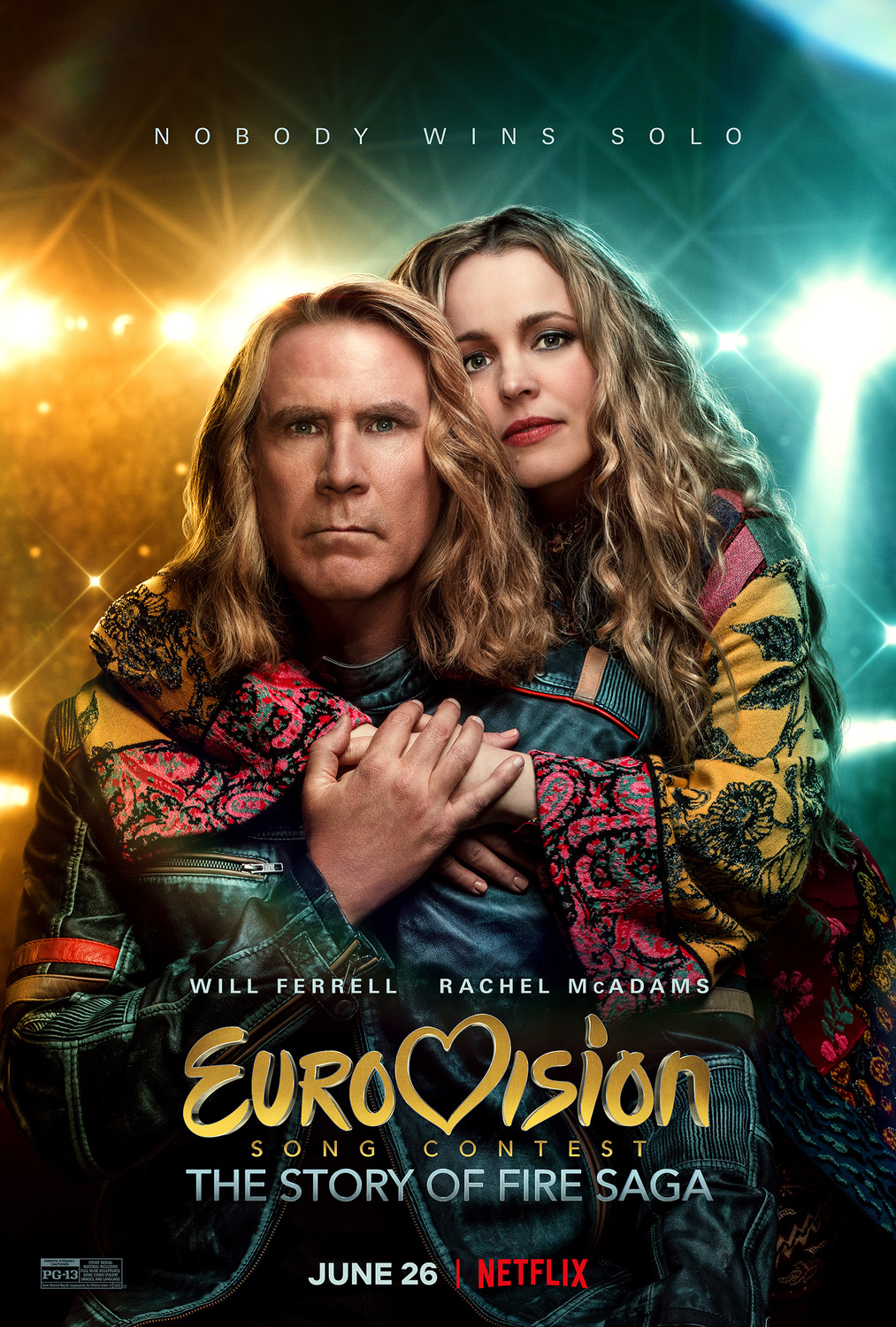 EUROVISION MOVIE
All about the Eurovision Movie
The much anticipated Eurovision movie has been released today. "Eurovision Song Contest: The Story of Fire Saga" can now be streamed through Netflix. Find all the information about the movie
Music meets comedy meets romance. Those are the ingredients that build the very first movie inspired in music's biggest competition, the Eurovision Song Contest.
The adventure began during the Eurovision Song Contest 2018 when the North-American actor, Will Ferrell, travelled to Lisbon to witness and live the madness of the contest. After many asked what the three-time Golden Globe winner was doing in Eurovision, it was later confirmed: a movie about the show was in the making.
Two years later, it is finally here. Even though it should've premiered a month ago – on the same day as the Eurovision 2020 Grand Final was supposed to happen – the film ended up being postponed due to cancellation of the contest because of the coronavirus outbreak around the world.
"Eurovision Song Contest: The Story of Fire Saga" was released today on Netflix.
Eurovision Movie: Plot
The story is focused on two Icelandic musicians Lars Erickssong (Will Ferrell) and Sigrit Ericksdottir (Rachel McAdams) who are given the chance to represent their country, Iceland, in the Eurovision Song Contest.
The underdogs come up against serious competitors including Russian singer, Alexander Lemtov.
From IMDb:
When aspiring musicians Lars and Sigrit are given the opportunity to represent their country at the world's biggest song competition, they finally have a chance to prove that any dream worth having is a dream worth fighting for.
Eurovision Movie: Background
Will Ferrell was first introduced to the Eurovision Song Contest back in 1998 when his wife, Viveca Paulin from Sweden, switched on the show's Grand Final.
– It was just like: "Wait! What is going on? This is insanity! This is the craziest, most fun thing I've ever seen", he stated to USA Today.
Even though he only visited the show's backstage in 2018, the decision of coming up with an Eurovision movie happened four years ago. Shortly after the decision was made, Ferrell called director David Dobkin into it who didn't refuse:
– It's so crazy that there's something this big in the world like Eurovision. It's bigger than the Super Bowl, there's nothing else really like it, Dobkin said.
According to RadioTimes.com, the movie was filmed in the United Kingdom (host of the Eurovision 1972), in Iceland and also in Tel Aviv during the Eurovision 2019.
We had fun with the characters and we capture the scope but it's still a love letter to the Eurovision contest.Will Ferrell
Eurovision Movie: Cast and crew
Will Ferrell (Star and Writer) as Lars Erickssong
Will Ferrell is an American actor, comedian and producer who first rose to fame due to his NBC sketch comedy show, Saturday Night Live. He is also known for his roles in movies such as Anchorman: The Legend of Ron Burgundy (2004), Step Brothers (2008), The Other Guys (2010) or Anchorman 2: The Legend Continues (2013).
Ferrell is a two-time Golden Globe nominee and has received a star on the Hollywood Walk of Fame which has cemented his status.
Rachel McAdams (Star) as Sigrit Ericksdottir
Rachel was born in Canada. It was in 2002 that she made her Hollywood film debut with The Hot Chick but only rose to fame two years later forher most iconic role to date in Mean Girls.
In 2009 she joined the cast of Sherlock Holmes and two years later she starred in Midnight In Paris.McAdams is an Oscar nominee.
Natasia Demetriou (Star) as Nina
Natasia is an English-Cypriot comedian, actress and screenwriter who first rose to popularity in 2013.
Besides various projects, her current role in FX horror comedy, What We Do in the Shadows, as Nadja is what she's better known for alongside her role in the BAFTA-nominated sitcom Stath Lets Flats.
Pierce Brosnan (Star) as Erick Erickssong

Pierce Brosnan was born in Ireland but moved to the USA at a young age. He first rose to fame in the 80s and in 1994 he became the fifth actor to play James Bond – role he played in four movies of the saga.
Brosnan has also starred in the musical Mamma Mia! (2008) and in the 2018 thriller, The Ghost Writer. He's a two-time Golden Globe nominee.
Dan Stevens (Star) as Alexander Lemtov

The English actor caught the public attention due to his role in the drama TV show Downton Abbey.
Dan Stevens has starred in the 2014 movie, The Guest and participated in Disney's live action adaptation of Beauty and the Beast.
Demi Lovato (Star) as Katiana

Better known for her singing, Demi Lovato first started her career in Disney's Sonny With a Chance. She rose to fame after getting the lead role of Disney's Camp Rock (2008) and its sequel in 2010 which was her last work as an actress.
More

David Dobkin as the movie director;
Andrew Steele as the movie co-writer;
Graham Norton (UK Commentator) as himself.
Eurovision Artists
Besides the main actors, the movie features former Eurovision artists:
Eurovision Movie: Reviews
MetaCritic: 47/100
Eurovision Movie: Original soundtrack
Double Trouble (Tiësto's Euro 90s Tribute Remix) (performed by Will Ferrell, My Marianne and Tiësto)

Lion of Love (performed by Erik Mjönes)
Coolin' with Da Homies (performed by Savan Kotecha)
Volcano Man (performed by Will Ferrell and My Marianne)
Jaja Ding Dong (performed by Will Ferrell and My Marianne)
In The Mirror (performed by Demi Lovato)
Happy (performed by Will Ferrell and My Marianne)
Song-A-Long: Believe (Cher), Ray of Light (Madonna), Waterloo (ABBA), Ne Partez pas Sans Moi (Céline Dion), I Gotta Feeling (The Black Eyed Peas) [performed by Cast]
Running with the Wolves (performed by Courtney Jenae and Adam Grahn)
Fool Moon (performed by Anteros)
Hit My Itch (performed by Antonio Sol, David Loucks, Taylor Lindersmith and Nicole Leonti)
Come and Play (Masquerade) (performed by Petra Nielsen)
Amar Pelos Dois (performed by Salvador Sobral)
Husavik (performed by Will Ferrell and My Marianne)
Double Trouble (Film Version) (performed by Will Ferrell and My Marianne)
Eurovision Suite (performed by Atli Örvarsson)
Eurovision Movie: How to watch
The "Eurovision Song Contest: The Story of Fire Saga" can only be watched through Netflix.
Netflix is a subscription-based streaming service which offers online streaming of movies and TV shows. Even though it is a paid subscription, the company offers a 30-days free trial for new users.
Important: If you do not intend to continue your membership after the 30 days free trial, you need to cancel it yourself. Otherwise, you'll continue to be charged.
Eurovision Movie: Gallery