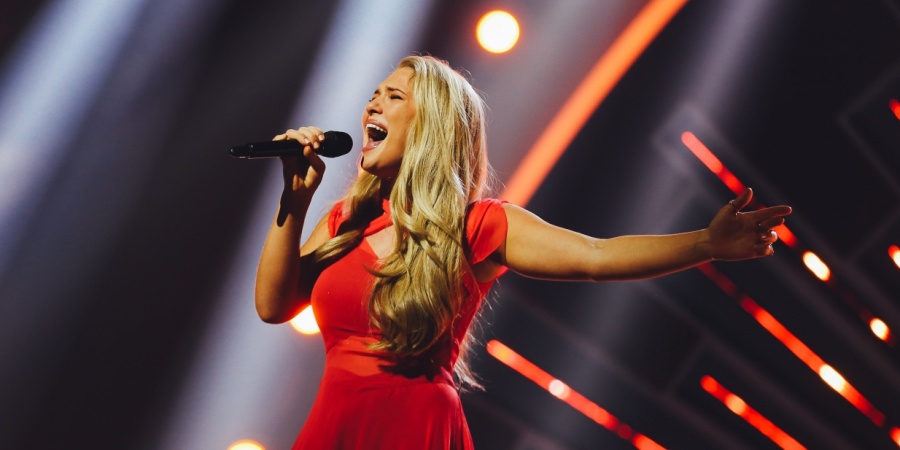 DENMARK
Denmark: Anja wins Melodi Grand Prix 2017
Anja will represent Denmark at Eurovision Song Contest 2017 with the song "Where I Am", after she won Melodi Grand Prix 2017 tonight
Denmark held it's national selection "Melodi Grand Prix 2017" tonight, selecting the Danish entrant for this year's Eurovision Song Contest: Anja with the song "Where I Am".
Melodi Grand Prix 2017 took place in the arena Boxen in Herning with 10 competing acts. Three songs advanced to the super-final: Anja Nissen, Ida Una and Johanna Beijbom. The result was decided by 50% fan jury and 50% public voting over two rounds.
Anja co-wrote the song "Where I Am" with Angel Tupai and Michael D'Arcy. Anja has been writing songs since childhood, and since she was 4 she dreamed of standing on a Eurovision stage. She put some of her songs on YouTube, but this is the first time one of her own songs have been published.
Melodi Grand Prix 2017 – Results
Anja Nissen – "Where I Am" (super-finalist, 64%)
Ida Una – "One" (super-finalist, 26%)
Johanna Beijbom – "A.S.A.P." (super-finalist, 10%)
Rikke Skytte – "Color My World"
Thomas Ring – "Vesterbro"
Calling Mercury – "Big Little Lies"
Anthony – "Smoke In My Eyes"
René Machon – "Warriors"
Sada Vidoo – "Northern Lights"
Jeanette Bonde – "Hurricane"
Anja
Anja Nissen was born in Sydney, Australia in 1995 to Danish-born parents. She has been competing in several singing competitions, and in 2008 she made it to the semi-finals of "Australia's Got Talent", just 12 years old. Since then she has participated in various TV shows: Young Talent Time, Mornings with Kerri-Anne, Schools Spectacular.
The peak of her career was – until tonight – in 2014, where she won the third season of The Voice of Australia with the Black Eyed Peas-member will.i.am as mentor.
Anja feels so much like home in Denmark, and lots of her family lives in Denmark. She would love to live in Denmark some day, and when she had the opportunity to participate in Melodi Grand Prix in Denmark, one of her childhood dreams came through.
My song "Where I Am" is a very personal song for me. It is about being true to yourself and others, being open and not hold back. Listen to yourself.Anja speaks about her song "Where I Am"
Anja competed in last year's Melodi Grand Prix, where she came in second place (36% of the votes) with the song "Never Alone". Anja sang her 2016 and 2017 song a cappella:
Follow Anja:
Facebook: @anjanissenmusic
Twitter: @anja_nissen
YouTube: anjanissentv
Instagram: anja_nissen11
Melodi Grand Prix 2017
Melodi Grand Prix 2017 was be held by Danmark Radio (DR) in Boxen in Herning on 25 February 2017. The winner of the show will represent Denmark at Eurovision Song Contest 2017 in Kyiv. Hosts were Annette Heick (MGP 2007) and Johannes Nymark (part of Lighthouse X, Denmark 2016). Among the special guest appearances were Olsen Brothers (Denmark 2000).
In Melodi Grand Prix 2017 there were two rounds of voting: The first round where all 10 songs performed, and the top-3 proceeded to a super final, where another voting took place. For the first time a special fan jury had 50% weight on the outcome. The 5 jury members were: Mogens Dalsgaard Myklebust, Mette Thorning Svendsen, Peter Hansen, Morten Kaiser and Søren Toft.
DR received a record breaking 1,115 entries during the submission period. The 10 entries in this year's Melodi Grand Prix were selected by a committee of music professionals, lead by music producer Cutfather.
Denmark has been participating in Eurovision Song Contest 45 times. Since its debut in 1957, Denmark has won the contest 3 times:
Worst result was in 2002 (last). Since the introduction of the Semi-finals in Eurovision in 2004, Denmark has qualified for the Grand Final 9 out of 13 times.