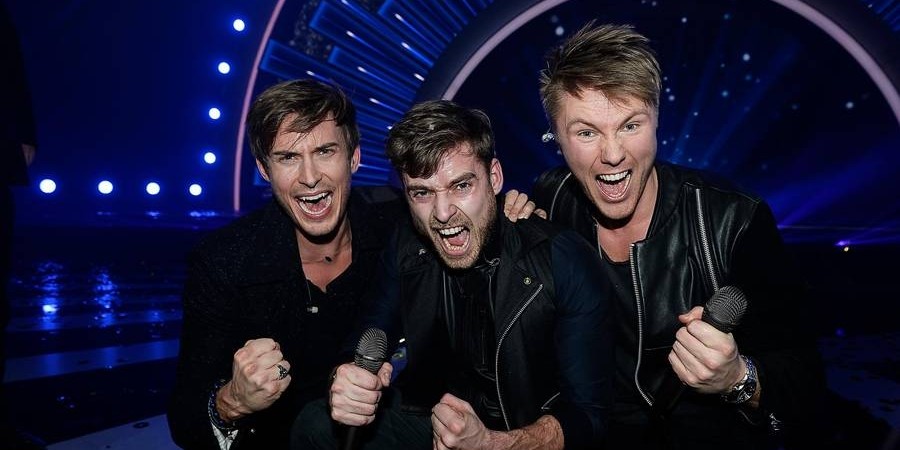 DENMARK
Denmark: Lighthouse X wins Melodi Grand Prix 2016
Lighthouse X wins MGP 2016 and will represent Denmark at Eurovision Song Contest 2016 in Stockholm with the song "Soldiers of Love"
Tonight the 45th edition of Melodi Grand Prix (MGP) took place in Horsens, Denmark. 10 hopeful contestants fought for the ticket to Eurovision 2016, and in the end it was Lighthouse X who got the most votes from the Danish viewers.
Lighthouse X won MGP 2016 with the song "Soldiers of Love", and the song is all about spreading love to fellow men:
»We are so happy and very, very touched and thankful that Denmark has chosen a pop song that also has an important message about community«.

Denmark will compete in Semi-final 2 (2nd half) at Eurovision Song Contest 2016 in Stockholm.
MGP 2016 result
Lighthouse X – "Soldiers of Love" (42% of the votes, Super-finalist)
Anja Nissen – "Never Alone" (36% of the votes, Super-finalist)
Simone – "Heart Shaped Hole" (22% of the votes, Super-finalist)
David Jay – "Rays of Sunlight"
Bracelet – "Breakaway"
Sophia Nohr – "Blue Horizon"
Veronicas Illusion – "The Wrong Kind"
Kristel Lisberg – "Who Needs a Heart"
Jessica – "Break it Good"
Muri & Mario – "To Stjerner"
Simone, Lighthouse X and Anja Nissen won the first round of voting (50/50 jury/televoting) and proceeded to the next round, where the three contestants performed their songs again, and this time it was solely the televoters who decided to send Lighthouse X to Stockholm
Lighthouse X
Lighthouse X (pronounced "Lighthouse Ten") is from 2012 and consists of the three artists Johannes Nymark, Martin Skriver and Søren Bregendal. Together they have created the band because they have a desire to use music to make a difference, strengthen the positive dialogue, inspire and create space for brotherly respect and care.
Johannes Nymark is a singer and actor, with many movies behind. He was actually on the Eurovision stage for Italy in 2014. He was hired as an actor/dancer, playing keyboard in the Spanish song "La Mia Città".
Martin Skriver is musical actor and has previously been involved in Fredericia Theatre's production of "The Little Mermaid".
Søren Bregendal is a singer and actor. His breakthrough was in 2003 with the boyband "C21" – hit "Stuck in My Heart".
In the past year Lighthouse X has traveled around Denmark and visited hospitals and camps for children with problems in the hopes of creating the opportunity for fellowship and conversation that many people seek.
It is not the first time we have a "Soldiers of Love" in Eurovision. Liliane Saint-Pierre sang "Soldiers Of Love" for Belgium in 1987.
Follow Lighthouse X: Homepage, Facebook, YouTube
MGP 2016
The jury for MGP 2016 consisted of: Vicky Leander (Choreographer), Christina Chanée (Singer, Denmark 2010), John Gordon (Songwriter, Germany 2010), Dennis Johannesson (Radio host).
Hosts of the show were Hilda Heick (MGP 1986, 1987, 1989, 1992), Annette Heick (MGP 1991, 2007), and last year's MGP host Jacob Rising.
Denmark has been participating in Eurovision Song Contest 43 times. Since its debut in 1957, Denmark has won the contest 3 times:

- two of the three times Denmark won was in Sweden. Will the trend continue this year?
Worst result was in 2002 (last). Since the introduction of the Semi-finals in Eurovision in 2004, Denmark has qualified for the Grand Final 9 out of 12 times.