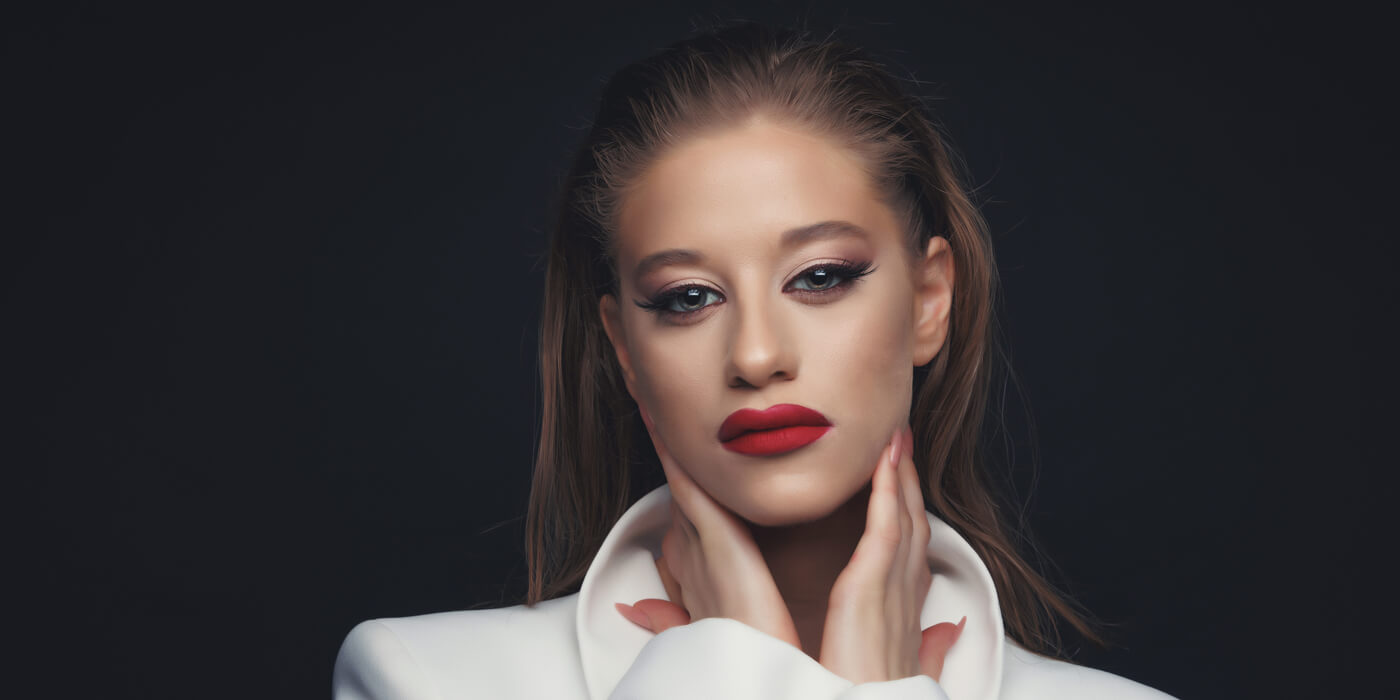 GEORGIA
Iru from Georgia: "I was emotionally drained"
INTERVIEW Liverpool isn't the first Eurovision stage that Iru from Georgia will step on. After winning Junior Eurovision 2011, Iru is back for another giant milestone, and she sat down with Eurovisionworld to discuss the preparation process and the real meaning behind "Echo"
Right from the very first words of this interview, Iru (Irina Khechanovi) comes off as very humble, down-to-earth, and focused, but at the same time extremely excited about the upcoming contest.
Even though she's quite young (22), Iru has tons of experience, including a Junior Eurovision victory in 2011 as part of girl band Candy with their song "Candy Music," and most recently another win at Georgia's The Voice, which gave her the honor of representing Georgia at Eurovision 2023.
12 years after her Junior Eurovision victory, Iru is back as a soloist with her song "Echo," and a lot has changed since then: At her JESC participation in 2011 Iru had just turned 11 and was still figuring out her future plans. Today she's pursuing her childhood dream and will participate at Eurovision:
– I turned 11 on the same day we won Junior Eurovision. I remember I had a cake, and as my birthday wish I asked for the opportunity to go to Eurovision someday. It means so much to me that I get a chance to make my younger-self dream become reality, Iru says.
What are your memories from it?
– I remember my girls and I having so much fun together, just running around everywhere, not listening to anybody...not even our producer because we were so young and they were just following us and running with us everywhere, she reminisces and laughs.
– I also remember we had a lot of interviews, and back then we didn't really know English that well. So, I was always saying the same things like, "I'm so happy to be here, thank you, and bye", but it still was so much fun for me. I follow some people from that period, and it's just amazing to see their dreams coming true as well.
However, winning such a contest at a very young age comes with downsides. Iru became well-known and famous all over Georgia at such a young age, which contributed to some negative comments and bad feedback that Iru had to fight throughout her teenage years:
– I was trying to not listen to the negative and focus only on the positive. I know it sounds very cliché, but this is what you have to do if you want to block all of those bad voices in your head because we are all insecure, she says.
Winning with "Euphoria"
Representing Georgia at Eurovision for the second time is an immense honor for Iru, and so far the childhood dream has just come true. While multiple Junior Eurovision alumni have participated in Eurovision, no artist has managed to secure a win in both contests. Therefore, the question of Iru's expectations regarding a victory in Liverpool had to be asked:
– Who wouldn't want to win? It's a competition, so of course I'd like to win. I would love to have the victory for my country, but my main goal at Eurovision is just to have the best time meeting everybody, taking it all in, and appreciating the fact that I get a chance to stand on that big stage in Liverpool, she says.

Speaking of victories, the bookmakers believe Loreen, who previously won in 2012, will collect another trophy with her song "Tattoo." At the PrePartyES in Madrid, we witnessed the moment Iru met Loreen, which was certainly a big wish of hers. Especially since Iru actually won the Georgian artist selection with the song "Euphoria":
– Considering the fact that I won Georgia's The Voice and got to Eurovision 2023 with her song "Euphoria," it was obviously one of my biggest wishes to meet her because she's an amazing performer. Everybody who had met her told me that she has this big energy and it's amazing when you get to meet her. And I can definitely confirm that! She was so sweet and so nice and she hugged me three times, it was so cute. I cannot wait to see her perform live in Liverpool.

At the PrePartyES in Madrid it wasn't all roses and flowers for Iru. Despite providing a flawless performance of her song "Echo" in Madrid, Iru had a high fever just before the performance. She even considered not performing at all:
– We were actually thinking about not performing at all as it could be dangerous. I mean, you should feel a lot of emotions and feelings while singing, and you can't force yourself while you're sick, but I decided I wanted to feel Madrid's energy.
– Backstage, I could not stand at all because my feet were shaking, but it all turned out really well and it was one of the biggest and the best crowds I've ever performed in front of. I was so glad that I just took the risk, she smiles.
Afterwards, Iru didn't stay for the after party. Not only for herself, but for everyone else's safety. The feedback was spectacular nonetheless:
– That's why I'm doing this. For the people and supporters. I couldn't just let them down and not perform at all.
The road to Eurovision
Iru has been in the music industry for many years, and her passion for it has been present ever since she started talking. As a child, she would hum to melodies from TV ads and perform in front of her cousins. These small "home concerts" made Iru's family believe she was serious about this and got her into singing lessons, as well as a few competitions that eventually got her into Junior Eurovision 2011.
It was during the COVID-19 pandemic that the Georgian singer started working with her producer on new music, and then eventually considered The Voice:
– I felt that the show was the opportunity I needed. I knew I was ready for another Eurovision chapter, and now here I am. Ready to represent Georgia!
Eurovision needs a show, Eurovision needs a mix of a dancer and a singer, so I wanted to show everybody that I deserved to go there.Iru
The fight for her childhood dream was the fuel she needed to defeat the remaining contestants at The Voice Georgia:

– There was a lot of pressure on me, because after Junior Eurovision I had to prove to the audience I still had it. I was very tough on myself. We had to prepare songs every week, and we would have only a few days to prepare them. And, of course, I wanted to sing and dance and showcase all of my abilities as an artist because people were voting for the best to represent Georgia.
– Eurovision needs a show, Eurovision needs a mix of a dancer and a singer, so I wanted to show everybody that I deserved to go there. I worked really hard.
When asked what inspires her songwriting, Iru laughs:
– Breakups? Definitely breakups and different relationships. Every experience is a good experience because it teaches you so much about yourself. I'm planning to put all of the music that we wrote in the past years out after Eurovision. I really want people to actually get to know me as an artist.
Inner voices and inner feelings
Iru's Eurovision 2023 song was co-written by her long-term composer Giga Kukhianidze. Iru reveals that he is very close to her family as he is also her brother's godfather. They wrote the song "Echo" in a very short amount of time:
– We didn't really have that much time, because after The Voice we only had two to three weeks to have the song prepared, the music video filmed and edited, all the costumes, designs and so on, she says.
– We wrote it in three, four days. We came up with the song and recorded it. It was chaotic and hard because I was emotionally drained.
The Eurovision madness became reality much earlier than expected for Iru:

– I didn't have any time to wake up and realize what was happening because I had to jump straight into Eurovision. But as stressful as it sounds, it was so much fun because Giga listened to me. I told him I wanted it to be really powerful. And because he's a genius he came up with this melody, and I knew that was it.
– He called me at night announcing he had come up with a melody, and I went straight to the studio and he played it for me. I had tears running down, I was speechless!
Despite being a very hard song to sing, Iru reveals she's mastered the song and she's still rehearsing to make the performances even better.
There has been some confusion online concerning the lyrics of "Echo." To avoid misunderstandings, Iru shares the true meaning of the song:
– You shouldn't read the lyrics as a general thing. It's poetry and it's very deep. If you look deeper into it, you will find more meaning, she clarifies.
– My song is about the process of finding love. Before we find it, we feel lost. But once we feel it, everything starts to tingle just like an echo. The gibberish part of it represents hearing inner voices and your inner feelings. Once you feel love, you become a completely different person because you see things differently and acknowledge things differently.
Since the production process was very short no other song was considered. She's genuinely happy and proud of her song:
– I would never choose another song even if we had other options. I am 100% happy with how it turned out because it represents how I was feeling. I needed the power of this song, and I needed this powerful song. Love is a feeling that a lot of people can relate to, and I wanted to sing about something that gives you freedom of speech.
Breaking the non-qualification streak?
While Iru cannot reveal much about her stage design, besides the fact that it's directed by Marvin Dietmann, they're trying to leave the vibes and have the powerful feelings from the music video. She can't say much about it, but they'll keep its artistic sides.
– Marvin Dietmann is amazing, and he's learning everything about me. First of all, he came to Georgia and he sat down with me because he wanted to get to know me as an artist so he could showcase everything during this show. I'm really grateful that I got to work with him, Iru smiles.
This feeling is eating my brain a bit because I feel very responsible.Iru
According to the bookmakers, it seems like Iru can focus on her experience since qualifying for the Final is almost a sure thing. As Georgia has not qualified for the Grand final since Eurovision 2016, breaking the spell is very important to Iru:
– I really just want to make Georgia successful in Eurovision again. I feel like we can do it. We can definitely do it!

– People in Georgia are really critical because they want the best for their country, of course, and there's nothing wrong with that. At first they actually were confused about the song, but as they started listening to it more they fell in love with it and now they're giving us such positive feedback. It's the most beautiful thing to have my country's support.
Even having such positive feedback is concerning for Iru, who confesses she's nervous about the whole thing:

– I don't want to let anybody down. This feeling is eating my brain a bit because I feel very responsible, I want to give my 100%.
Favorites and expectations for Eurovision 2023
When asked about the favorites, Iru has a long list prepared and confirms that the lineup is very strong this year:
– My favorites are Armenia, I love Brunette so much and I met her in Madrid! Loreen, as well. Norway's Alessandra is a ball of energy, she is really awesome, and Blanca Paloma is really talented. Actually, she is one of my best friends in Eurovision, we got along so well. I like Denmark and Finland, and so many more. This year we're going to have such an amazing show, I know it's going to be so cool for the audience.
Finally, regarding her own expectations, Iru remains confident:
– I'm obviously dreaming about winning Eurovision, but I'm going to do my best and we will see. I'm very happy and grateful because I'm 22-years-old and this is my second time in Eurovision. So, I consider myself super lucky.
Iru will take the Liverpool Arena stage during Semi-final 2 on 11 May.