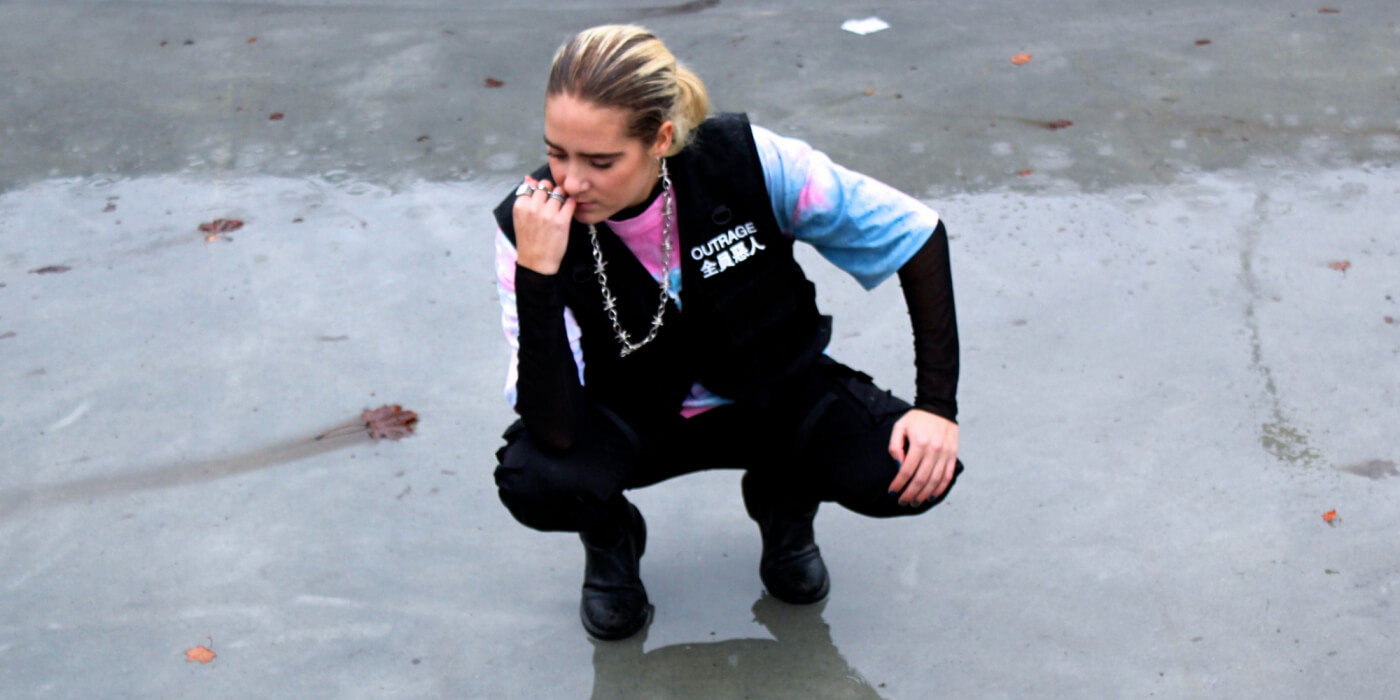 SWEDEN
Julia Alfrida from Melodifestivalen 2021: "Eurovision is part of my coming out"
INTERVIEW: A couple of weeks after Julia Alfrida won the opportunity to compete in Sweden's Melodifestivalen 2021, Eurovisionworld caught up with the upcoming artist to get to know her a little bit more
Julia Alfrida, 25, currently lives in the suburbs of Stockholm. She received the golden ticket for Melodifestivalen 2021 thanks to her performance of "Dark doom" at P4 Nästa in Sweden.
She identifies herself as LGBTQ+, more specifically as a queer and a lesbian.
That was the main trigger for Julia to be able to find her sound:
– The mental health issues I had growing up have inspired me and, a lot of it, comes from me being LGBTQ+. I identify myself as a queer and I am also a lesbian, she explains after I ask about what drives her in music.
– I have been through a lot of depressive periods that evolved and turned into art and music.
Even though nowadays she isn't afraid of expressing her sexual orientation and views in life, the scenario was different four years ago:
– Where I am today is a complete surprise, she admits.
– I never saw myself in Eurovision or in Melodifestivalen but coming out as a lesbian four years ago helped me being happier and loving myself more. I had been pushing those thoughts away.
So would you say that Melodifestivalen and Eurovision are part of your coming out journey?
– Yeah... I think you're right, she says.
– I just want to keep seeing where this journey leads me, I want to spread love and Eurovision truly feels liberating and peaceful for people like me... I am on the right track.
"You were born this way", I complete, knowing Lady Gaga is one of her main inspirations, but not only:
– Lady Gaga has been a huge inspiration to me for such a long time but more recently I take inspiration from Tove Lo, Billie Eilish and, my favorite right now, Charli XCX.

– I didn't want to win P4 Nästa
It was last 12 September that Julia won the opportunity of competing in next year's Melodifestivalen by convincing the jury of P4 Nästa she had what it takes:
– My goal was Melodifestivalen. I was relieved to not have won the show overall, I had two of my best friends competing, Nina Bring and Amskøld.
The competition ended being won by Hilde & Erik.
Objectively, Julia delivered the most dramatic performance of the night:
– I love performing live and I've been developing that passion for the past two years. My performance at the finals was to really showcase my language on stage. I wanted to show the jury that I had the full package.
And she did. In fact, there's a song already ready for Melodifestivalen 2021:
– I have a clear vision on what I want to do and I already have the song that I want to go with.
When I ask if she feels threatened by any production pressure, she doesn't hesitate:
– I wouldn't let anybody lead me into something I don't believe in. I am very sure of my integrity and protective of my art... I am, nonetheless, willing to listen to people and to their ideas, she explains.
– I think that the producers of the show believe in me and that's why they chose me. I think they'll support me and my choices.

– I am going to slay!
Past the contest, Julia noticed a difference:
– I had more visibility in Sweden. People have reached out and want to work with me and I am expecting my phone to ring with an invitation from a bigger label... At least that's what I've been promised.
But I know that I am the underdog. I know I will compete with all these huge artists but I am going to slay.Julia Alfrida
But even so, Julia will surely face fierce competition once the festival arrives:
– I want to see being picked first as an advantage. Also, because of COVID-19, people weren't sure Melodifestivalen was going to be held but now, they do and I am the first name associated with it, she explains.
– But I know that I am the underdog. I know I will compete with all these huge artists but I am going to slay.
Since we're talking about the pandemic, what if the show is held without an audience?
– Well, I think there'll be a few people... My friends and family will be there, so it's going to be alright, even though I have never performed in front of a full arena and that would be really nice. At least, I will learn how to connect with cameras.
Julia's expectations are high as she compares herself with Loreen (Sweden 2012) for having a mysterious and dark sound and even goes on to conclude:
– I see my song in Eurovision already!
Since 1958 Sweden has participated 59 times in Eurovision Song Contest with great succes. They have won the contest 6 times:
They came last two times (1963 and 1977), and since the introduction of the Semi-finals in 2004 Sweden managed to qualify for the Grand Final 15 out of 16 times! (only skipped the qualification in 2010)