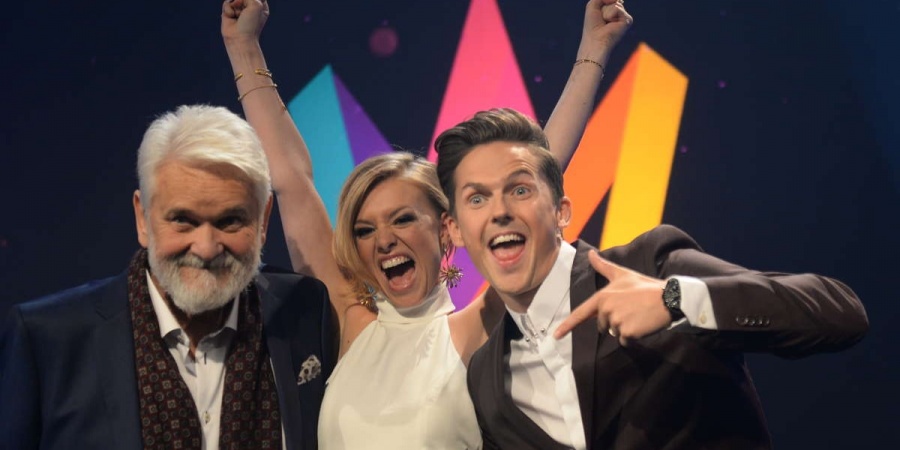 SWEDEN
Sweden: Hasse Andersson, Clara Henry & David Lindgren to host Melodifestivalen 2017
Three new hosts of Melodifestivalen 2017: Hasse Andersson, Clara Henry & David Lindgren. Tickets will be released on 31 October 2016
Melodifestivalen 2017 will have three new hosts: Hasse Andersson, Clara Henry & David Lindgren.
Hasse Andersson participated in Melodifestivalen 2015 with "Guld och gröna skogar" (4th in the final).
Clara Henry hosted the humor part of Melodifestivalen 2014 including backstage, and was the host of "Uppsnack" and "Eftersnack".
David Lindgren competed in Melodifestivalen 2012 with "Shout It Out" (4th), 2013 with "Skyline" (8th) and in 2016 with "We Are Your Tomorrow" (11th).
Last year, Gina Dirawi hosted Melodifestivalen with various guest-hosts by her side: Petra Mede, Henrik Schyffert, Sarah Dawn Finer, Peter Jöback, Ola Salo and William Spetz.
Tickets for Melodifestivalen 2017 will be released on 31 October 2016.
Melodifestivalen 2017
4 February: Melodifestivalen Deltävling 1, Gothenburg (Scandinavium)
11 February: Melodifestivalen Deltävling 2, Malmö (Malmö Arena)
18 February: Melodifestivalen Deltävling 3, Växjö (Vida Arena)
25 February: Melodifestivalen Deltävling 4, Skellefteå (Skellefteå Kraft Arena)
4 March: Melodifestivalen Second chance, Linköping (SAAB Arena)
11 March: Melodifestivalen Final, Stockholm (Friends Arena)
The format for Melodifestivalen 2017 is the same as last year:
Each of the 4 heats qualifies 2 songs directly to the final
Each of the 4 heats qualifies 2 songs to the "second chance"-show
In the "second chance" 4 songs will be selected for the final
28 songs will participate in Melodifestivalen 2017. The 14 songs will be chosen by a panel created by SVT, and the other 14 contestants will be special invited by SVT. In these 14 is included the winner of "Svensktoppen Nästa 2017": Les Gordons.
Since 1958 Sweden has participated 56 times in Eurovision Song Contest with great succes. They have won the contest 6 times:

They came last two times ( 1963 and 1977), and since the introduction of the Semi-finals in 2004 Sweden managed to qualify for the Grand Final 12 out of 13 times! (only skipped the qualification in 2010).