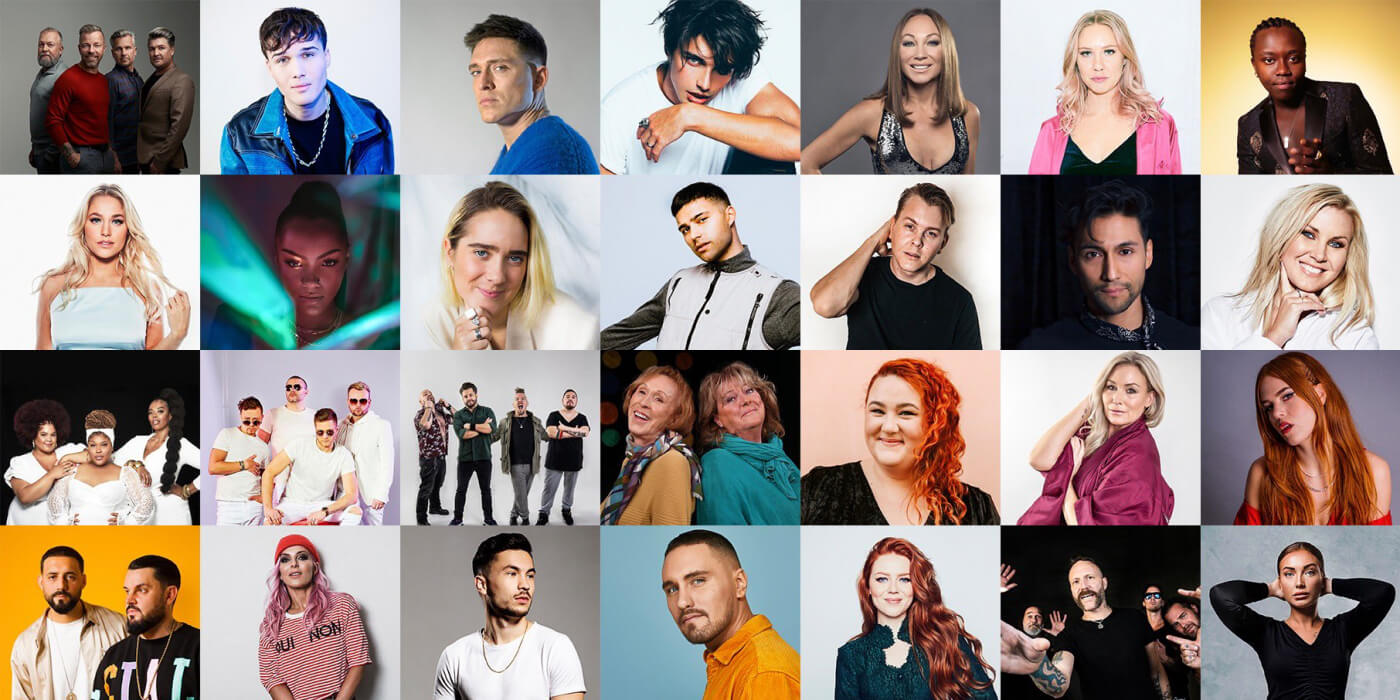 SWEDEN
Sweden: Here are the Melodifestivalen 2021 participants
The 28 artists for Melodifestivalen 2021 have been revealed along with their song titles
The 28 artists and their song titles for Melodifestivalen 2021 have been revealed by the Swedish broadcaster SVT.
27 acts have been selected by the Swedish national broadcaster SVT, and one act (Julia Alfrida) were selected via P4 Nästa back in September. A total of 28 acts will compete in Melodifestivalen 2021, and one of these will represent Sweden at Eurovision Song Contest 2021 in Rotterdam.
Melodifestivalen 2021 – Artists / song titles
Alvaro Estrella – "Baila Baila"
Anton Ewald – "New Religion"
Arvingarna – "Tänker inte alls gå hem"
Charlotte Perrelli – "Still Young"
Clara Klingenström – "Behöver inte dig idag"
Danny Saucedo – "Dandi Dansa"
Dotter – "Little Tot"
Efraim Leo – "Best Of Me"
Elisa – "Den du är"
Emil Assergård – "Om allting skiter sig"
Eric Saade – "Every Minute"
Eva Rydberg & Ewa Roos – "Rena rama ding dong"
Frida Green – "The silence"
Jessica Andersson – "Horizon"
Julia Alfrida – "Rich"
Kadiatou – "One Touch"
Klara Hammarström – "Beat Of Broken Hearts"
Lillasyster – "Pretender"
Lovad – "Allting är precis likadant"
Mustasch – "Contagious"
Nathalie Brydolf – "Fingerprints"
Patrik Jean – "Tears Run Dry"
Paul Rey – "The Missing Piece"
Sannex – "All Inclusive"
Tess Merkel – "Good life"
The Mamas – "In The Middle"
Tusse – "Voices"
Wahl feat. Sami – "90-talet"
Melodifestivalen 2021
Melodifestivalen 2021 will be the 61st edition of the Swedish selection for Eurovision. All the shows will be held in Stockholm, without audience.
The format for Melodifestivalen 2021 is the same as in previous years meaning that in each of the 4 heats, there will be 2 songs that will qualify directly to the final but in each of the 4 heats there will be another 2 songs that will qualify to Andra Chansen (Second Chance). At this stage, 4 songs will be selected for the final.
Since 1958 Sweden has participated 59 times in Eurovision Song Contest with great succes. They have won the contest 6 times:
They came last two times (1963 and 1977), and since the introduction of the Semi-finals in 2004 Sweden managed to qualify for the Grand Final 15 out of 16 times! (only skipped the qualification in 2010)