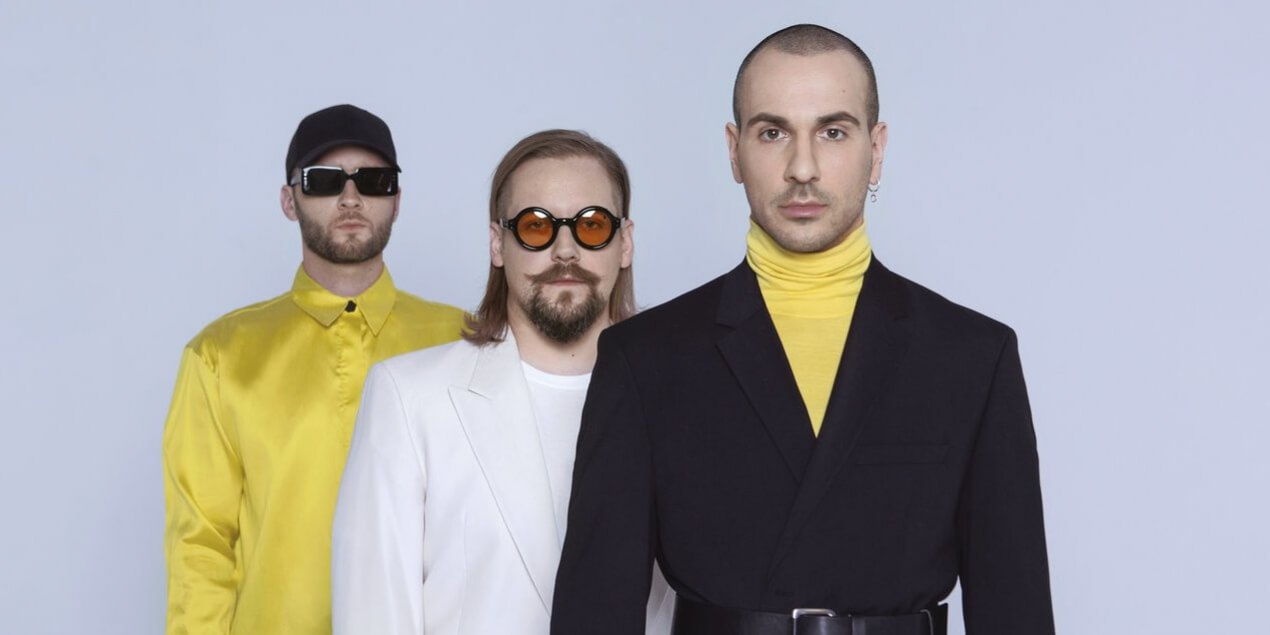 LITHUANIA
The Roop from Lithuania: "The biggest competition is thinking about competition"
INTERVIEW The Lithuanian band, The Roop were one of the favourites to win in 2020 but now they are back for Eurovision 2021. The Roop themselves explain what it took to remain the representatives for Lithuania
Lithuania should have been represented by The Roop at Eurovision Song Contest 2020 with the song "On Fire". The song was an instant hit and a favourite to win but unfortunately, the contest was cancelled due to the COVID-19 pandemic. Now the band is back at Eurovision and are representing Lithuania at Eurovision 2021 with the song "Discoteque".
The Roop is made up by singer Vaidotas Valiukevičius, drummer Robertas Baranauskas and guitarist Mantas Banišauskas, having a music style that is described as a mix of rock, pop-rock, soft-rock, dance-rock, indie and pop. The band was formed in 2014 with their debut single "Be Mine" released in the same year.
Fans were upset and angry when the announcement of the Eurovision Song Contest 2020 being cancelled but how was the reaction of The Roop, the representatives of Lithuania at the time?
– At first our trip to film the postcard was cancelled the day before we had to travel. That was a blow, but we still anticipated everything to be ok. When the whole event was cancelled it was obviously very disappointing at first.
However before the cancellation, Lithuania was one of the countries hotly tipped by the bookmakers to achieve their first win. How did this contribute to their reaction of Eurovision being cancelled?
– We said to ourselves, that we are going to take everything we can and make the best of the situation we were in. Our song On Fire was not cancelled together with Eurovision, so we just moved on.
Lithuania: Eurovision 2020 and 2021
The Roop won the Lithuanian national selection Pabandom iš Naujo last year with the song "On Fire", and should have represented Lithuania at Eurovision 2020.
After the contest was cancelled, the Lithuanian broadcaster LRT decided to hold another national final but invited The Roop back as a direct finalist, for which "Discoteque" won by a landslide.
With some disappointment at that time, some positive news emerged. A number of countries took the decision and host multiple shows to compensate the Eurovision void. Germany hosted their own semi-final and final shows and Lithuania won according to the German audience. How did the band feel about this win?
– We felt really strong with our entry.
Which song was your favourite at Eurovision 2020?
– We really loved Dadi, his song and his vibe.
After a few weeks, The Roop got a bittersweet announcement that the national broadcaster would opt for a national final to determine the 2021 representative but gave the band an option to return as direct finalists. Was this accepted by The Roop?
– Sadly it was not up to us, so we kind of had to accept it. Maybe a different decision could've been made, but no one owed us anything.
An approach towards Eurovision
The Roop is a different kind of mainstream band which delivers music with a message, served with style and skill. Although the band was formed in 2014 we first saw this band try to represent Lithuania at Eurovision in 2018 with the song "Yes, I Do". So what was the reason behind this decision?
– We saw Eurovision as a platform to reach a wider audience, so we thought why not try it out. We wrote "Yes, I Do" specifically for Eurovision 2018, and even through we finished 3rd in the National Selection, it was a huge achievement for us, because people liked us.
After a break which lasted a year, The Roop returned with "On Fire" which eventually won:
– In hindsight, 2020 was kind of an all-in situation for the band - we either win it or split up. We all know what happened next.
Discoteque
Although a direct to the final invite was on the table for The Roop, a decision was never made immediately. The positive side of having a pandemic was that the band spend most of their time in the studio making music. But how was "Discoteque" created?
– We were sitting in the studio working on other songs. Suddenly a wild melody appeared. It was the chorus melody. Then the rest built up really naturally around it. We wrote the song rather late. The deadline was December, and "Discoteque" was born in October. For example we were working on "On Fire" for around 9 months.
We all saw a wild and exciting performance of Discoteque at Pabandom iš Naujo 2021 but what does this song mean to the band?
– "Discoteque" talks about personal inner liberation. Rather often we say that we are free and that we live in a free world. But most of our restraints come from the inside. So, this song and movement aims liberate our minds, which contains too much self-criticism, fear of appearing different, reluctance to accept your body, even limiting your attractiveness.
The question remains, what made The Roop accept the invitation?
– We submitted our entry when we felt that we have the song we loved and believed in.
What about The Roop's famous hand gestures in their performances? The band had something to say about them!
– The hand gesture of "On Fire" was straightforward: it meant fire. The gesture from "Discoteque" is a gesture from our childhood, so the inspiration is literally life.
After the band's acceptance to return and fight for their place in Eurovision, expectations were high. How did this anticipation affect The Roop?
– We put a lot of effort into preparation and we felt very positive with what we prepared. It is a competition and you never know what can happen. but we made it again!
Road to Rotterdam
Now preparations are in full swing whilst the band have been asked to record a live performance of their entry in case that a live performance cannot be given on the night. This is a requirement for all the participants this year due to the ongoing world pandemic. Without giving much detail, The Roop gave us a glimpse of what we will watch on stage.
– Our main stage concept will remain focused on yellow but follow us and see for yourselves!
Eurovision 2021 will be different as at the moment only an audience of 3.500 spectators can be allowed but the situation can change, depending the pandemic situation. Will this hinder any preparation for the band?
– As we speak there is still an option where no one even goes to Rotterdam. Anyway, despite the outcome we will deliver our best performance.
We've also got to learn that the band is quite into Eurovision with notable favourites from the past:
– One national favourite has to be Skamp's Eurovision 2001 entry "You Got Style". On a general basis we love the entry from Portugal 2017, "Amar Pelos Dois" by Salvador Sobral, Sweden's 1974 entry by ABBA, "Waterloo" and the last winning German entry in 2010, "Satellite" by Lena.
But who do they think is their biggest competition for 2021?
– Well it's very hard to say! The biggest competition is thinking about competition.
As we end our interview with the Lithunian 2021 representatives The Roop, they have one last message to share with us:
– It is truly a very big honour to be here. We are very thankful to all who believed in us and continue supporting and trusting us. Stay unique!
The Roop will be opening the first semi-final on 18 May 2021 with the song "Discoteque" which is written by Ilkka Wirtanen, Kalle Lindroth, Mantas Banišauskas, Robertas Baranauskas & Vaidotas Valiukevičius.