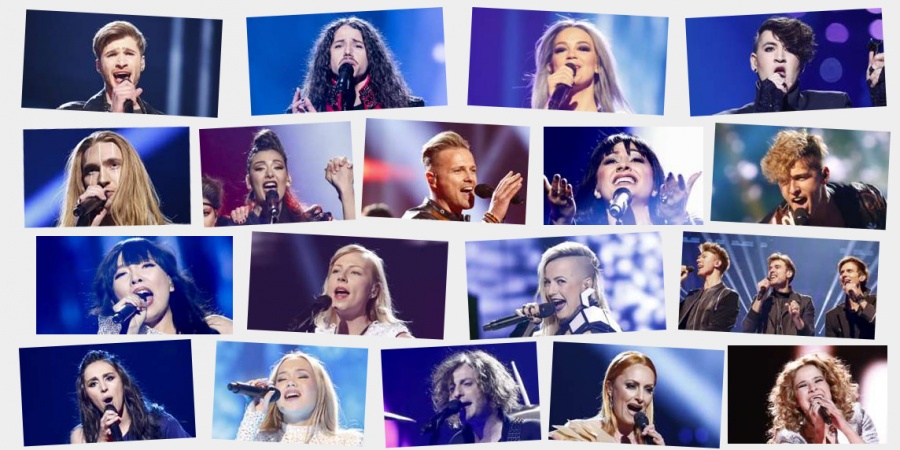 STOCKHOLM 2016
Tonight: Eurovision 2016 Semi-final 2
Tonight the second Semi-final will find the last 10 qualifiers for Saturday's Grand Final. 18 songs will be performed live from Stockholm. Have a look at all the details, songs and what to expect from tonight's Semi-final 2
We already know the first 16 songs qualified for the Grand Final on Saturday. Tonight the second Semi-final will find the last 10 qualifiers.
18 songs will compete, only 10 will qualify to Saturday's Grand Final. The show starts at 21:00 CEST, live from Globen Arena in Stockholm, Sweden. Hosts are Måns Zelmerlöw and Petra Mede. The running order is decided by the producer (Swedish broadcaster SVT) based on an allocation draw.
On Saturday the Grand Final kicks off with 26 songs.
Lineup Semi-final 2
Opening
The opening of Semi-final 2 starts with the same video as in Semi-final 1. A dandelion is being blown and the small seeds fly all over the Eurovision world - and universe, to end up in Stockholm. Here all the seeds come together where Globen arena is placed, in a giant dandelion, this year's Eurovision logo. Beautiful animation.
We're back inside the arena, where the other hosts of tonight, Petra Mede and Måns Zelmerlöw are presented.
"Welcome to the Eurovision Song Contest 2016"
Eurovision 2016 is broadcast live in China and USA, so for the newcomers Mede and Måns will explain what Eurovision Song Contest is about.
"What on earth is going on? What are these people doing?"
Eurovision is.... An then Måns starts singing, joined by Petra and dancers in the best cabaret style, including riverdance!
The voting is explained, and we're off for the first country: Latvia
Interval act
There are two interval acts:
1) Eurovision Nerd Nation

The first interval act is called "Eurovision Nerd Nation", and continues Tuesday's interval act video. In this episode we see a video about how the back then bored Sweden was in the old days. They are trying to find something to give the country a better image.
2) Man vs Machine

The second interval act is called "Man vs Machine", and is a dance act. There are three dancers and three robots on stage.
After the interval act we will see a one minute video of three of the pre-qualified countries Germany, Italy and United Kingdom. The videos were shot at Wednesday's Jury rehearsal.
Voting
The voting has changed a bit this year. Each country will now have two sets of 1,2,3,4,5,6,7,8,10 and 12 points to give. One set for each country's jury, and one set for each country's televoting.
The 10 songs with most points will qualify to the Grand Final
Each of the 18 countries participating in Semi-final 2 will vote
The pre-qualified countries Germany, Italy and United Kingdom will broadcast and vote in Semi-final 2
Each country has a national jury who gives one set of 1,2,3,4,5,6,7,8,10 and 12 points
Each country will have televoting which also results in a set of 1,2,3,4,5,6,7,8,10 and 12 points
The voting will not be revealed before the Grand Final has finished on Saturday
Only the 10 qualified songs will be revealed in random order
Televoters and national juries have equal weight in the voting
The national juries voted yesterday evening (Wednesday, 11 May) based on the second dress-rehearsal