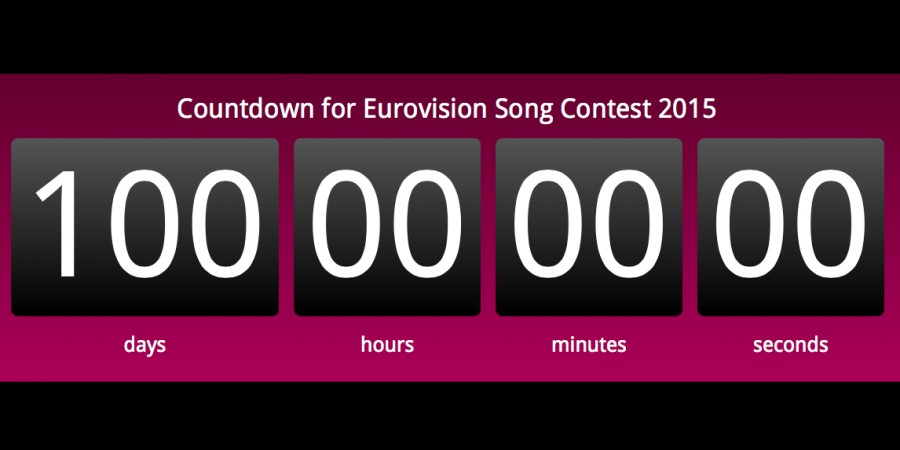 VIENNA 2015
Vienna 2015 countdown: 100 days! What do we know so far?
In just 100 days the first Semi-final of Eurovision Song Contest 2015 begins. Lets take a recap: What do we know so far?
It is not the Final Countdown. But it's the Semi-final Countdown!
With 100 days left before the first show of Eurovision Song Contest 2015 in Vienna is aired, it's time for a round up of some of the facts we know so far about the biggest music competion in the world.
Songs & Artists
12 countries are ready with songs and artists selected for Vienna:
Click on a song title to see video, lyrics and details about each song
• Albania: Elhaida Dani - "Të Kërkoj"
• Belarus: Uzari & Maimuna - "Time"
• Czech Republic: Marta Jandová & Václav Noid Bárta - "Hope Never Dies"
• Cyprus: Giannis Karagiannis - "One Thing I Should Have Done"
• Denmark: Anti Social Media - "The Way You Are"
• France: Lisa Angell - "N'oubliez pas"
• Georgia: Nina Sublatti - "Warrior"
• FYR Macedonia: Daniel Kajmakoski - "Lisja esenski"
• Malta: Amber - "Warrior"
• Netherlands: Trijntje Oosterhuis - "Walk Along"
• Spain: Edurne - "Amanecer"
• Switzerland: Mélanie René - "Time To Shine"
3 countries have choosen their artists to send to Vienna:
Belgium: Loïc Nottet
Montenegro: Knez
San Marino: Michele Perniola & Anita Simoncini
National selections
Preparations are at full speed around the 39 countries participating in Vienna. The national selections peaks in a few weeks, and so far 20 countries have started their selections, shows and competitions. So far we know that 15 countries will select their entry in February and 12 countries follows in March. Still there are some countries who hasn't announced the dates for their national selection.
Host Insignia Ceremony & Semi-finals
The Host Insignia Exchange took place in Vienna on 26 January. Here the "Eurovision Keys" were handed over to the mayor of Vienna. The keys exist of extreme weird key-hangers from each host the last many years.
We have had the allocation draw deciding who's in which Semi-final. Also the "Big 5" + Austria has been distributed to the two semi-finals for voting.
Tickets
The first batch of tickets has been sold out. In the first round only 25% of the tickets went on sale. The second batch went on sale on 29 January 2015, but only for the Semi-finals. There will be a third round for getting tickets if you missed the first two rounds.
Event
The host city is selected (Vienna, in case you have been sleeping the last halft year), and the dates are also set: 19, 21 & 23 May 2015.
The Arena is selected: Wiener Stadthalle, and the stage has been designed: 1288 freestanding cylindrical pillars!
Eurovision Village will be located at Vienna Town Hall Square.
Euroclub will be at Ottakringer Brauerei
No information yet about the location of the Euro Fan Café