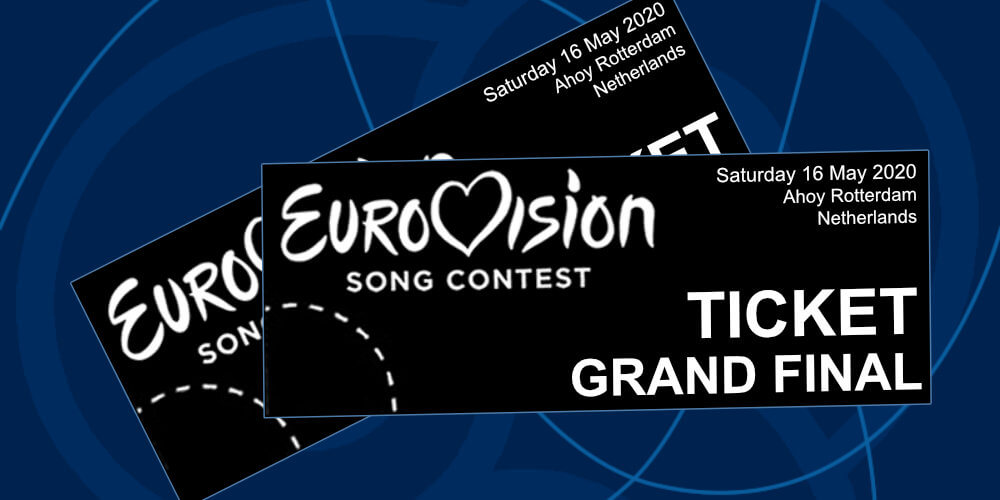 How to get tickets for Eurovision 2020
Here we will keep you update with all the information about getting tickets for Eurovision 2020 in Rotterdam, Netherlands. The first tickets for Eurovision 2020 will go on sale on 12 December 2019
We will update this page with all the information about Tickets for Eurovision 2020 as it appears.
7 December 2019
8500 free tickets for certain Rotterdam residents
8500 free tickets will be available for residents of Rotterdam who have little to spend, including people on low incomes, people on benefits and others who can prove that they indeed have little money to spend.
The target group of people will be informed by the Food Bank (Voedselbank) and Debt Assistance (Schuldhulpverlening) about the opportunity to experience a Eurovision show in Rotterdam Ahoy.
Are you in the target group, and would like to attend one of the shows in the arena – both rehearsals and live shows – you can apply on the municipality of Rotterdam's website from 11 December 2019 to 7 January 2020, and the lucky winners of tickets will be informed in March 2020.
It is estimated that around 60,000 people in Rotterdam are eligible for this special initiative.

Source: AD
5 December 2019
Tickets for Eurovision 2020 will go on sale 12 December
The first wave of tickets for Eurovision Song Contest 2020 will go on sale on 12 December 2019 at 12:00 CET (midday) on tickets.songfestival.nl
The tickets for Eurovision 2020 will be released in three waves:
12 December 2019, 12:00 CET: First wave
January 2020: Second wave
March 2020: Third wave
A maximum of 4 tickets can be selected per order (per bank account and address). If you book more than 4 tickets, your tickets might be cancelled.
In late January and mid-March 2020, extra tickets will be on sale for all shows. Specific dates will follow.

Source: eurovision.tv
Tickets for 9 shows
There will be tickets on sale for 9 shows – Six rehearsals and three live shows:
Ticket prices for Eurovision 2020
GRAND FINAL

LIVE SHOW
Family Rehearsal
Jury Rehearsal
Saturday
21:00
Saturday
13:30
Friday
21:00
Standing
N/A
€ 95
N/A
Seats,
1st tier
€ 245
€ 85
€ 105
Seats,
2nd tier
€ 195
€ 75
€ 85
Seats,
Limited view
€ 85
€ 45
€ 55
Accessible
+ companion
€ 195
€ 75
€ 85
SEMI-FINALS

LIVE SHOW
Family Rehearsal
Jury Rehearsal
Tuesday
Thursday
21:00
Tuesday
Thursday
15:00
Monday
Wednesday.
21:00
Standing
N/A
€ 55
N/A
Seats,
1st tier
€ 155
€ 45
€ 65
Seats,
2nd tier
€ 115
€ 35
€ 45
Seats,
Limited view
€ 65
€ 15
€ 25
Accessible
+ companion
€ 115
€ 35
€ 45
A service fee of € 3,50 per ticket will be added.
Early bird discount
During the first wave of ticket sales, an Early Bird discount is offered for the Semi-Finals
During the second and third wave, € 5.00 will be added to the ticket price for the Semi-Finals
Accessible tickets can only be booked by phone at +31 20 225 1116. You can bring one additional person per accessible seat. Indicated prices are per person, you will also need a ticket for your companion.
Who's in which Semi-final?
The Netherlands and the Big-5 countries (Germany, France, Italy, Spain and United Kingdom) are pre-qualified for the Grand Final on 16 May 2020. The rest of the countries will be allocated to one of the two Semi-finals to be held on 12 and 14 May 2020. The allocation draw will be made on 28 January 2020.
10 countries from each of the two Semi-finals will proceed to the Grand Final, that will feature a total of 26 countries: 10 from Semi-final 1, 10 from Semi-final 2, Big-5 and Netherlands.
Personalization of tickets
Tickets for Eurovision 2020 will be personalized, in order to prevent ticket re-sale with extreme prices on the black market.
How do I personalize my tickets?
In order to personalize your ticket(s), you will receive a confirmation e-mail after completing the order with payment. This e-mail provides a link ("Add additional information") where you can fill in personal information (such as your full name, e-mail address and date of birth of every attendee). After the personalization, you will receive your e-tickets.
The credentials on the ticket will be randomly checked at the entrance of Rotterdam Ahoy. If the credentials on the ticket and ID of the ticket holder don't match, you can be refused admittance.
I forgot to personalize my tickets, what do I need to do?
You can still personalize your tickets through the link in your e-mail. When the link is no longer available, please contact Paylogic's customer service.
Tickets FAQ
I lost my tickets, what can I do?
If you cannot find your ticket(s) anymore or if you have lost the confirmation email including your ticket(s), you can request Paylogic to re-send your confirmation mail.
I can't attend the event after all, what can I do with my ticket?
You can re-sell your ticket through official ticket re-selling partner Ticketswap. Here you can sell your tickets securely for a fair price.
Is there a minimum age to visit?
There is no minimum age to visit the Eurovision Song Contest, but children under 16 must be accompanied by an adult.
Which items can I bring with me?
In the months before the event, an e-mail will be sent with details on what you may or may not bring to Rotterdam Ahoy. All objects that are not allowed will be confiscated at the entrance and will not be returned.
What are the safety measures?
As is customary at the Eurovision Song Contest, strict security measures will be enforced. Airport security style checks will be in place, therefore we advise you to arrive early to avoid delay.
I need assistance, what can I do?
If you would like assistance in order to visit one of the shows, please send an e-mail to esc2020@npo.nl before 15 January 2020 to discuss available options.
Special tickets for fans
The price for the OGAE Fan Ticket Package for Eurovision 2020 is € 799 each and contain tickets to the three live shows and the three jury rehearsals.
2286 OGAE Fan Ticket Packages have been reserved for members of OGAE: 2000 standing tickets and 286 seating tickets. 400 of the packages are reserved for OGAE Netherlands members.
The 286 OGAE seating tickets will be right behind the Green Room.
The last many years, a number of tickets have been reserved for the members of one of the official Eurovision fan clubs around the world. These tickets are mainly for standing right in front of the scene in a special fan zone. The tickets are only sold in packages with six tickets to six shows: The three live-shows and the three jury-rehearsals.
The fan tickets will be sold through the official Eurovision fan clubs.
Number of fan ticket packages the previous years:
Packages with live-shows included
Eurovision 2014: 2,000 (€ 350)
Eurovision 2015: 2,000 (€ 350)
Eurovision 2016: 2,570 (€ 415)
Eurovision 2017: 1,000
Eurovision 2018: 1,700 (€ 365 to € 600)
Eurovision 2019: 500 (€ 812 to € 1020)
Eurovision 2020: 2286 (€ 799)
When will tickets for Eurovision 2020 go on sale?
Usually the tickets go out early the same year or late the year before the contest. We expect the tickets for Eurovision Song Contest 2020 in Rotterdam will go on sale in December 2019.
The start of tickets sale depended on several factors:
Eurovision tickets the last years
Eurovision 2019: 18 February 2019
Eurovision 2018: 30 November 2017
Eurovision 2017: 14 February 2017
Eurovision 2016: 26 November 2015
Eurovision 2015: 15 December 2014
Eurovision 2014: 29 November 2013
Eurovision 2013: 26 November 2012
The five previous years the tickets has been released in batches, depending on the allocation of seats in the arena.
Ticket prices previous years
The cost of tickets has varied a lot from year to year. Here we have gathered some information about ticket price for Eurovision Song Contest the previous years. The cheapest tickets were for the semi-final rehearsals, and the most expensive tickets were for the Grand Final live show: