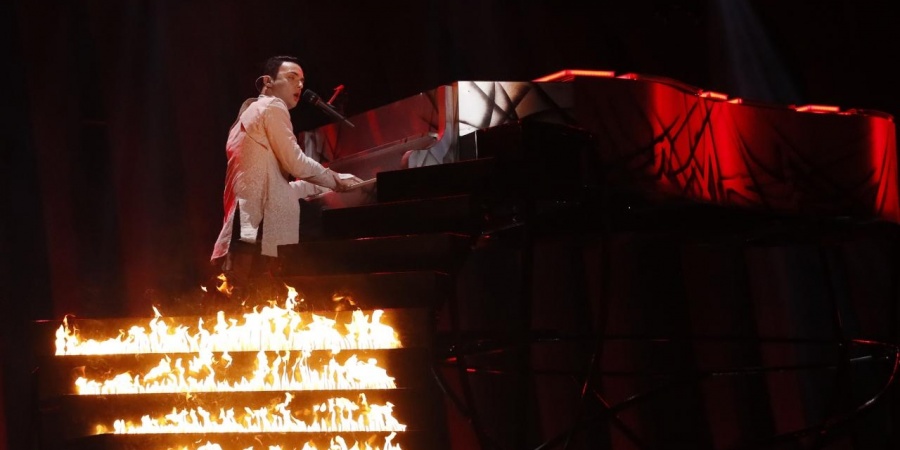 REHEARSALS
Eurovision 2018 Semi-final 2: First rehearsals
The rehearsals in Lisbon continued today with the second half of Semi-final 2 on the Eurovision stage for the first time. Watch a snippet of the rehearsals here
The last couple of days the 18 participants from Semi-final 2 rehearsed for the first time on the Eurovision Stage. Watch the videos (snippet) of the rehearsals from Tuesday and Wednesday.
1st rehearsals (30 minutes)
Before the 1st rehearsal each country gets instructions on safety, the dressing room area is presented, and there will be an In-Ear Monitoring Rehearsal backstage.
After the 1st rehearsal each delegation go to the Viewing Room, to see the recording of the rehearsal. Here any changes on visuals, camera work, choreography, etc. will be discussed. After this, there will be a makeup consultation, and the Press Meet & Greet takes place.
Semi-final 2 (1st half)
1st rehearsals, Tuesday 1 May
The former Eurovision winner from 2009, Alexander Rybak, is the first artist at the second semi-final. The staging is almost the same as when he won the Norwegian Melodi Grand Prix two months ago. He even wears the same clothes. Beside Alexander, there are four dancers/backings on stage, accompanied by pyros
The Humans has Christina in front. She is on stage with lots of masked mannequins and the rest of the band: guitars, drums, piano, cello. The song is divided into two parts: The slow and the chorus, where the song comes alive - and so does the mannequins
Sanja Ilić & Balkanika brings the ethnic sound into this semi-final. The six on stage are the flautist,, a percussionist and the four of the group's vocalists. The song starts with the flautist, shifting focus to the singers. The overall staging is very simple and discreet. And very blue. Keeping focus on the song
Jessika feat. Jenifer Brening
Jessika, the rapper Jeni B, some dancers, backing singers and four robots sing "Who We Are". The main attraction in the staging is the Toy Story like robots. That is new. I'm not your robot
The vikings are back just like in the Danish Melodi Grand Prix, which Rasmussen won in February. Two huge sails. Four backings. Dark/blue/beard/fists. He has changed some of his fellow vikings, but that is the only changes from his performance in Melodi Grand Prix. And then the snow: In Denmark it was a storm. In Lisbon it is like Christmas
Julia Samoylova sits on top of an iceberg singing while two ballet dancers are in front performing. Beautiful. Three backing singers support Julia in the difficult chorus: I won't break! It must take some time to get the iceberg with Julia on stage. Lets hope it won't break
What a setup. My Lucky Day is funny – very creative – a bit weird – a bit confusing – a bit amazing – very catchy. The six artists in DoReDos are playing with doors. They play around a wall filled with doors that constantly open and close – in different combinations. The press centre laughed a lot. You actually forget the song, because so much fun is happening on stage
Country Music! The Copenhagen 2014 melodic man has been transferred into a cowboy! Waylon has a four-person band on stage, that clearly fake it on their instruments. Just passive in the background. Until they break out from their monotome moves into energetic dancers – very energetic
The dress of the year! Jessica Mauboy got love, and shows it. She is the only one on stage, in front of LED ribs. She is wearing a shiny metal dress, singing beautifully, dances... And then fireworks. Quality. We Got Love
Semi-final 2 (2nd half)
1st rehearsals, Wednesday 2 May