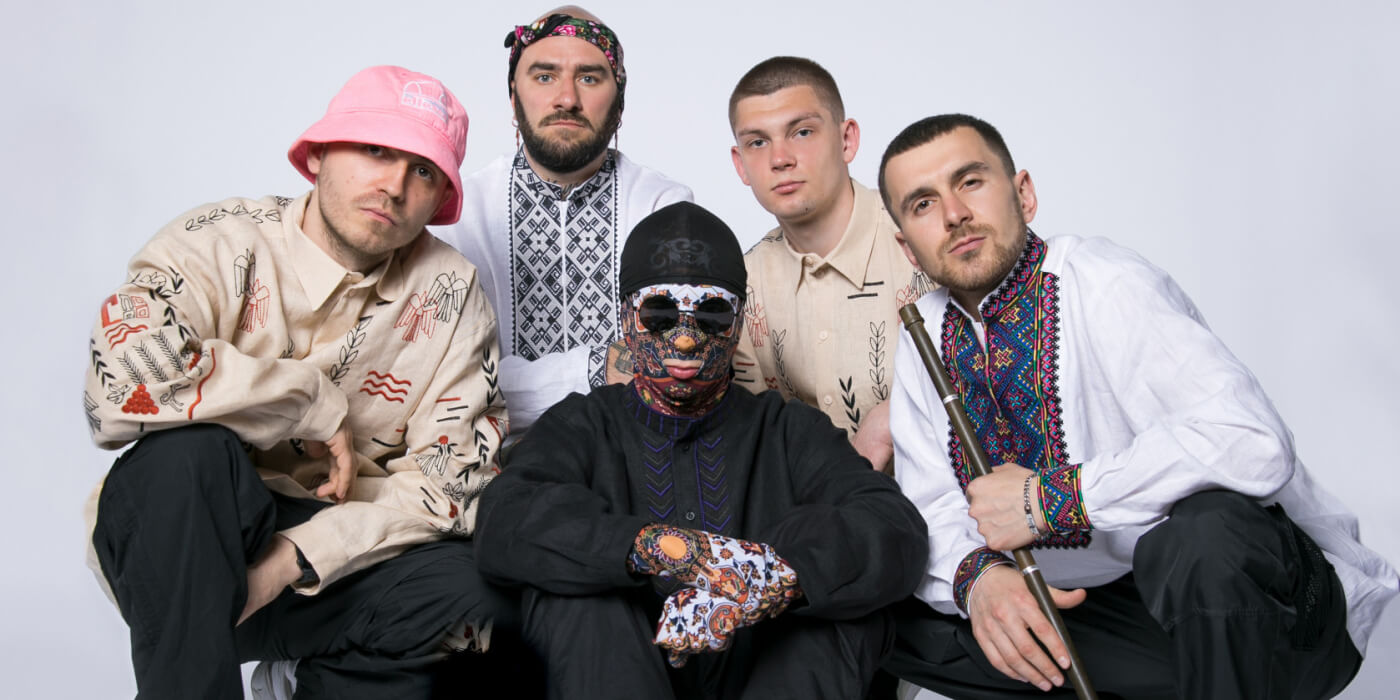 UKRAINE
Kalush Orchestra: "Any victory, in any aspect, would be very important for Ukraine"
INTERVIEW Kalush Orchestra will represent Ukraine at Eurovision 2022 with the song "Stefania". We met with the group and spoke about the special responsibility of representing a country in war. What will a Eurovision victory mean to them and Ukraine in these times?

Despite the incredible horrors Ukraine is going through these weeks, the countrymen are truly indomitable, and Ukraine is present at this year's Eurovision Song Contest in Turin, Italy.
It was back in February that, even with looming dangers, the Ukrainian public broadcaster UA:PBC held their national selection, Vidbir 2022. The show culminated with the victory of Alina Pash who would later withdraw due to accusations that she visited Crimea illegally in 2015. The Ukrainian peninsula Crimea was forcefully and illegally occupied and annexed by Russia in 2014.
Kalush Orchestra, who came second with the song "Stefania", accepted to fill in her place and repesent Ukraine at Eurovision 2022. According to Oleh Psiuk, the frontman of the group, the decision to step in was obvious:
– It was in no case a hard decision, he tells Eurovisionworld.
– We were supported by the public. So many hundred of thousands of people voted for us and we were not ready to let them down.
In fact, "Stefania" did win the public vote.
Only two days after the official announcement that Kalush Orchestra would represent Ukraine at Eurovision Song Contest 2022, Russia invaded Ukraine. Once again, the country's participation at Eurovision was uncertain. It was just recently that Ukraine's state authorities allowed the group to leave Ukraine and officially embark for their Eurovision journey:
– At the moment we have a special authorization to leave Ukraine. After the contest, we will go back home and do what we used to do before. For example, I have a volunteer organisation. There are 35 people in it and we help people finding shelter, transportation or medicine. Everyday we try to do something to help Ukrainians, Oleh Psiuk explains.
At a press conference in Turin, Oleh revealed that one of the band members opted to stay in Ukraine and fight for his country instead.
We believe that any victory, in any aspect, would be very important for Ukraine nowadays
Prior to their Eurovision trip to Italy, Kalush Orchestra performed at various Eurovision related events around Europe, and it was amazing to meet some of the Eurovision fans:
– We have been warmly received. We feel the support from people and we want to thank everybody who has been suppporting us.
Being allowed to leave Ukraine and sing at Eurovision also carries a great deal of responsibility.
– We believe that it is a big responsibility for us to represent Ukraine in times of war and we feel honoured to be here and represent our country. We also want our music to be heard beyond Ukraine, explains the frontman Oleh Psiuk.
A possible victory
This big responsibility may come with another victory for Ukraine at Eurovision Song Contest. According to the bookmakers, Ukraine has currently a possibility of 45% of winning Eurovision. What would a Eurovision victory mean to Ukraine and Kalush Orchestra?
– We believe that any victory, in any aspect, would be very important for Ukraine nowadays and our purpose is also to make Ukrainian music be heard all over the world.
Kalush Orchestra is almost expected to win, but they don't think the favorite position is only because of the war:
– Of course there are predictions and bookmakers but even before the war, we were 5th according to them which means that this song is enjoyed by Europeans. "Stefania" is written solely in Ukrainian and we hope that after our performance even more attention will be paid to Ukrainian music, the orchestra explained at a press conference.
A whole new meaning to "Stefania"
"Stefania", the song that will represent Ukraine at this year's Eurovision, is a song that Oleh wrote about his mother but that quickly achieved a whole new meaning after the war begun:
– The song "Stefania" is dedicated to my mother, that's my mother's name. After the war started, the song began to mean something to many people as they interpreted the song as "mother Ukraine". That's why the song is in many Ukrainian hearts and we hope that Europeans will love it too.
After the war started, the song began to mean something to many people as they interpreted the song as "mother Ukraine"
This is also represented in their upcoming Eurovision performance. In it there's a woman. We can see her eyes, her hands and her tears. Why?
– The key symbol of this song and the key symbol of the performance is the mother. Especially in our situation now, mothers' eyes heals our souls, mothers' hands protect children and mothers' tears drop down onto the ground and bear new life, explains Oleksii Zhembrovskyi, the stage director for this year's Ukrainian entry.
And what if Ukraine wins this year's Eurovision Song Contest? What will happen? That's another question Oleh answered during Ukraine's press conference:
– If we win, the Eurovision Song Contest 2023 will take place in Ukraine. It will be a new, integrated, well-developed and flourishing Ukraine.
Kalush Orchestra
Kalush Orchestra represents a side project of KALUSH, the original lineup of this folk-rap Ukrainian group consisting of:
Oleh Psyuk (founder and vocalist)
Ihor Didenchuk (multi-instrumentalist)
Kilimmen (DJ)
Johnny Dyvnyi (backing vocals)
The name derives from Oleh's hometown (Kalush in Ukraine) and was founded in 2019. After the release of their first two singles, KALUSH got signed to the North-American giant, Def Jam, part of Universal Music Group. So far, they have released two albums and later decided to form Kalush Orchestra that features more folk elements than usual.
The new lineup comes with the addition of two other musicians:
Vitalii Duzhyk (beatboxing bagpipes player)
Tymoffi Muzychuk (instrumentalist)
Ukraine in Eurovision Song Contest
Ukraine is one of the most successful countries in Eurovision Song Contest.
Out of 16 participations Ukraine has: