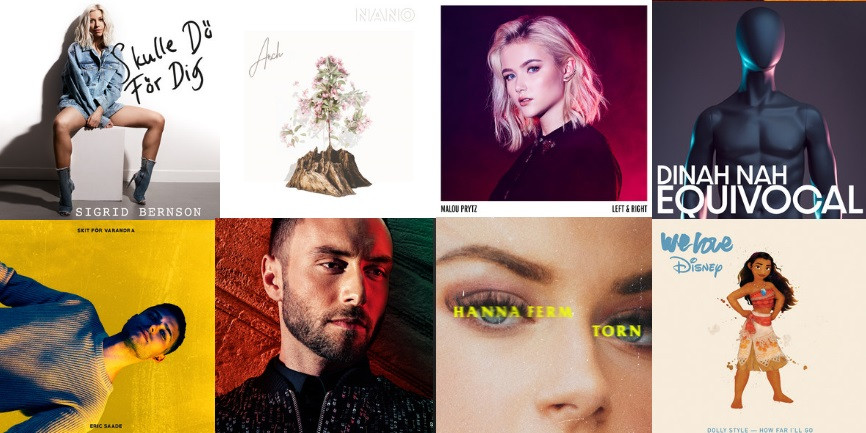 SWEDEN
Sweden: New music from Melodifestivalen artists
Artists from the Swedish selection for Eurovision, Melodifestivalen, release new music
Melodifestivalen is an annual song contest organised by Swedish public broadcasters Sveriges Television (SVT) and Sveriges Radio (SR). It determines Sweden's representative for the Eurovision Song Contest, and has been staged almost every year since 1958.
The televised Melodifestivalen lasts six Saturdays and consists of six live shows: four semifinals, in which seven songs compete; a Second Chance round featuring songs which narrowly missed out on qualification from the semifinals; and a grand final. Twelve songs comprise the final: two automatic qualifiers from each of the semifinals, and the four most popular songs in the Second Chance round.
During the last decade, Melodifestivalen fans have seen new artists break into the music industry and try their luck to represent Sweden at the Eurovision Song Contest. Some made it but some finished respectable positions in the Swedish national selection. One can also note that Sweden was the only country to win twice in the last Eurovision Song Contest decade.
Some of these artists released new music and videos to mark the beginning of a new summer season and the end of a Eurovision decade.
Malou Prytz
Malou was a newcomer to Melodifestivalen 2019 with the song "I Do Me". She made it to the final due to placing in the top 2 during her semi-final. She now returns with the follow-up single, and music video for "Left & Right". The song is written and produced by Danish duo Vera and fans can expect an EP very soon.
Dolly Style
This Swedish girl group debuted in Melodifestivalen in 2015 with the song "Hello Hi" and made it to the Second chance round of the competition but failed to make it to the finals. Dolly Style returned to the competition in 2016 with the song "Rollercoaster" but suffered the same faith. After many line-up changes in the group, they returned to the competition in 2019 with their song "Habibi" but failed to qualify from their semi-final. The group has now released a Disney cover version of "How Far I'll Go" which is adapted from the film Moana.
Eric Saade
Eric Saade is one who made it from Melodifestivalen to the Eurovision Song Contest. His debut in the competition was in 2010 with the song "Manboy". After finishing third, Eric made a second attempt the following year and won the competition with the song "Popular" which placed 3rd in the 2011 Eurovision Song Contest that was being held in Germany. He later returned to the competition in 2015 with the song "Sting" but was beaten by Måns Zelmerlöw who won the 2015 Eurovision Song Contest. Eric returned to Melodifestivalen in 2019 but as a co-host and also as the Swedish spokesperson in the 2019 Eurovision Song Contest. He now returns with a new single 'Skit För Varandra'. His first under a new label and working with new collaborators.
Hanna Ferm
Hanna Ferm debuted in Melodifestivalen in 2019 as part of a duo with Liamoo. Their song was titled "Hold You" and qualified to the final after placing top 2 in their semi-final. The duo were favorites to be the next Swedish representatives for the Eurovision Song Contest but ended up 3rd place. Hanna is no stranger to the Swedish public after taking part in Idol 2017. Hanna has now released her follow up single which is a cover version of Natalia Imbruglia's song in 1997 but originally released by Danish artist Lis Sørensen as "Brændt".
Måns Zelmerlöw
Måns Zelmerlöw is no new name to either Melodifestivalen or the Eurovision Song Contest. His debut in Melodifestivalen was in 2007 with the song "Cara Mia" and later returned to the competition in 2011 with "Hope & Glory". There was no glory that year but Måns had hope during his 2015 return with the song "Heroes" which not only won Melodifestivalen but also the 2015 Eurovision Song Contest. He later co-hosted the 2016 Eurovision Song Contest as well as the United Kingdom's national selection show in 2018 and 2019. We recently saw Måns in the 2019 Eurovision Song Contest as part of the Grand Final interval act singing a cover version of last year's contest runner-up Eleni Foureira "Fuego". His new album will be released in October but has released a teaser with his new song "Better Now".
Dinah Nah
Dinah Nah made her debut in Melodifestivalen 2015 with her entry "Make Me (La La La)". She qualified to the Second Chance round from her semi-final and ending up in the final but unfortunately ended up last from twelve entries. She later returned to the competition in 2017 with her song "One More Night" but had no luck that year as she placed 5th in her semi-final. It's been two and a half years but she is back with "Equivocal" which is written by herself and Herman Gardarfve.
Sigrid Bernson
Sigrid Bernson channeled her "Patrick Swayze" debut in Melodifestivalen 2018 and qualified to the Second Chance round from the first semi-final, where she was eliminated from the competition. She is now back with a new single and video, her first in twelve months. This is 'Skulle Dö För Dig'. The song is written by Sigrid herself, along with Victoria Voss and Martin Bustgaard Granlund.
Nano
Two time Melodifestivalen participant, Nano, first appeared in 2017 with his song "Hold On" which nearly won the whole competition but only to be beaten by Robin Bengtsson with the song "I Can't Go On". Nano returned to the same competition with hopes of going one step further and winning with the song "Chasing Rivers". He progressed to the final from the Second Chance round and ended 8th place on the night. Following on from his last appearance in the Melodifestivalen, Nano returns with the follow-up single 'Arch'. This is written by Nano himself, along with Christofer Balaieff, Claes Funke, Paul Shelton and William Larsen.
Since 1958 Sweden has participated 59 times in Eurovision Song Contest with great succes. They have won the contest 6 times:
They came last two times (1963 and 1977), and since the introduction of the Semi-finals in 2004 Sweden managed to qualify for the Grand Final 15 out of 16 times! (only skipped the qualification in 2010)