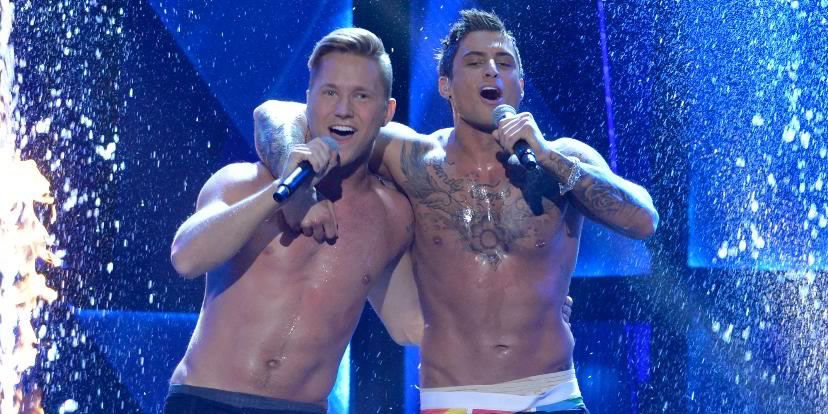 SWEDEN
Sweden: Samir gets warning from SVT
Samir Badran from the Swedish Melodifestivalen-duo "Samir & Viktor" has been given a warning by the Swedish broadcaster, SVT
Samir clearly showed advertisement on his underwear in the middle of the song, and later he put on a promotional T-shirt despite orders from SVT.
Before "Second Chance" last Saturday Samir Badran (25) had a T-shirt with advertisement on at the rehearsal, which is against the rules of SVT. Therefore SVT told Samir to change T-shirt before the liveshow, which Samir did. But Samir was not finish in the advertising business: In the middle of the song "Bada Nakna" Samir and Viktor Frisk take of their t-shirts standing bare chest. Samir's briefs clearly shows an advertisement and that is a against SVT's rules:
- We have strict rules when it comes to advertising and exposure of brands on our channels. And we have to meat with Samir and his record label before the Final. Because it is clear that it's not okay if you ask us, says Anette Helenius, project manager for Melodifestivalen to expressen.se
After Samir's performance in the "Second chance" live show last Saturday, he pulled the prohibited advertising T-shirt on again, breaking yet again SVT's rules:
- We asked him not to put this t-shirt on again. For some reason he did, says Anette Helenius.
Samir is aware that it can cause problems for him, to show advertisements in the broadcasts. In an interview with expressen Live TV, he says:
- I will definitely "get shit" as always!
Samir requested to meet with SVT
SVT will now invite Samir for a meeting before the Final on Saturday, to explain to him that he must not break SVT's rules:
- We'll meet before the Final and tell him clearly that this is not okay for SVT to have clothes with labels or brands that appear on the screen, says Anette Helenius.
Alexander Norén (host on the morning show on SVT), now appeals to Samir not to do something similar in the final of Melodifestivalen, because it could have consequences for SVT's journalism:
- Seriously, to continue to advertise and to take a T-shirt with STUSSY printed large on the front is so XXXXX XXXXX! Do you know how much it costs the license payers of Sweden in form of fines from the Broadcasting Commission every time someone reports us for that? There will be two foreign reportage less on the SVT news each time you break the rules, writes Alexander Norén on Instagram.
SVT is the national public service provider of TV in Sweden. Sveriges Television is license-based, which means that all Swedes mandatory pay to the channel. The channels SVT 1 and SVT 2 are Sweden's largest TV channels, with a market share of 36.4%.

SVT must not display advertisements, but they can show associated sponsor logos when a program starts or ends.
Melodifestivalen 2016
6 February: Melodifestivalen Deltävling 1, Gothenburg (Scandinavium)
13 February: Melodifestivalen Deltävling 2, Malmö (Malmö Arena)
20 February: Melodifestivalen Deltävling 3, Norrköping (Himmelstalundshallen)
27 February: Melodifestivalen Deltävling 4, Gävle (Gavlerinken Arena)
5 March: Melodifestivalen Second Chance, Halmstad (Halmstad Arena)
12 March: Melodifestivalen Final, Stockholm (Friends Arena)
All the shows are hosted by Gina Dirawi accompanied by various guest hosts.
The format for Melodifestivalen 2016 is the same as last year:
Each of the 4 heats qualified 2 songs directly to the final
Each of the 4 heats qualified 2 songs to the "second chance"-show
In the "second chance" 4 songs were selected for the final
Since 1958 Sweden has participated 55 times in Eurovision Song Contest with great succes. They have won the contest 6 times:

They came last two times ( 1963 and 1977), and since the introduction of the Semi-finals in 2004 Sweden managed to qualify for the Grand Final 11 out of 12 times! (only skipped the qualification in 2010).